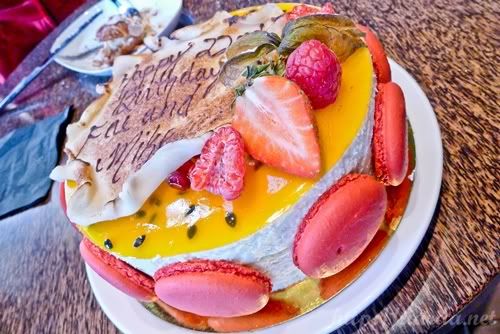 Since I did not have much time left in Vancouver and Fae was overwhelmed with exams and she will be heading to San Francisco right after her exams. We decided to have an impromptu miniature birthday celebration for Mike & Fae at Thierry.
If you did not already know, I wrote about the Lime Cake & Macaroons Ci Retty, Sam & I had at HERE.
Thierry Chocolaterie Patisserie Cafe
1059 Alberni St
Vancouver, BC V6Z2V6
(604) 608-6870

View Larger Map
I forgot what time we were supposed to meet that day but I was late because I had to get their birthday balloons. It so happened that it was a day before Valentines Day so naturally all the balloons were heart-shaped. Mike and Vincent were already there when I arrive and Fae happened to reach at the same time as me. They were so surprised that I had two heart-shaped balloons with me but it was for the birthday twins! Since I could not get their birthday cake before they arrive, I had to order it secretly when I was ordering my food.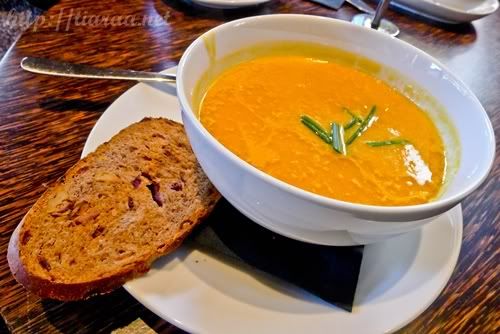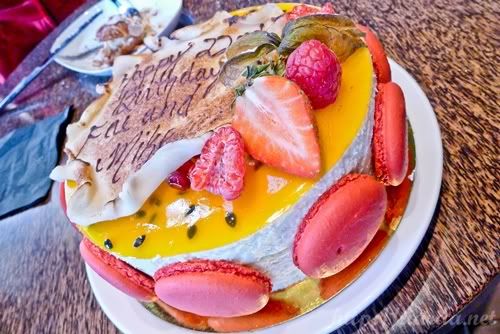 We decided to sit at the exterior dining area of Thierry since it was such a beautiful and sunny day! I carried my soup from the counter to the exterior area and had a number stand with me. It was meant for the order of the cake I ordered for the birthday twins.
I always go for things that are unique or extraordinary so I decided to get the Pumpkin Soup, which costs CAD$6.75. I really enjoy pumpkin cooked in hot pot soup so pumpkin soup was something that I think I had to try. I found the pumpkin soup very fresh and fragrant as the pumpkin is seeded, skinned, sliced into pieces and cooked in olive oil that is sauté with onions. I could taste the saccharine taste of the pumpkin probably because cinnamon was added in to enhance it's sweetness. The soup is very thick and creamy  and I love soup that have this texture – Impeccable!
Rating: 4.5/5★
The Passion Fruit Mousse only came at a later time when almost everyone is done with their meals except me. The 6″ Mousse is CAD$19.95 and as I asked for birthday greetings to be written on the cake, they charged me an additional CAD$2. The mousse is made up of biscuit roulade and passion fruit mousse. The cake is coated with miniature macaroons, which blends very well with the passion fruit mousse. The mousse is also topped with jelly flavoured with passion fruit with seeds, raspberries and strawberries. I really enjoyed this mousse cake as it is very fruity and very different from the fruit cakes you usually consume at Chinese bakeries as this tastes more tangy than sweet and the mousse is very soft and smooth.
Rating: 4/5★
The total bill came up to CAD$29.75, inclusive of tax but since they were serving us with cakes for the surprise, I decided to give them CAD$32.75 inclusive of tips.
Opens Daily:
Mon – Fri: 7AM – 12AM,
Sat – Sun: 9AM – 12AM
Nearest Skytrain Station: Buarrad
Ambiance: 10/10
Service: 10/10
Food (taste & appearance): 8.5/10
Value: 8/10
Total: 9.13/10★
In conclusion, Thierry never fails me!

swisscheese*