I finally had time to blog as I am currently at Singapore running lots of errands before I head to Vancouver next month! This entry was again, long overdue since last November.
Janet and Marvin have always been interested in alcohol such as red wine and hard liquor so they decided to go for wine tasting at Salt Tasting Room and invited Dennis and I along. As Holly is an executive of  the UBC wine tasting club, has taken the wine science class at UBC and an external wine course, I asked her to join us since her level of interests is so high and she is a good friend of mine.
Salt Tasting Room
45 Blood Alley Square
Vancouver, BC V6B 0C4, Canada
+1 604-633-1912

View Larger Map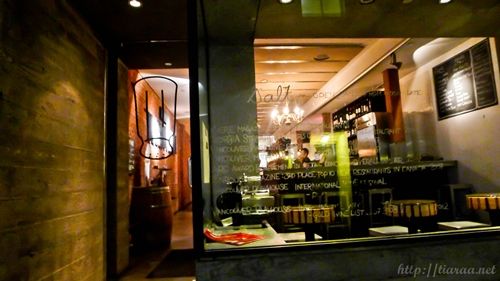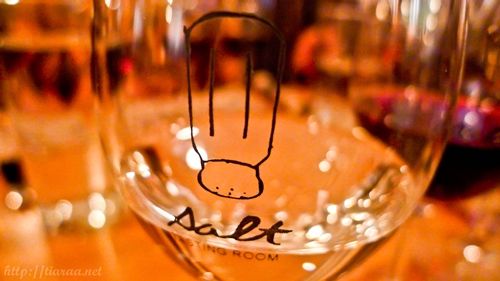 It was really cold that night so we practically "ran" from Waterfront Station to Blood Alley. We could not find Salt Tasting Room at first because it is not very prominent and the exterior is not as fancy as the interior. It has interior brick walls and  blackboards  drawn with the restaurant's logo. There is also a huge blackboard at the end of the restaurant with lots of suggestions on the wine, cheese and condiments pairing with the wine. Do take note that the menu is constantly changing.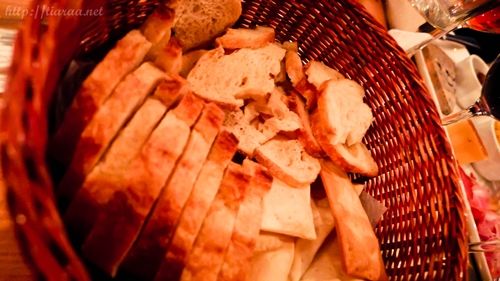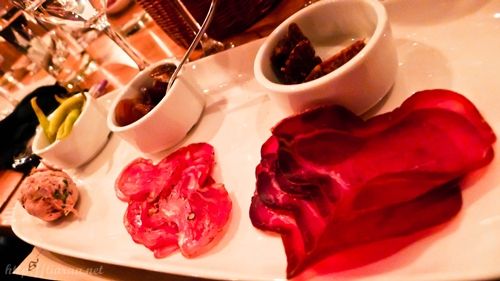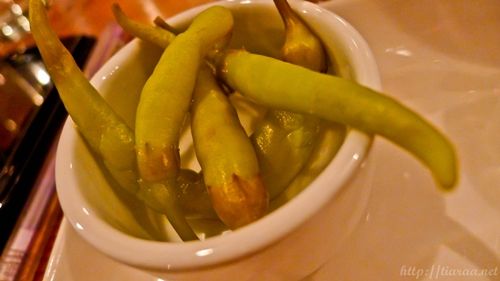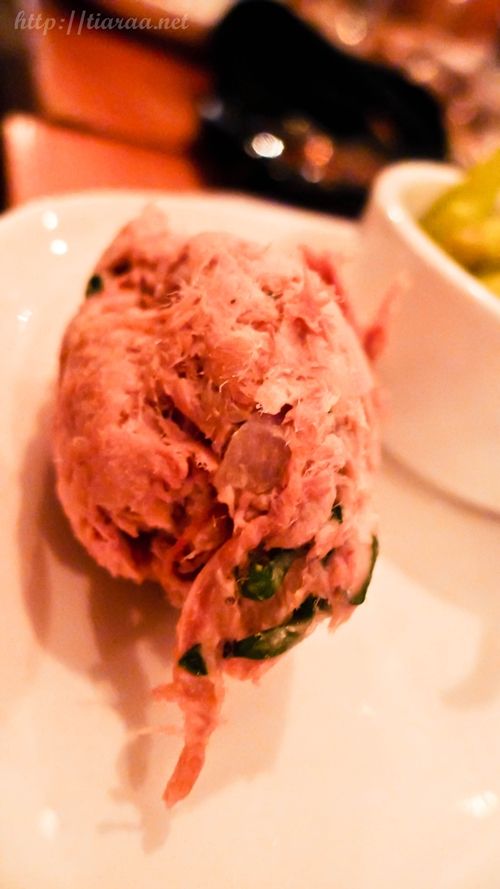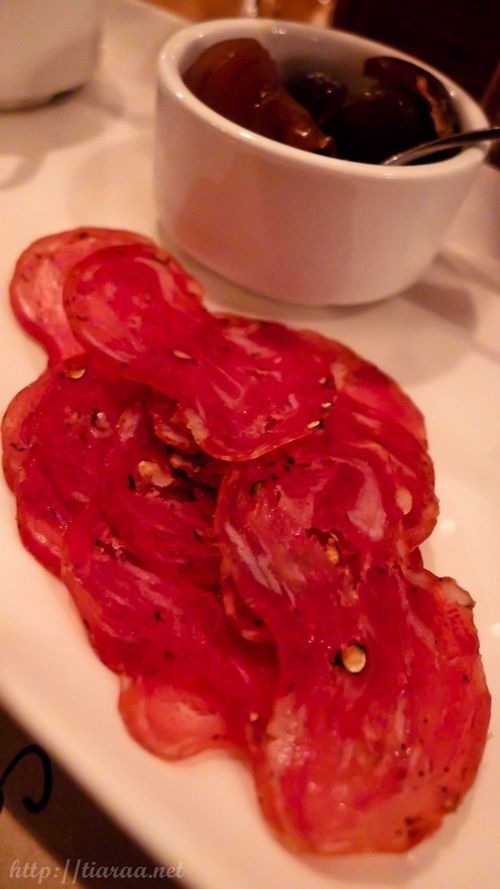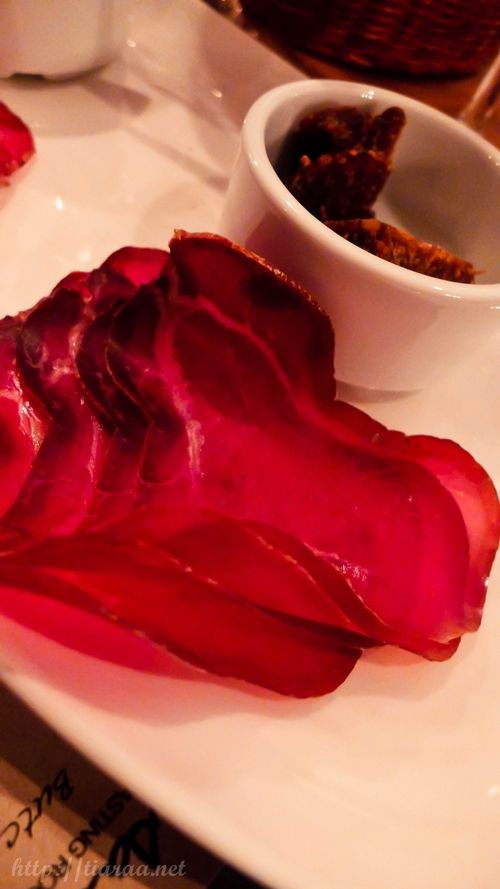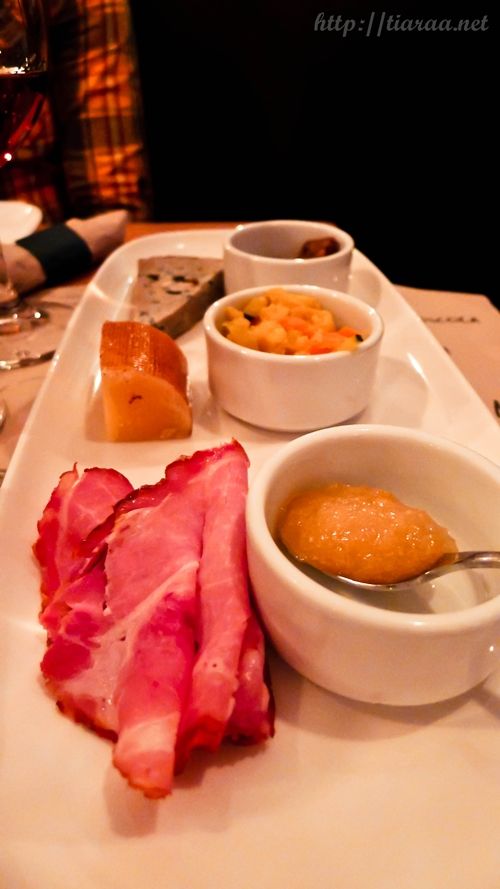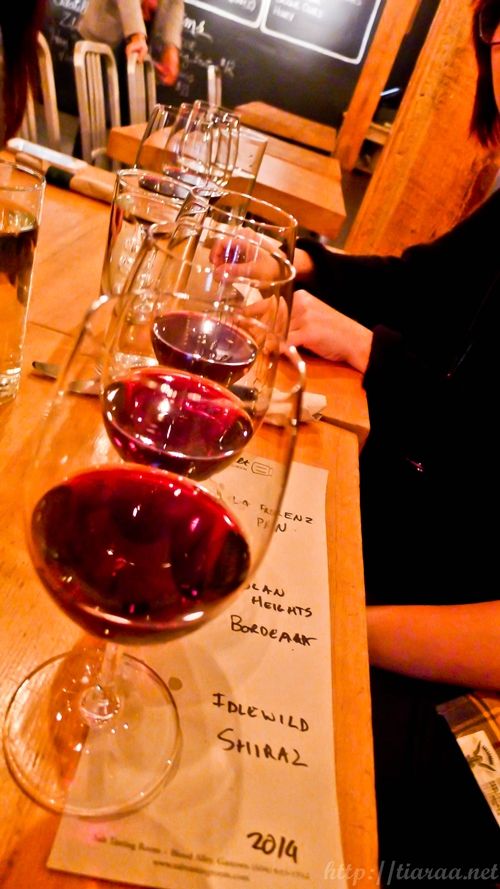 The server was very helpful pairing our wines with our preferences of condiments and cured meats or cheese. They asked us questions like whether if like spicy food or whether we prefer a cheesy or meaty taste and such. Since I was a novice at wine pairing, I decided to choose from one of the butcher flight provided. I ended up having Kanazawa Nomu White paired with Pork Rilette and Piparras Peppers, Golan Heights Mount Hermon paired with Cognac and Cipollini Onions and Vina Cabas Felino Malbec paired with Smoked Beef and Fig & Nut Bread. Although I enjoy drinking wine, I am an amateur when tasting it. However, I really love eating the condiments and cured meats/cheese when drinking the red wines. It enhances the taste and fit really well. The pork rilette and cipollini onions are my favourite cured meat and condiments respectively. The taste is so delectable and definitely worth a try. As I am not a fan of cheese, I did not pair any of my wine and condiments with cheese. Boy, was I wrong! I tried my friends' cheese choices such as Aged Mahon and Valdeon and I adore the taste greatly!
The entire wine tasting is pretty good and since it is my first time doing it formally (not wine tasting at wineries) and I am not very experience rating the wines and such, so I will only grade the desserts.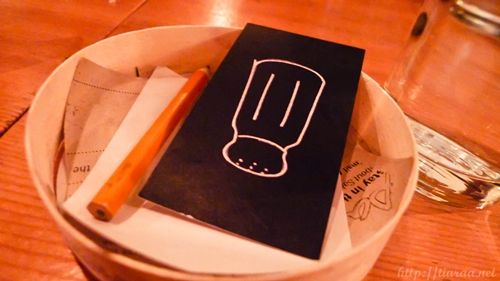 I was quite full from trying everyone's wine pairings and finishing off my own but I still had rooms for desserts. Since Salt Tasting Room offers unique desserts, we decided to get both the Eton Mess and Goat Cheese Cheesecake. The Eton Mess (CAD$8) is an English dessert that consists of cherry compote, whipped cream and meringue. I found it really delicious because it has a tinge of taste like pavlova. *Do you know Eton Mess was traditionally made with ice-cream/cream with strawberries (a traditional fruit for the dessert) and meringe was only a later addition to the dish? As for the Goat Cheese Cheesecake (CAD$8), I was surprised that for a non-cheesy lover like myself, I enjoyed it. It is yet another delicate dessert nicely made with Naramata, apricot compote and graham cracker crumble. Huge thumbs up for these palatable and unique delicacies with exquisite taste and less sweetness (except that the Eton Mess is a little sweeter). This is how desserts should taste like!
Ratings for the Eton Mess: 4/5★
Ratings for the Goat Cheese Cheesecake: 5/5★
CASH/DEBIT/CREDIT
OPENS DAILY:
1200-0000
Nearest Station: Waterfront @ Canada Line or Skytrain

Ambiance: 8/10
Service: 10/10
Food (taste & appearance): 9/10
Value: 7.5/10
Total: 8.63/10★
At some point of your life, you definitely got to give STR a try! No doubt that the price is a little steep but you pay for delicious desserts, good experience, service and ambiance and convenient location.

swisscheese*