I was very surprised when I first came to Vancouver back in 2005 and realized that Vancouver is definitely a ramen heaven! When I just came here, it was Kintaro Ramen that was highly-raved due to their Cheese Ramen. After which, Benkei, GMEN, Santouka, Motomachi and Sanpachi came into the picture and the ramen industry became very competitive. Each ramen place has it's pros and cons so I do not have a favourite ramen restaurant just yet. I was surprised that Ramen Jinya is a newly-opened ramen place that has lots of hype so I went to check it out with Annie and John!
Ramen Jinya
270 Robson Street
Vancouver, BC V6B0E7
(604) 568-9711

View Larger Map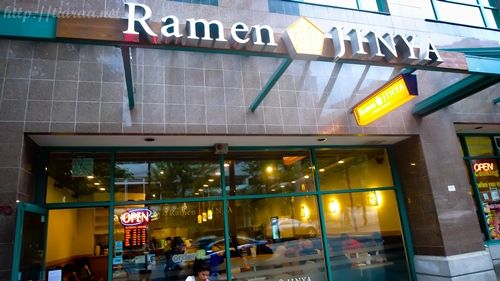 Ramen Jinya is quite a long walk away from Granville Station. It will take you 15-20 minutes by foot from Granville Station. Annie and I happened to arrive at the same time while John came a little later. Both John and Annie drove and they parked along robson street just opposite the restaurant. The servers are very fast and friendly at Ramen Jinya and the food was served pretty quick as well. However, the place looks cluttered and the tables are quite close to one another, not giving enough privacy for a group of friends to hold a conversation. Well, what's new? Most ramen restaurants are structured in this way anyway.
The first time I went to Ramen Jinya was with Annie and John. The weather was perfect then as summer was almost ending (1st-5th pictures). I went to Ramen Jinya with Janet on my second visit and we had to brave the cold and rain before arriving at Ramen Jinya (7th & 8th pictures). It is cool that Ramen Jinya caters too all sorts of foodies – People who do not eat pork can try their chicken broth ramen and vegetarians can try their vegetable broth ramen as well. Also, there is spicy ramen available and you can choose the level of spiciness from a scale of 1-10 that caters to your tolerance and preference. Ramen Jinya also offers iced green tea that is unsweetened, which can be served to the health-conscious.
Nonetheless, at both times that I went to Ramen Jinya, I ordered the Tonkotsu Black Ramen (CAD$10.75) as I wanted to try their signature dish for the first time and was craving for it on my second visit. The pork broth is very fragrant due to the black garlic oil, fried onions  and the pork belly char-siu. The ramen dish also include spinach and bamboo shoots. The seaweed was in between the bowl and the plate below it and the flavoured boiled egg is served at the side. Although a lot of my friends do not like the Tonkotsu Black Ramen as they felt like puking after consuming it due to the thickness of the broth, I really enjoyed the ramen dish. I often like food that has a unique and distinct taste, thus the enjoyment. However, I found that the noodles is quite hard and the broth is very salty, fattening and oily.
For 3 glasses of warm green tea and 3 bowls of Black Tonkotsu Ramen, it was CAD$42 exclusive of tips. So it is CAD$14 per pax without tips. We topped up about 10-15% tips to our total bill.
CASH/DEBIT/CREDIT
NEAREST STATION: GRANVILLE
OPENS:
Mon-Sun 11:30 am – 11 pm

Ambiance: 6/10
Service: 7/10
Food (taste & appearance): 6.5/10
Value: 7/10
Total: 6.63/10★
I will try to head back to Ramen Jinya for their other ramen dishes sometime before I head back to Asia.

swisscheese*