since it's been more than a week off the crutches, i decided it's time to hang out with baby t. we spent the entire day at downtown (boy, haven't been hanging out at downtown for ages !) binging on good food and watching the highly raved " the social network ". guess which restaurants did we head to ? no prize for guessing – stephos for lunch, santouka for dinner and le bretagne for desserts !

stephos's souvlaki greek taverna
1124 Davie St
Vancouver, BC V6E 1N1
(604) 683-2555

View Larger Map
i was introduced to stephos by aiden back in sep 2006. every single time i head there at night, there are long lineups and you got to wait for 40 minutes. the restaurant is warm during the winter and it's very dim. perfect for dining with your significant other. during the summer, the doors are open and dining close to the window allows you to see the beautiful view outside. during lunch hours, there is usually no lineups. so on monday, t and i went to stephos at around 2pm and we were immediately seated. we already know what to order but the waitresses were not being attentive. even when we wanted the bill or a request to take a picture or a box to take the food to go, it was difficult getting the waitress to come over. they were not as friendly as the waiters that served me many times back in 2006 and 2007.
kalamari dinner – CAN$9.95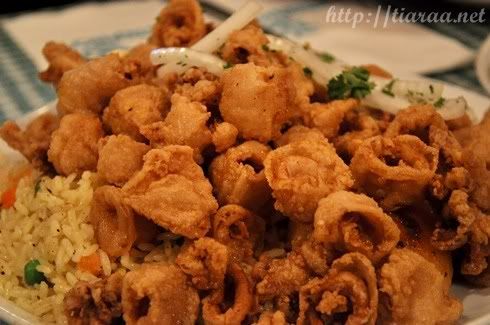 this was my meal and i have to say i was utterly disappointed that the standard of stephos has dropped tremendously ! the kalamari is really dry, so dry that i couldn't finish my meal. i took 3/4 of my calamaris to go. the rice taste different too ! it is more puffy than usual and instead of improving on the quality, the rice is more oily. the food is not as fresh like their previous glorious years. how unfortunate, really !
ratings: 2/5★
roast lamb – CAN$9.95
baby t had roast lamb. she was really excited to eat at stephos but was in dismay when the roast lamb is not as good as the previous times she went. she found the roast lamb really dry and the rice very bland.
and here's the bill !
stephos always offers mint sweets whenever we asked for the bill and i would not hesitant to snatch it with my friends. the bill came up to CAN$23.35 but we paid a total of CAN$26.00 inclusive of tips. the food is definitely worth CAN$9.95 considering the portion being very big !
ACCEPTS CASH/CREDIT CARD/DEBIT CARD
LONG LINEUPS DURING DINNER
ambiance: 7/10
service: 3.5/10
food (taste & appearance): 4/10
value: 9/10
total: 5.88/10★
in conclusion, stephos is being very complacent as it's standard (both service and taste of food) is below average right now.

+ + + +
hokkaido ramen santouka
1690 Robson St
Vancouver, BC
(604) 681-8121

View Larger Map
i did not know anything about santouka until my dearest church mates frequently eat there and were raving about it being the best ramen place in town ! since franklin and i were around downtown area, he took me to santouka during the summer. it was his first time too. i was tongue-tied when i saw how cluttered santouka is, far less spacious than either kintaro or benkei. that did not stop me to try the ramen though. the waitresses were very friendly and always greeted us with a smile. that was their standard service since i experienced the same thing when dining with baby t 3 days ago.
toroniku shio ramen – CAN$12.95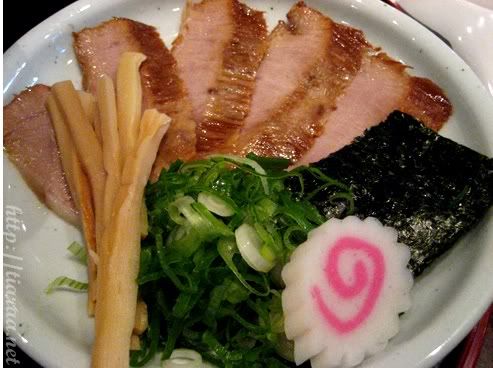 i had the shio ramen while franklin got the shoyu ramen. i thought that the shio ramen was too salty for my liking and that it was worst than benkei. however, i noticed a difference between the ramens at santouka and other restaurants that served ramens. you have a choice to separate your ingredients from the soup and ramen itself but of course you pay for better quality. the bowl looks very small but it is deep and the ramen is very filling. however, i was shocked when i had to run to the washroom half an hour after my visit. i had a bad diarrhea aftermath so i blacklisted santouka.
ratings: 1.5/5★
chasu kara miso ramen – CAN$10.95
decided to give santouka the benefit of doubt after my last horrible experience so i suggested bringing baby t to santouka for dinner. the kara miso is not as spicy as benkei's and the ramen is more salty than spicy. the noodles are drier but the quality (thinness) of the noodles are better. the chasu in santouka is truly tender. i finally understand the huge hype about santouka. it serves both quality and quantity ! i was also surprise that for any regular, chasu or toroniku ramens, you have the choice to either get a small bowl for CAN$1.00 less or a huge bowl for CAN$1.00 more. you can even just go with the regular bowl. since take outs decrease the quality of the ramens, how efficient is santouka really ?
ratings: 3/5★
chasu shoyu ramen – CAN$10.45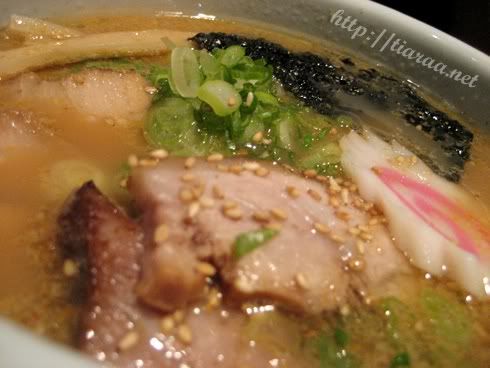 franklin had shoyu ramen when he ate with me on my first visit and he found the ramen regular, just like benkei and kintaro. as for baby t, she stated that the soup is too oily but the chasu is soft and tasty, which compliments the rich soup flavor. she gave 4/5★ for her shoyu ramen.
the bill once again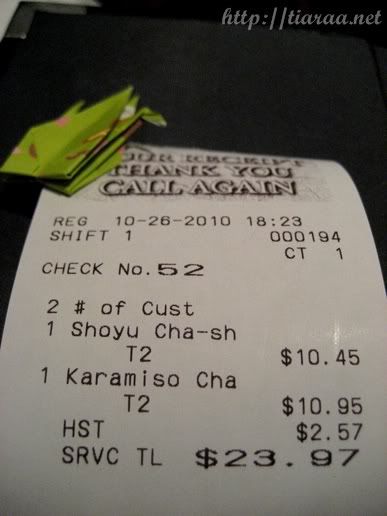 the bill came up to a total of CAN$23.97 so we gave CAN$26 inclusive of tips. i found the origami crane too adorable to be the trademark of santouka but kept it anyhow.
#3 visit
just last sunday, my group of hfan mates and i went to santouka. since there were so many of us, about 15 of us took the entire communal table while the rest took other tables.  it was my first time eating at the communal table and it was not very spacious actually. you have to talk loudly in order to put your message across.
shoyu ramen – CAN$7.95 (smaller bowl)
i wanted to have crepe aftermath so i ordered the smaller bowl for a dollar lesser. since theresa complimented the shoyu ramen the other time, i decided to order it. the pork broth is rich but just average for my palate. there are too much noodles and really little ingredients. the pork is still as smooth and tender like my previous visit.
ratings: 2.8/5★
salada ramen
aldh got this unique ramen that i have yet to see anyone consuming it. he commented that it tasted unique and consist of very little oil. he recommended it as it is healthy. however, he stated that the dish uses only an average amount of ingredients. he gave a rating of 3.75/5★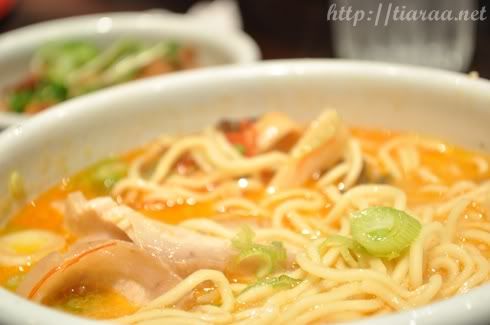 shio ramen – CAN$7.95 (smaller bowl)
fae ordered the shio ramen but i did not get any review from her. she strongly recommend santouka though.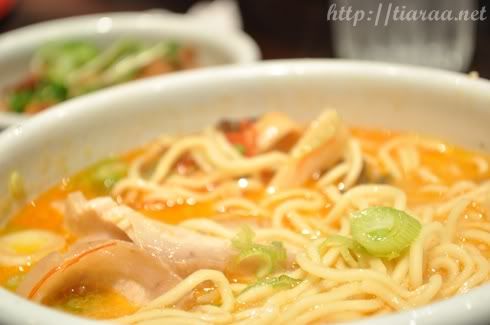 as for jason, he got the kara miso ramen with a don. i couldn't remember the details but he did not enjoy his dining experience at santouka. also, he did not like his food.
ACCEPTS CASH/DEBIT CARD
COMMUNAL TABLE FOR DIFFERENT GROUPS OF CUSTOMERS TO EAT TOGETHER
ambiance: 4/10
service: 8.5/10
food (taste & appearance): 6.02/10
value: 6.5/10
total: 6.26/10★
in conclusion, santouka is all about quality and quantity. try it if you haven't !

swisscheese*