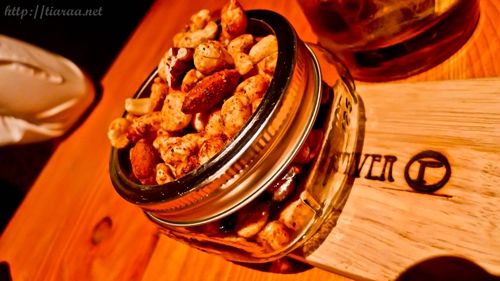 Janet, Tania and I went for the Mystery Murder tour during Halloween. The tour was about 1-2 hours and we were famished by the time it ended. Since the Mystery Murder tour ended at Waterfront area, Janet suggested us to head to Pourhouse Restaurant for some light snacks and drinks and so we followed her lead with the help of the GPS.
Pourhouse Vancouver
162 Water St
Vancouver, BC V6B 1B2, Canada
+1 604-568-7022

View Larger Map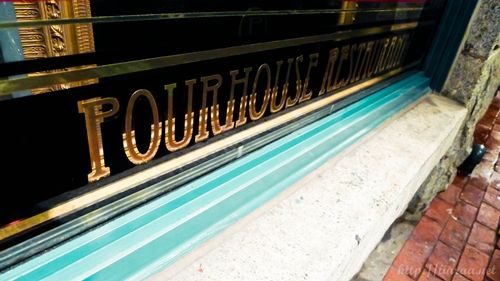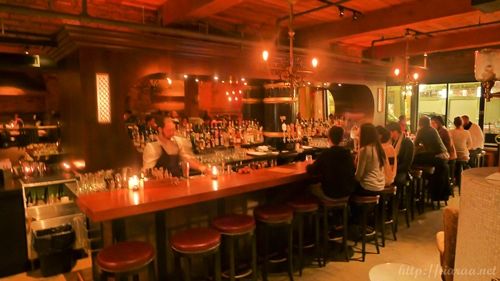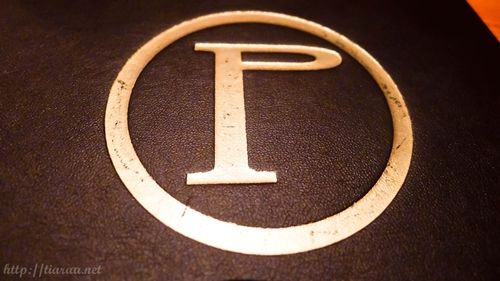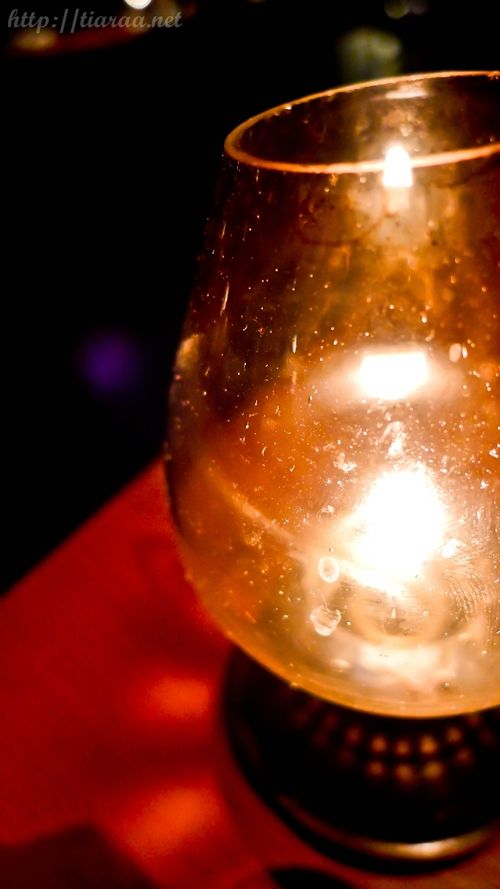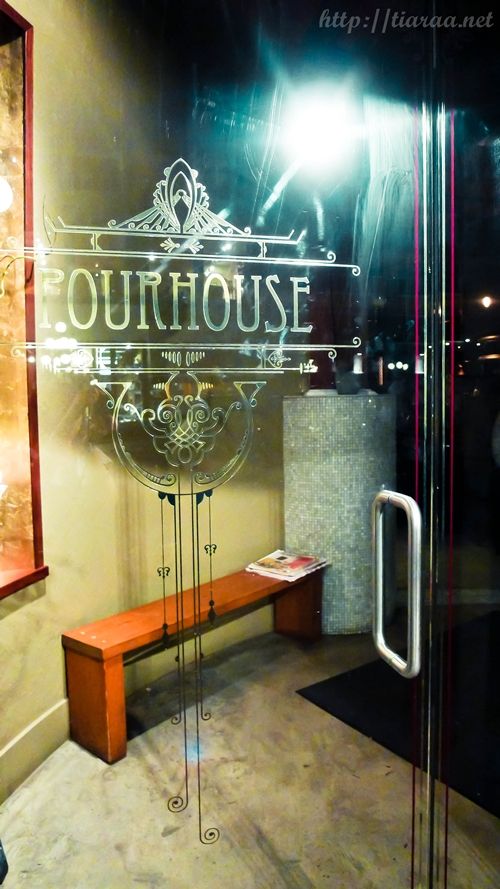 Like all pubs, Pourhouse Vancouver has a bar and a dining area. Initially, Janet wanted to sit at the bar to ask the bartender to recommend some drinks for us. However, I was starving and tired so I needed lots of space to put my items so we ended up in the dining area. The restaurant's ambiance and settings make it really nice and relaxing to dine both ways though. The server was very helpful. Thus, it was a lot easier to make our choices while ordering our drinks and food. It was hilarious how our Mystery Murder tour guide team was also dining at the same place as us and just next to us.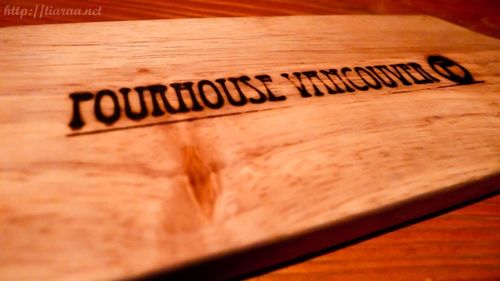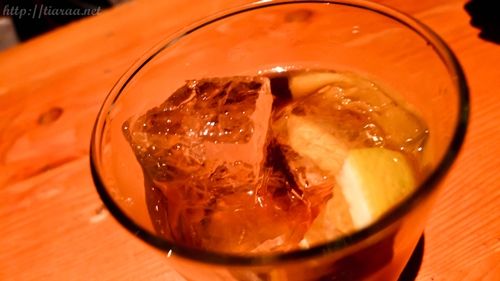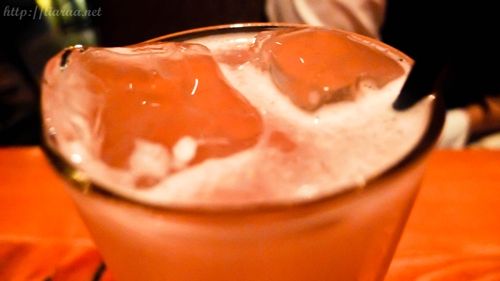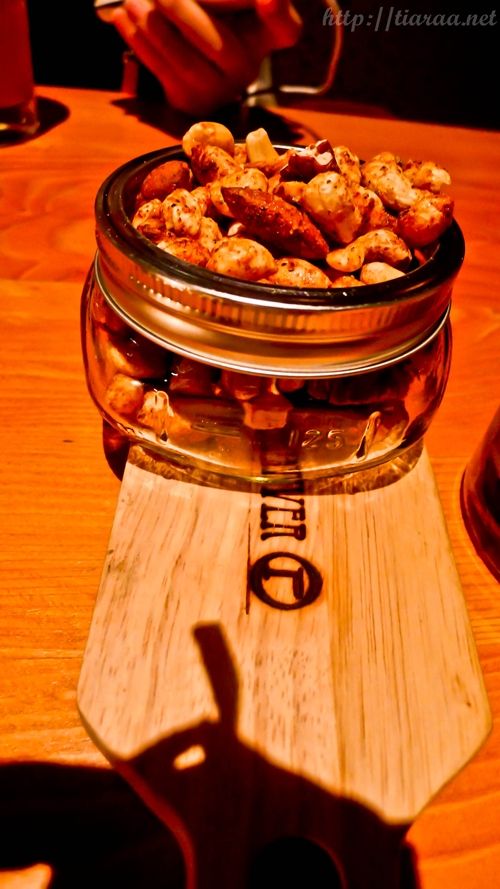 For starters, Janet and I both ordered the Spiced Cocktail Nuts (7th picture), which is very affordable, tasty and value for money. The nuts only costs CAD$3 and it was served in such a big portion. We could not stop munching on it as it complements the taste of the alcohol we had as well. Janet got the Old Fashioned Oaxacan (3rd & 4th pictures), which is very strong and tastes really nasty. It is not to my liking but Janet and Marvin both love it and that is one reason why they both love Pourhouse Vancouver for their exquisite drinks.  I have very little knowledge about the content of the alcohol but the Old Fashioned Oaxacan is stated to have "Del Maguey Mezcal, Cazadores Reposado, Raw Sugar and Mole Bitters". Tania does not drink alcohol so she got the Raspberry Collins (5th & 6th pictures) instead. As for me, I was so famished that I decided to get the Mac and Cheese (2nd picture). It looked rather small but was very filling for the night as I try not to consume too much at night. Both Janet and I thought that the Mac and Cheese tastes pretty different from other Mac and Cheese that we had. It was so delicious and did not taste like a regular pub food. I am not sure if it is because I was hungry and lethargic though.
Ratings for Spiced Cocktail Nuts: 4.5/5★
Ratings for Mac & Cheese: 3.5/5★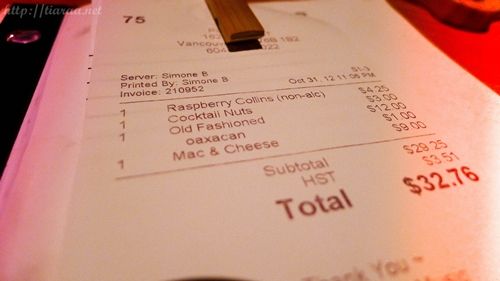 The total came up to CAD$32.76 and we decided to topped up 15% for tips.
NEAREST TRAIN STATION: WATERFRONT STATION
Mon-Wed 11:30 – 0:00
Thu 11:30 – 1:00
Fri 11:30 – 2:00
Sat 17:00 – 2:00
Sun 17:00 – 0:00
Ambiance: 9.5/10
Service: 9/10
Food (taste & appearance): 8/10
Value: 7.5/10
Total: 8.5/10★
Huge applause for the great ambiance, awesome service and the surprisingly yummy food and drinks!
swisscheese*