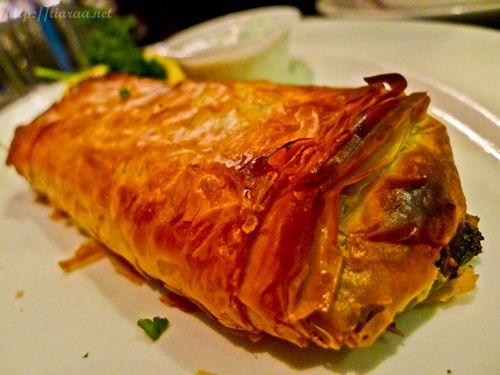 My sister recommended me to go to The Neighbour's with her as it was very close to our home at 49th Avenue. However, she already went with her friend so I decided to go with Holly and Janet since they were both very adventurous in venturing new restaurants.
The Neighbour's Restaurant & Pizza House
6493 Victoria Dr
Vancouver, BC V5P 3X5
(604) 327-1456

View Larger Map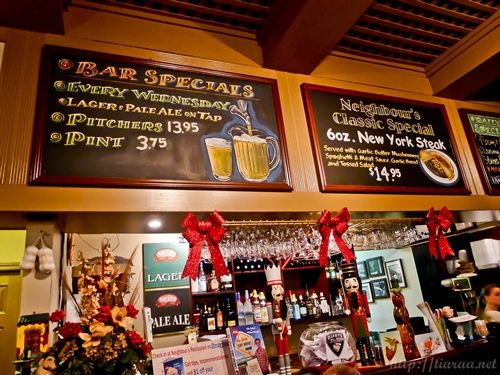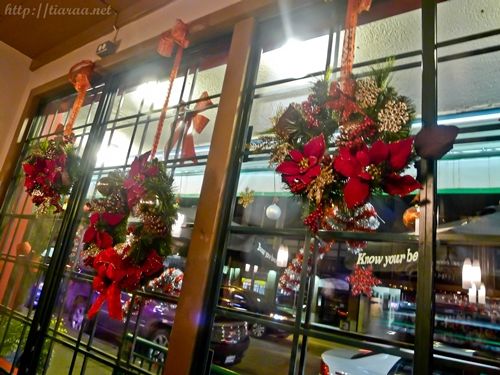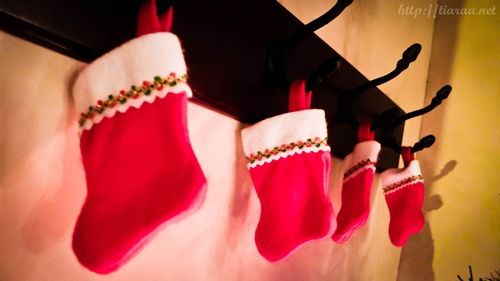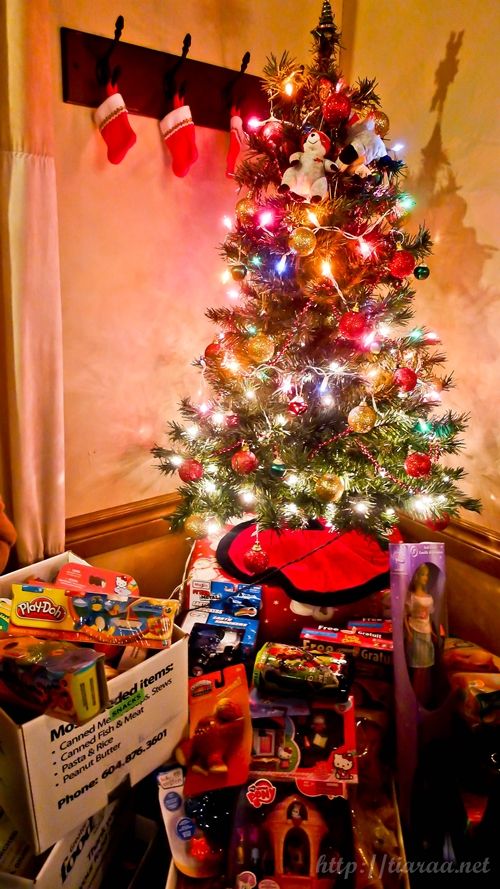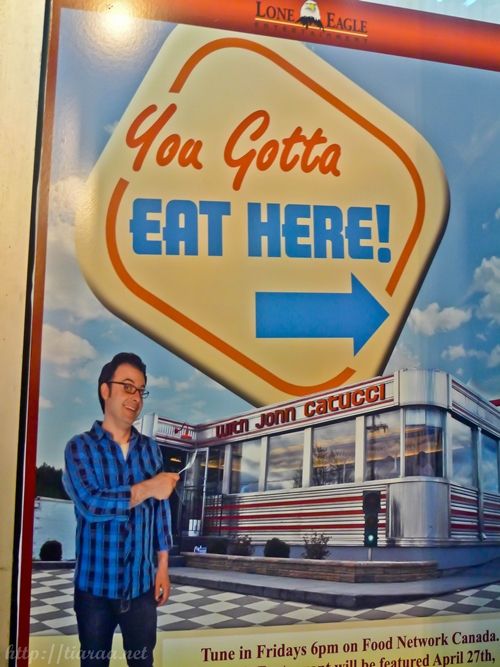 It was early December when we went to Neighbour's last year. So it was obvious that many restaurants will be decorated according to the festive season and The Neighbour's is no exception. With all the Christmas trees, mini Christmas socks, Christmas ribbons and such, The Neighbour's has a homely and cozy feel to it. It is a family owned restaurant featured on Canadian's Food Network program, "You Gotta Eat Here". The hosts and servers are both very sweet and allowed us to take photos with their Christmas Tree even though we were seated far away from it and the restaurant is a little small and squeezy. We had to wait for several minutes to be seated and we had to wait even longer for our meals to be served. This is probably because the food is served fresh from the oven or kitchen? Well, let's find out..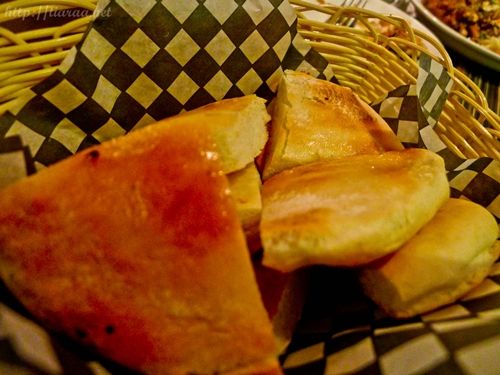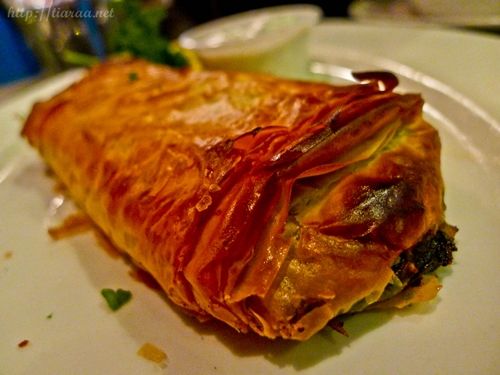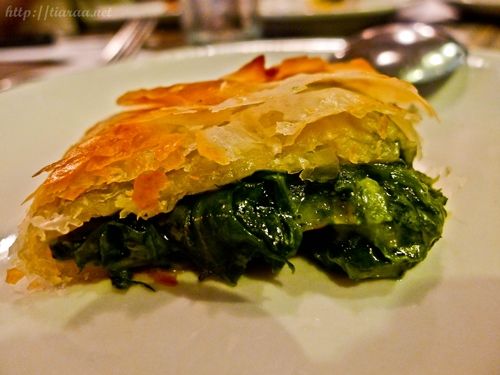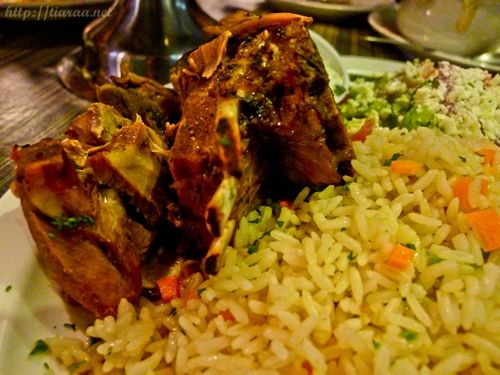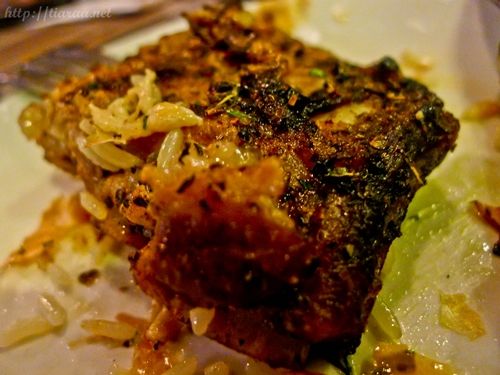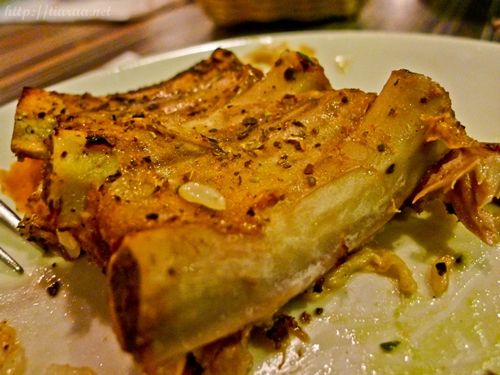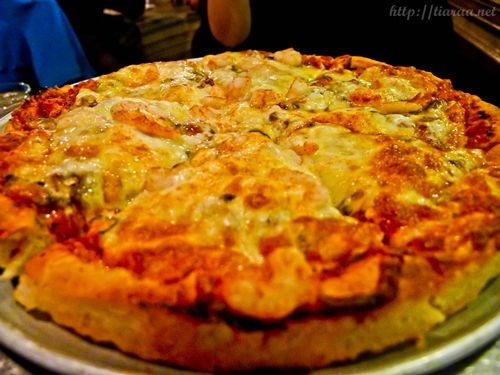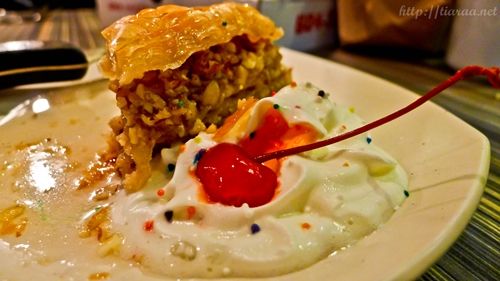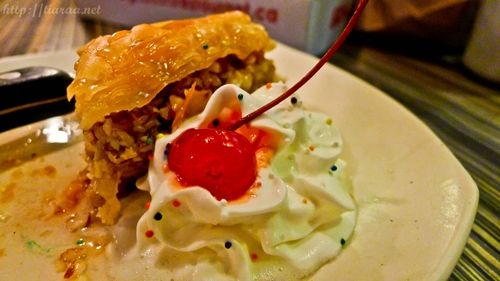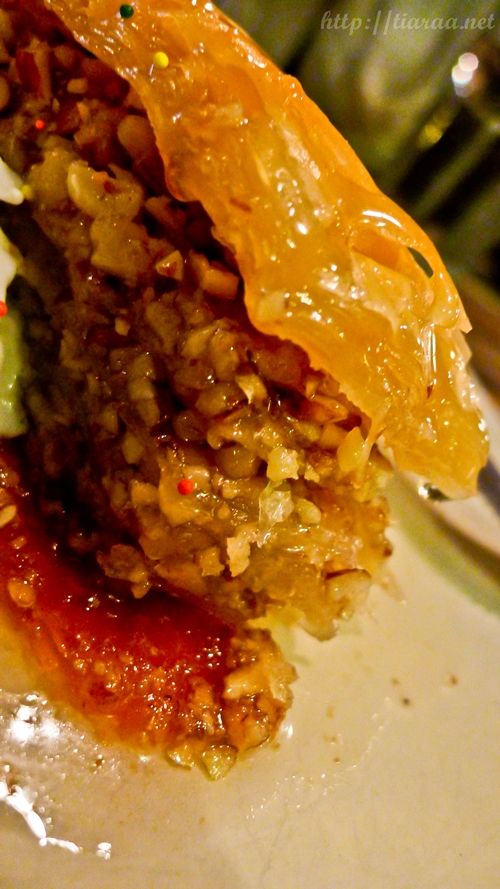 For the three of us, what we ordered was more than enough. Now bear with the food list:
Pita Bread (first picture), French Onion Soup (second and third pictures), Spanakopita (4th-6th pictures), Roast Lamb (7th-10th pictures), Ribs A La Greka (11th-13th pictures), Tasty Shrimp & Mushroom Pizza (14th-17th pictures) and Baklava (last 3 pictures).
As you can see, we had a variety of food from an array of cuisines – French, Italian and Greek! The Neighbour's certainly knows how to bake their dough well. Both their pita bread and pizza are oh-so-yummy! The onion soup has mozzeralla cheese in it and is baked to perfection. It costs CAD$5.95. Having lived in France for a couple of months, Janet commented that she had better French Onion Soup. It is relatively fine for me but not very remarkable. The Spanakopita, which costs CAD$6.95, is basically filo pastry filled with spinach, feta cheese and sauteed onions that is lightly spiced and baked. The dish is served with Tzatziki, which is shredded cucumbers mixed with thick yogurt, olive oil and garlic spices. I love the Spanakopita for it's flakiness but the inner fillings is a little salty for my liking. My sister does it better!  Both the Roast Lamb (CAD$17.95) and Ribs A La Greka ($23.95) are served with rice pilaf, roast potatoes, pita bread and greek salad. That is a whole load of carbohydrate, mind you! Usually, I only consume the rice pilaf and a small serving of roast potatoes and pita bread to restrain myself from having too much carbohydrates. I am saving my tummy for desserts! I am not a huge fan of meats but The Neighbour's does it best with their tender loving lamb and tasty ribs. I could suck every piece of meat from the bones of both the roast lamb and the ribs! Moving on, we had the small serving size of the Tasty Shrimp and Mushroom Pizza, which costs CAD$13.95. The pizza with it's thick and crispy crust and warm and appetizing fillings is one of the best in the neighbourhood! After a satisfied meal at The Neighbour's, we tried the traditional Greek desserts called Baklava. This dessert is definitely not for people who are allergic to nuts as it is a filo pastry layered with almond and walnuts, drenched in a cinnamon-honey syrup and served with whipped cream, colorful toppings and cherry at the side. The dessert is nothing too fanciful but is mouthwatering without being too sweet. It costs CAD$3.95, which is fairly cheap for three full foodies who are sharing.
Ratings for French Onion Soup: 2.8/5★
Ratings for Spanakopita: 3/5★
Ratings for Roast Lamb: 4/5★
Ratings for Ribs A La Greka: 4.2/5★
Ratings for Tasty Shrimp & Mushroom Pizza: 3.5/5★
Ratings for Baklava: 3.8/5★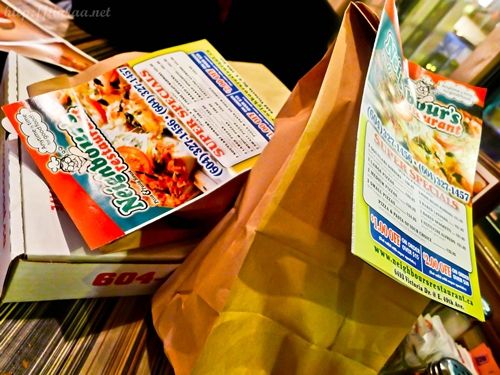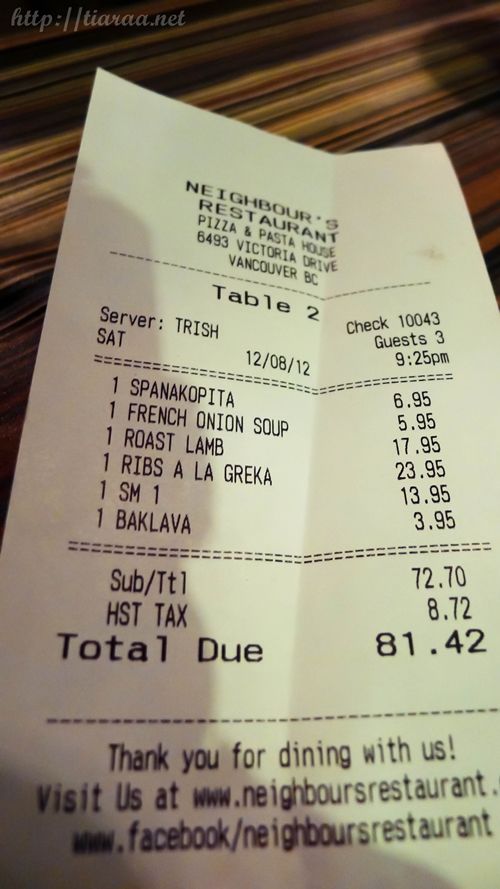 We took the remaining food to go since we obviously could not finish what we ordered. The total bill came up to CAD$81.42 and we topped 15% tips for their excellent service!
ACCEPTS CASH/CREDIT CARD/DEBIT CARD
OPENING HOURS:
Mon-Sat 3:30 pm – 12 am
Sun 3:30 pm – 10 pm

Ambiance: 8.5/10
Service: 10/10
Food (Taste & Appearance): 7.1/10
Value: 9/10
Total: 8.65/10★
In conclusion, The Neighbour's is definitely one of the rare gem around Fraser and 49th Avenue!