iva has a CAN$100 groupon so she has been asking me out since last december but apparently, i cannot remember receiving any of her texts then. it was only until recently that i managed to respond to her texts. what a bad friend i am, really ! so anyways, we decided to meet up, together with her, kenny & maomi last sunday !

le gavroche restaurant
1616 Alberni Street
Vancouver, BC V6G 1B1
(604) 685-3924

View Larger Map
i was surprised to know that the restaurant looks like a house on the surface but when you enter it, boy it is so classy ! you are first greeted by the wine closet, coat rack, umbrella storage and stairs. the server came down and brought me up. he is one of the nicest, friendliest and most genuine servers ever ! first, he took my umbrella from me and put it on the umbrella storage. then he brought me upstairs to my table. the manager served us and he was on such a good terms with iva and kenny. they were networking on wines and suggestions for huge gatherings in the restaurant and such. i found the service IMPECCABLE beyond words. as for kenny, he claims that the service was excellent and the manager did the whole wine ceremony perfectly. he gave a rating of 6/5★
STARTERS
i do not have the habit of consuming bread and butter in a restaurant because i want to save my stomach for better food. i have not much of an impression on the miniature salad too. the sorbet is really good though.
BEVERAGES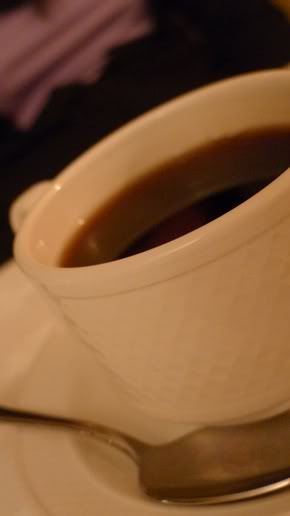 iva ordered coffee but i don't know her opinion on it. we ordered a bottle of beaune premier cru, which costs CAN$80. kenny and iva attended wine tasting class together before and thus, they have so much knowledge on the standard on wine so they interacted a lot with the server. kenny had the first taste of wine and he concluded that it has a good strong finish. he gave a rating of 4.2/5★. as for me, i do not know much about wine so it taste fine to me as well.
APPERTIZERS
the appetizers were divine !! what stood out for me was the fresh scallops – CAN$16 (2nd picture), which consisted of white beans, arugula, scallop, octopus bacon and andouille sausage !! the flavor of the scallop is light and the texture is soft and easy to chew.
ratings: 4.5/5★
all four of us agree that the frog leg in the escargots dish – CAN$16 (1st picture) has the texture of a chicken but tastes like fish. we also agreed that it is succulent and not sloppy. the escargots are one of the many dishes that portrays french. it tastes like garlic and is mushy.
ratings: 3.5/5★
the duck confit  - CAN$15 was my least favorite tho it is still average. the duck confit comprised of pecan flour crusted, creole spices, wilted spinach salad and cassis sauce.
ratings: 3/5★
MAIN ENTREE
i had the rabbit rack sausage – CAN$29 (1st & 5th pictures), which complements with the white beans and port reduction. i found it really dry and it kinda tastes like chicken although it is really stringy. as for kenny, he said that he had better ones
ratings: 2.8/5★
iva commented that she really enjoyed her dover sole – CAN$40 (3rd picture) even though it is bony. she stated that how the manager cut the fish (2nd picture) was such an awesome demonstration to have. she also gave a thumbs up on the good choice of sauce.
kenny and maomi ordered the beef tenderloin – CAN$30 (4th picture). kenny found the tenderloin average. he had medium rare and claimed that the meat is tender and too small in portion. he also gave a critique that the veges should be soaked longer because the sauce is bland. he gave a rating of 3/5★
DESSERTS
the crepes suz – CAN$17 (3rd-5th pictures) is a huge portion for two people. the manager was teaching the new server to cook the crepes (1st, 2nd & 8th picture). i saw him putting orange, wine and such on it. the crepes are not too bad but it has a strong alcohol taste. i like my desserts sweet, not with a tinge of bitterness.
ratings: 2.8/5★
as for the poire helen – CAN$8.50 (6th & 7th picture), it is slices of caramelized pears with nuts and icing sugar. this is the type of dessert i was craving for.
ratings: 3.5/5★
RECEIPTS
iva wanted to treat us CAN$100 with her groupon but unfortunately, the policy is to only use 1 groupon so we could only get a CAN$50 discount. thus, the total bill costs CAN$268.58 inclusive of tax and we paid CAN$320 inclusive of tips.
ACCEPTS CASH/CREDIT CARD/DEBIT CARD

ambiance: 9.5/10
service: 10/10
food (taste & appearance): 6.7/10
value: 7.5/10
total: 8.43/10★
in conclusion, this is one of the best fine dining restaurants i have ever been to (exclusive of tastes) !

swisscheese*