it was benz's birthday so we decided to combine his belated birthday celebration with our CAFP executive meeting. he didn't want it to be a big affair or to be the center of attention so we decided to keep it small with no cakes, balloons or whatsoever. he chose khunnai chang because he wanted to try it out and he also have a 10% discount with the restaurant due to affiliation between the UBC Thai Club and khunnai chang.

khunnai chang thai cuisine
835 Denman Street
Vancouver, BC
(604) 801-6093

View Larger Map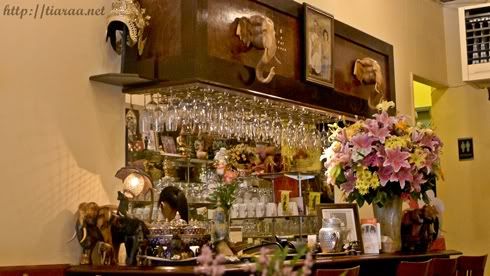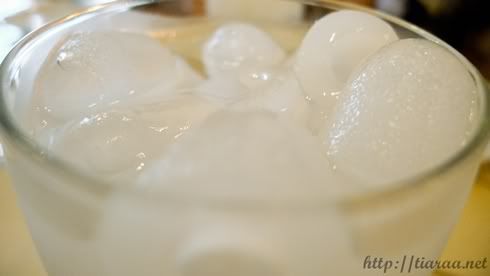 benz made a reservation for 5 so when kayla, joey and i came early, we made were seated immediately. the server was very gentle with her actions and would always serve us meticulously. benz & her were conversing in thai and they were very engaging. she was nice as she did not charge us for rice as well. the place is very beautifully decorated with thai's cultural items. i love the neat and clean look they had, just like balilicious (indonesian's version).
FOOD GLORIOUS FOOD !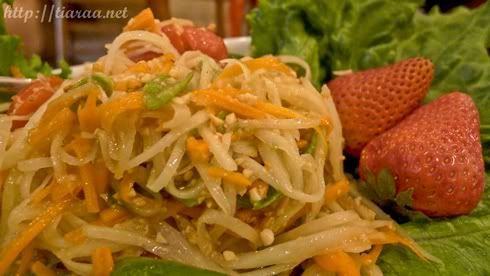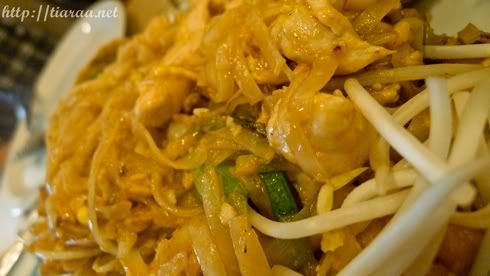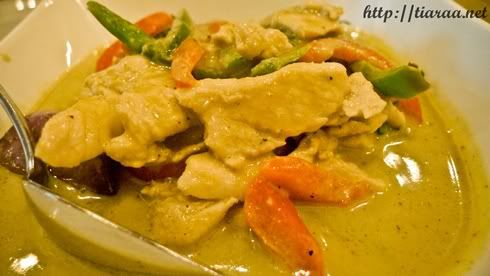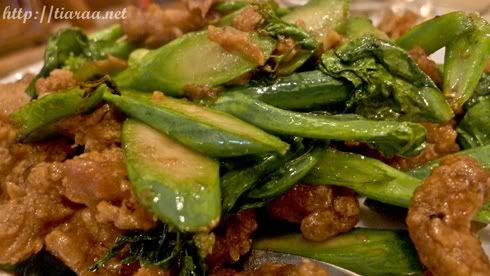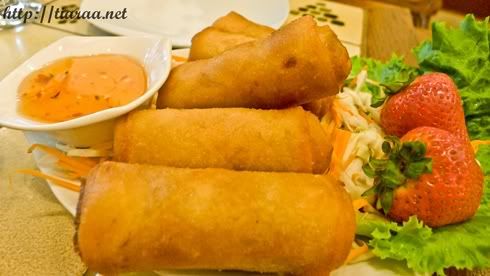 1st picture – we shared the som tam thai salad, which costs CAN$8.95. it consists of long bean, tomatoes, lime juice, peanuts blend with shredded green papaya. it was so succulent and very tasty, especially with the toppings of the peanuts. i was surprised how they even decorated savory food with strawberries so that it will be appealing to the eyes of the person dining there.
ratings: 3/5★
2nd picture – we should never forget pad thai (CAN$12.95) whenever we head to thai restaurants ! it consists of stir fried rice noodles with chicken. it was closest to authentic thai food that i had in bangkok and in salad king at toronto. we did not ask for the spicy one because kayla could not consume spicy food but it was still so delicious due to it's original flavoring.
ratings: 4/5★
3rd picture – green curry is one of my favorite dish in thai restaurants so that was my first choice when we got to choose one dish each so that we can share all the dishes. so benz ordered the gaeng keo wan, which is worth CAN$12.95. it is HANDS DOWN the best dish out of the lot ! even though we only requested for medium spice for the green curry, it was pretty spicy for a regular person. i am able to take in the spice though. the green curry is made from coconut milk and thai basil and we had the eggplants and chicken to complement with it. everyone enjoyed it very much, especially when eaten with rice.
ratings: 5/5★
4th & 5th pictures – the pad kana moo krop (CAN$12.95) was order by benz. it comprised of crispy pork with kailan. i did not have much of it as i was too engrossed in both the green curry and pad thai so i have forgotten the taste of it.
6th & 7th pictures – the popieh thot (CAN$6.95) is for vegetarians. it is stuffed with glass noodles and a special thai sauce. the sauce tasted like oyster sauce but with a thai feel to it.
**glass noodles is made of the combination of water and a form of starch.
ratings: 3/5★
8th picture - we shared a huge pot of steamed jasmine rice, which the server generously gave us for free. simply AMAZING !
THE BILL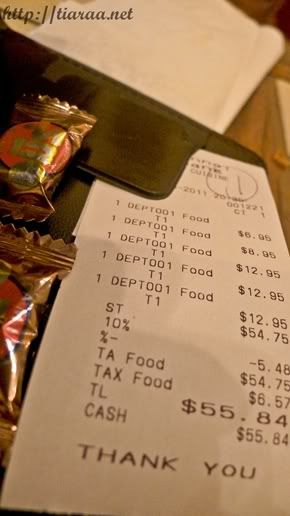 the total came up to CAN$55.84 as we had 10% discount due to benz's thai club card and we weren't charge for the pot of rice as well. we paid a total of CAN$65 but benz gave extra tips as well.
ACCEPTS CASH/CREDIT CARD/DEBIT CARD
GLUTEN FREE FRIENDLY, KID FRIENDLY, VEGAN FRIENDLY.
ambiance: 8.5/10
service: 10/10
food (taste & appearance): 7.5/10
value: 8/10
total: 8.5/10★
in conclusion, head to khunnai chang for good thai food if you are around downtown area.

swisscheese*