Holly and I never realized that we have so much interests in food until we first hung out at Minerva. We were discussing about all sorts of food and restaurants when she suddenly mention about blind dining. She told me that in late September last year, Dark Table finally made its way to Vancouver! That got me beyond excited and I was all ready to dine at that restaurant as soon as possible. So, I decided to gather all my adventurous food buddies to dine together. I made a reservation with the server of Dark Table for a total of 15 people for Friday, the 2nd of November 2012.
Dark Table
2611, West 4th Avenue
Vancouver, BC V6K 1P8 Canada
604-739-3275 (DARK)

View Larger Map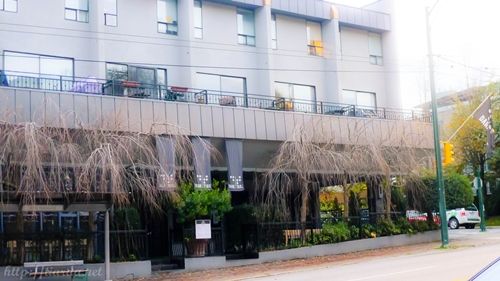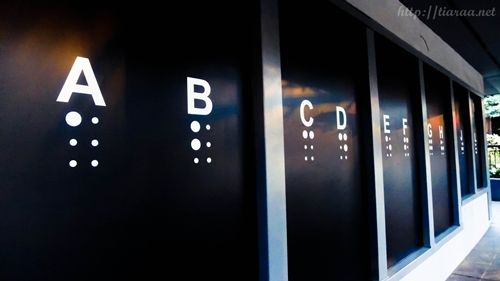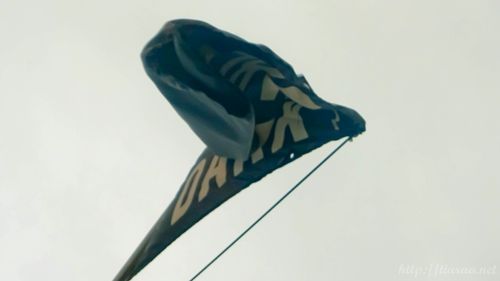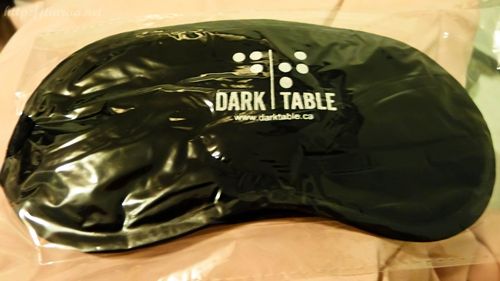 FIRST VISIT
Every Friday, I usually have class for an hour but at an odd hour of 4pm. So right after my class ends at 5pm, Alva and I met at the bus loop and took bus 84 to Dark Table. When we were directly opposite Dark Table, we were quite taken aback by the outlook of the restaurant as the withered trees looked creepy. As I made the reservation for the 6pm slot, Alva and I were too early so we decided to snap some shots and talked for a bit. However, I was panicking as I asked everyone about their whereabouts. Everyone slowly assembled and we went  in together as a group at 6:30pm. The hostess were very nice even though we were late as a group.
Since there were 15 of us, we had to split into two groups. I decided to let Janet, Marvin, Theresa, Jody, Jeffrey, Matthew and Janet's two other friends dine together since all of them know one another in one way or another. I decided to dine with 4 of my FNH 342 girls (Alva, Holly, Maggie and Venessa) and the lovely Food Society couple (Clement and Jenny). Janet's group went in first  and all of us were surprised when one of our friend came out in tears after just 2 minutes. It was quite a traumatizing experience for her as she felt claustrophobic so she decided to go home after coming out of the restaurant. I felt so bad letting her leave on her own but I went in with the second group shortly after.
We had to stand in a row and put our right hand on the shoulder of the person in front of us before heading into the restaurant with our server, Ankar (?). Some of us, including me did not want to stand at the back so Jenny and Clement decided to be at the back of the line. Huge applause for them! Ankar brought us to a dark place inside the restaurant but there were still some light then. He gave us instructions not to run about on our own, to ask him for help if needed and the list goes on. Alva and I felt a little claustrophobic so we asked Ankar if we could head out for a bit with Venessa. I decided to take a deep breath and head back in to try again and we felt better after. The ventilation of the restaurant was not very good at that point so I decided to take off my coat, scarf and cardigan so as to make myself comfortable. I was very grateful that I was sitting between Alva and Venessa so I was not as scared anymore.
We were very surprised that the dining area is pitched dark and we could not see anything at all. We soon realized how we not only relied a lot on our sense of hearing but also on our sense of touch. We had to feel the table in order to locate our utensils, napkins, butter and plate. We did not manage to locate the bread though. Ankar was very meticulous when he handed us our glass of water and our appetizer, meal and desserts. The procedure goes like that:
1) He calls our table, which was named as Holly. This is to show that he is around our table ready to serve us. We respond by saying "yes" together.
2) He calls our individual name as he wants to give our dish to us. The respective person responds by saying "here!".
3) He informs the respective person that his hands will be on his/her shoulder and execute it so that we can locate his presence.
4) He slowly hands us our drinks and food one at a time.
 There is only one choice for the appetizer and that is the surprise dish. However, before we went into the restaurant, we could tell the hostess what we do not want or cannot have in our dish. A few of us did not mention anything but some of us did. Those that did not mention anything to the server got Salad with only two mushrooms topped with olive oil and cheese. A few of us including me found our dish quite pathetic. However, Venessa stated that she did not want vegetables in her dish and she was so lucky to receive fried succulent prawns for her appetizer. She gave both Alva and I a piece each and we were passing around these items using a fork in the dark.
As for the entree, I got the surprise dish as I like being adventurous. However, it turned out to be another disappointment. The dish was basically Garlic Chicken with carrots and roasted potatos at the side. The dish was quite bland so a thumbs down for that. My friends who did not order the surprise dish enjoyed their meals though. This taught us never to order surprise dishes again.
Again, we did not have any choices for desserts except for the surprise dessert. Initially, we thought that the dessert was a slice of lemon mousse as the cake had a little sour taste in it. However, the cashier revealed that it is a Raspberry Mousse. Then, I realized that the mousse did not have a tarty taste in it. This incident taught me never to judge too quickly. Needless to say, the mousse tasted just like a cake from grocery stores such as Safeway and Save-On-Food.
Ratings for the Surprise Appetizer: 2/5★
Ratings for the Surprise Entree: 2.5/5★
Ratings for the Surprise Dessert: 2.5/5★
The total came up to CAD$39 without tax and tips for those who ordered a 3 course meal. When taxes and 15% tips were included, the bill came up to a total of CAD$50+. Even though the food was not up to expectation, I feel that we pay for the experience of dining in the dark for 2 hours. After this dining experience, I learnt that we should not take any of our senses for granted. We should also be more compassionate and not discriminate the handicapped. Being served by a visually-impaired person in the environment that he is familiar in shows me how handicap all of us can really be. We must soften our hearts and not be too prideful and instead, look around to address the needs of others. Thus, I find that the dining experience is worth the amount I paid for.
I think our group was so big so the hostess mixed up our orders and therefore, Ankar served some dishes wrongly. For instance, Maggie told the hostess that she did not want to have carrots in her meal but the surprise entree still had carrots in it. Also, Alva told the hostess that she did not want to have a fruity cake but she ended up getting the raspberry mousse too. I was also shocked when the management told us that not all our members have made payment as they are short of one payment. I clearly saw everyone making their payment though. The management held us back for awhile but I had to leave with Holly and Alva for a bit to send Alva off to the bus stop as she did not have umbrella to cover herself from the rain. Janet helped me to resolve the issue by convincing them that we have paid before they finally let us go. Ankar is an awesome server but the management itself is not as systematic and organized. The whole coordination was very bad as it took us a long time to make payment as well.
P/S: You can bring your own bottle (BYOB) of alcohol to the restaurant and it will be free-of-charge.
SECOND VISIT
It was during late November when Janet and I decided to go to Dark Table for our second visit as the first visit was an intriguing experience. Holly and Marvin could not join us so we called Clement, Allen and Tania along. Clement is visually-impaired so he knew a few of the servers at Dark Table. He was also excited to try out this restaurant though. I felt that while making our order outside the restaurant, everything was in a rush. I did not feel well-prepared this time. When I went into the restaurant, I could hear so much noises of the conversations from other tables. We were seated in a really awkward position as our table was quite long. Clement and I sat at one end of the table and Janet, Tania and Allen sat at the other end. I felt suffocated and stuck as the wall is just next to me. I am not sure if it is because I did not have sufficient sleep that made me so uncomfortable that I felt like puking so badly. So, I decided to ask the server to bring Tania and I out for awhile as she felt the same as well. Ankar has good customer service skills but I cannot say the same for the server on my second visit. He was not meticulous enough and did not give us a sense of security. Even Janet had the same sentiments as me.
Everything was again, not coordinated well and it seems like our server is too busy for us because it was a Saturday evening and there were more customers than the first time we went there. In the end, I only got the Veal Schnitzel to take home as I did not feel well at the restaurant that day due to the poor ventilation, noise and the lack of sleep.  The veal came with roasted potatoes and seasonal vegetables and it was just very mediocre. My last experience at Dark Table does not make me strike the restaurant off my list as I would love to go there for the third time when I have the chance to this May!
Ratings for the Veal Schnitzel: 2.7/5★
CASH/DEBIT/CREDIT
SUN-THU : 5.15PM-10PM
FRI AND SAT :
1st service @ 5:45 PM
2nd service @ 8:45PM
Nearest Transit: Bus 44 and 84
Ambiance: 7/10
Service: 10/10 (This is only for Ankar!)
Food (taste & appearance): 4.85/10
Value: 7/10 (In terms of experience and food)
Total: 7.21/10★
This was one of the most interesting dining experience that I ever had in my life as I have never been in total darkness for 2 hours before. I applaud Jorge Spielmann who invented this dining concept at the comfort of his home in Switzerland and Moe Alameddine for setting up these restaurants in Toronto, Montreal and Vancouver to not only let us experience this unique type of dining but also provide opportunity for the visually-impaired.

swisscheese*