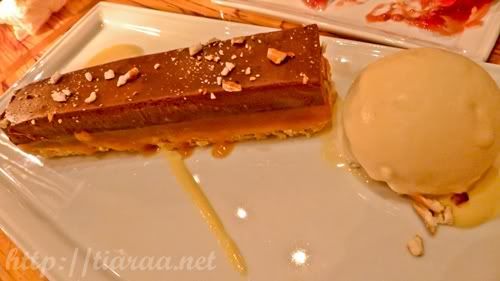 I was still in Singapore when the reservations for Chambar was made.  My LFS friends, Theresa and I decided that we should have dine out together on Gigi's birthday. Even though Anabel and Theresa are not really close to the rest of them, I invited them as I do not have much time in Vancouver so a gathering with people from slightly different group should be good since Anabel is close to Stephanie too. Aldh recommended Chambar Restaurant so I just went ahead with it and he made the reservation for the 9 of us on the 5th of February. Thank God there were space for dine out because we managed to make reservations only towards the end of January.
DINE OUT – CAD$38/person without HST & gratuity. 
Chambar
562 Beatty Street
Vancouver, BC V6B2L3
(604) 879-7119

View Larger Map
Theresa, Anabel and I were the last to reach the restaurant as I went home to get my SD card after buying Gigi's cake with Aldh. There were many servers and all of them were friendly but they were scattered all around. Different servers offered to help us take pictures of our group. Also, I was just enquiring about a dish to my friends and the server heard it so he volunteered to give us more details of the dish – Very friendly indeed. When we wanted to surprise Gigi with her birthday cake, the server followed our instructions very well and placed the candles like a heart shape on Gigi's cake. They did not even charge us for using their plates and utensils for the cake. My sister told me that she was furious when a restaurant charged them for the plates and utensils for her birthday during Dine Out. Overall, Chambar has good ambiance and service except that they cannot separate the bill and they are all over the place.
A. APPETIZERS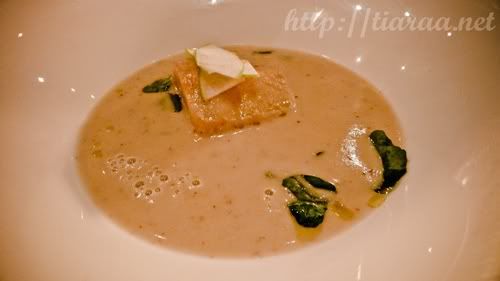 Surprisingly, almost everyone got the Carpaccio de Chevreuil (3rd picture) for their appetizers. This appetizer was a little fusion of Japanese and Belgium cuisine. It comprised of soba noodle salad on top of Charred venison carpaccio garnished with garlic chips, radishes, white soy and red wine reduction. Theresa did not like it but Gigi finds it average though.
Anabel had the Betterave & Fenouil but there are no pictures of it because I was seated quite far away from her. The appetizer consists of roasted baby beets, orange braised fennel, pomegranate and whipped sheeps feta.
Enoch and I happened to order the Soupe D' Hiver and we love it! It is a roasted celeriac and morel soup with shaved apple, lingonberries and watercress. It is so mouthwatering that Enoch and I kept raving about it.
Ratings: 4/5★
B. ENTREES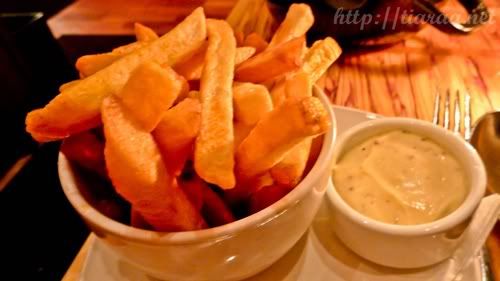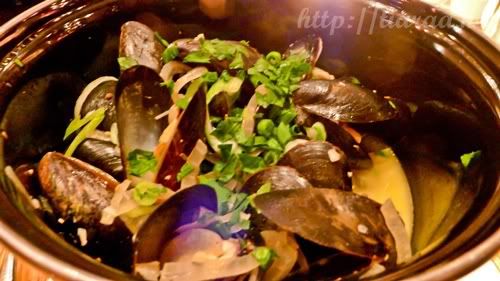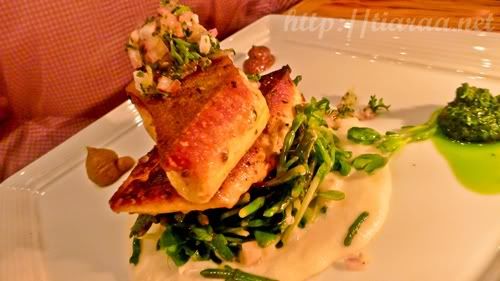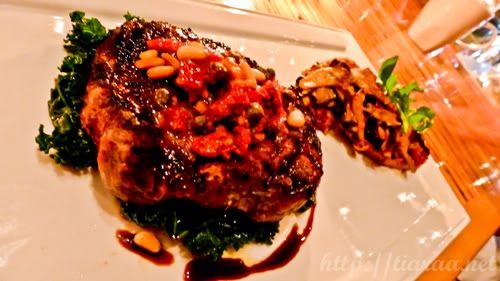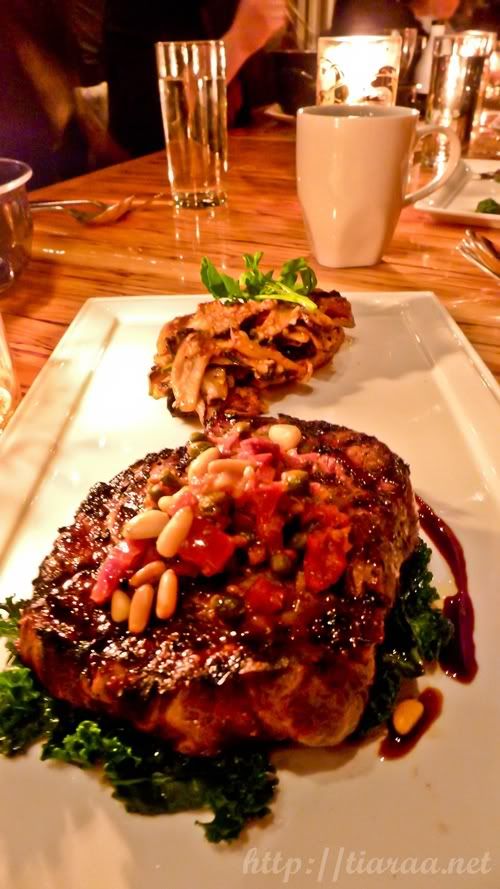 A lot of us had the Chambar's signature dish – The mussels. Some of them had the Moules Frites Congolaise, which is basically mussels with tomato coconut cream, smoked chili and lime and topped with cilantro. I have always been a person who love white cream sauce so I went ahead with the Moules Frites Coquotte (1st & 2nd pictures) instead. It consists of lots of mussels in a pot filled with white wine cream, smoked bacon lardons and  spring onions. The dish came with fries at the side. It was my 5th day in Vancouver so naturally, I could not finish my meal. Everyone had a hard time finishing up their mussels except for Aldh. Of course, I ate the least out of everyone. I have no idea why the mussels are their star dish but it wasn't for me. The cream is too diluted and seriously, consuming so much mussels at once – puke worthy much? The fries tastes really good though – firm, crispy and delicious even without the sauce!
+ points for the fries
- points for the mussels
Ratings: 3/5★ (Fries added points to the star dish. seriously?!)
Enoch had the L'omle de l'Artique Nicois (3rd picture), which is the crispy Arctic char. I had a bite of it and found it to be too salty for my liking but Enoch loves it anyhow.
Gigi took a daring move to order the Ribeye Steak (4th-6th pictures) for an additional CAD$10. She wanted it raw but like many other restaurants, they made it well-done. I am not a steak fanatic so no comments for this dish.
C. DESSERTS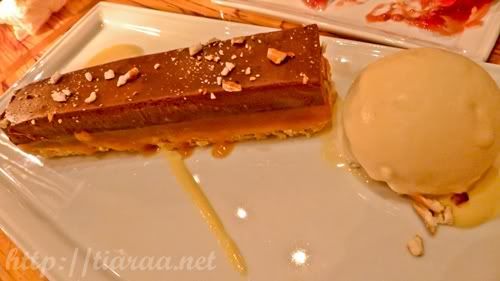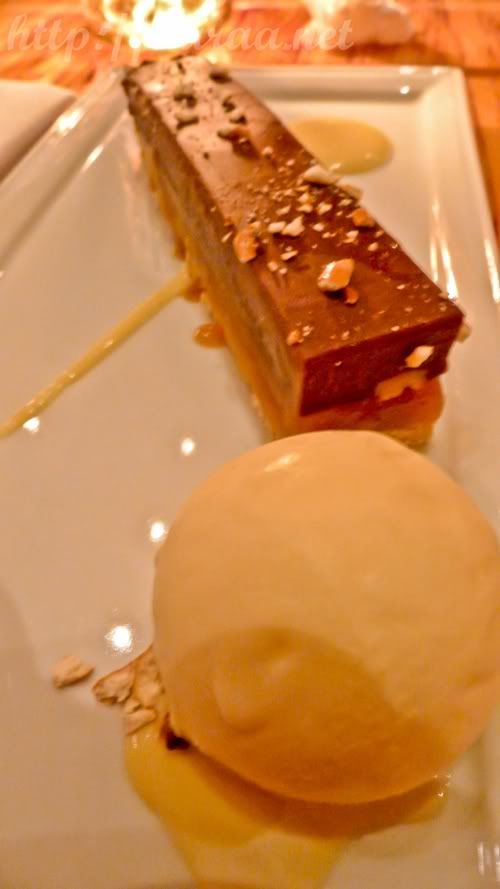 I was the only person who ate the Le Chocolat as my dessert. The cake was basically like a salted chocolate caramel bar and it had pretzel ice-cream at the side. I really enjoyed my pretzel ice-cream as it is a rather unique flavour. However, I could not finish the salted chocolate caramel cake as it was too sticky. Also, I was too bloated after consuming Gigi's cake. Thus, I managed to only eat less than half of the cake.
+ points for the ice-cream
- points for the bar
Ratings: 2.8/5★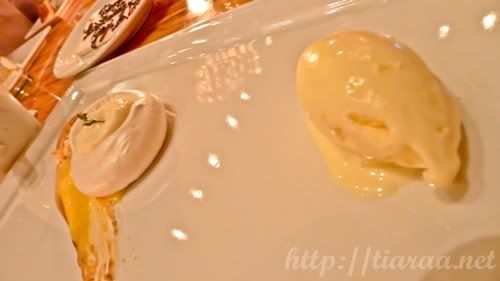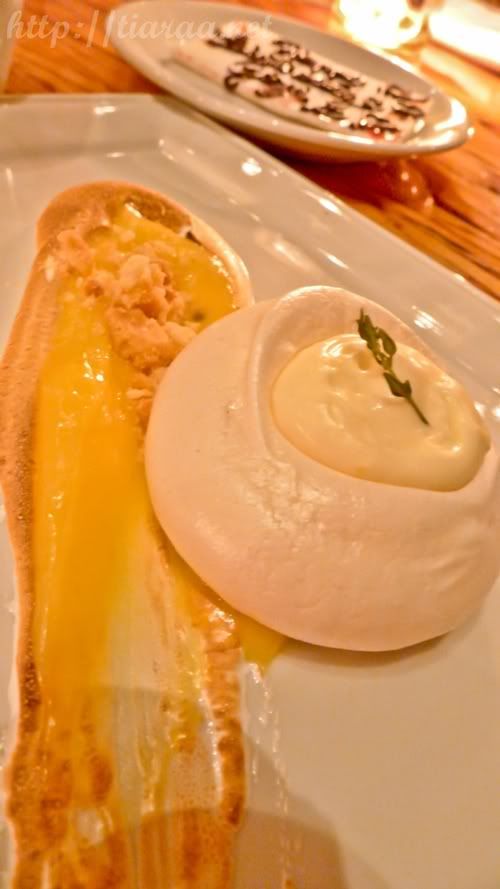 Everyone else in my group had the Le Fruit, which was claimed by my friends to be the best dish of the restaurant. I did not try any of their dessert but it had lemon curd, toasted meringue and thyme scented shortbread. Looks like I really ordered the wrong dessert.
THE BILL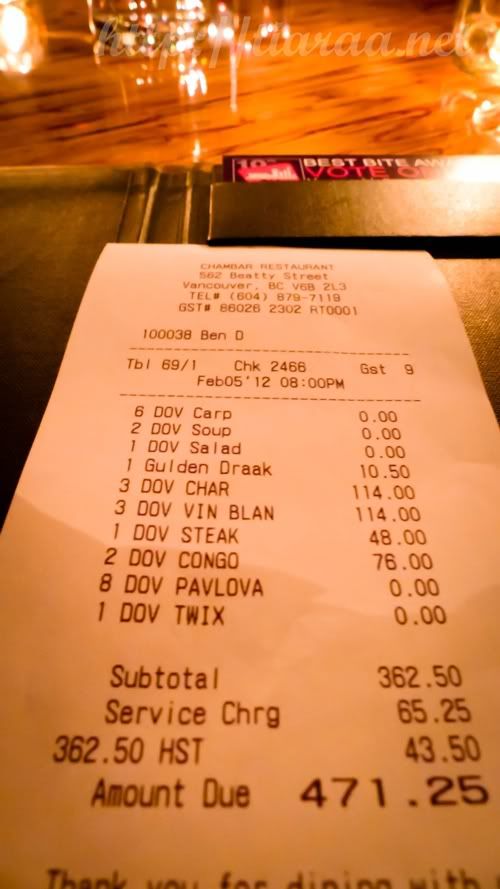 As always, the bill takes everyone on a roller-coaster ride. We could not separate the bill so we had a hard time calculating who should pay what. As Anabel and Steph ordered alcohol, they had to calculate for the extra costs. Steph, Gigi, Aldh, Phoebe, Annie, Enoch and I wanted to share costs for Gigi's meal and it took awhile for us to calculate it as well because Gigi took the CAD$48 menu. The total bill came up to CAD$471.25, inclusive of service charge and HST. Theresa paid CAD$50.The people who chipped in for Gigi's meal had to pay CAD$60 each. I do not know how much exactly did Anabel and Steph paid as the figures were getting too complicated but I know we paid them more than enough tips.
Our claim: "LFS people are bad in Math", lol.
Cash/DEBIT/CREDIT
Opens:
Mon – Thu: 5PM – 12AM, Fri – Sat: 5PM – 1AM, Sun: 5PM – 12AM
Skytrain Station: Stadium

Ambiance: 9/10
Service: 7.5/10
Food (taste & appearance): 6.53/10
Value: 7/10
Total: 7.51/10★
In conclusion,  I will try other dish in the near future. Just my luck to choose the wrong dish.

More dine out reviews to come, till next time!
swisscheese*