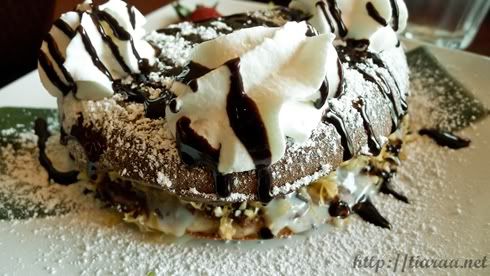 i first got to know balilicious as sate satu when arya's cousin yudha worked there last year. apparently, they changed the name of the restaurant. this year, 3 of my friends are currently working at balilicious. i have been wanting to pay the restaurant a visit for quite awhile but is only able to head there after my final exam last friday.
PUBLISHED ON 3RD MAY 2011; LAST UPDATED ON 25TH MAY 2011

balilicious
3488 Cambie Street,
Vancouver, BC
(604) 709-8150

View Larger Map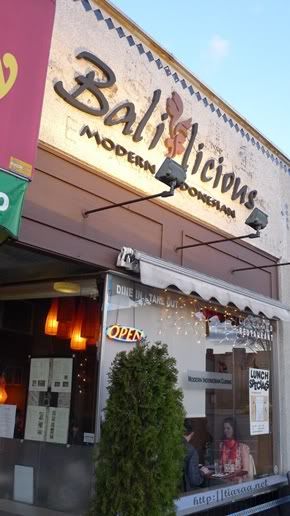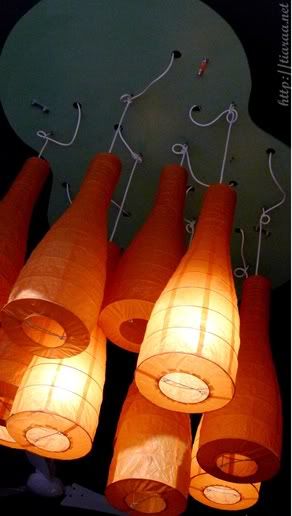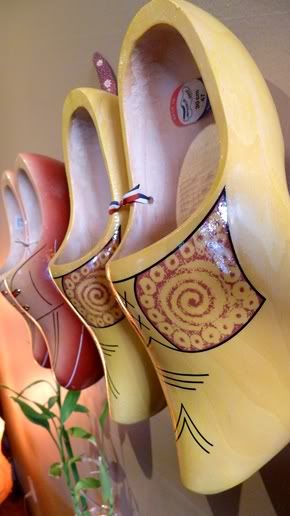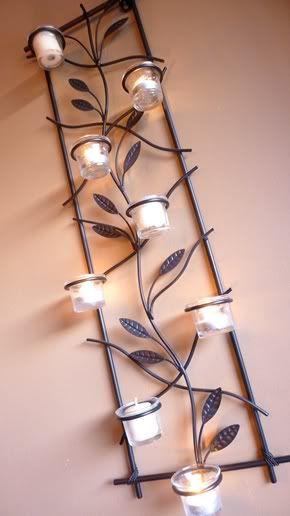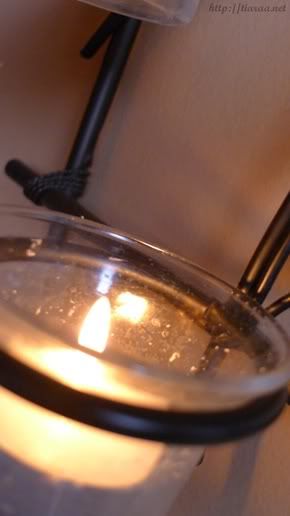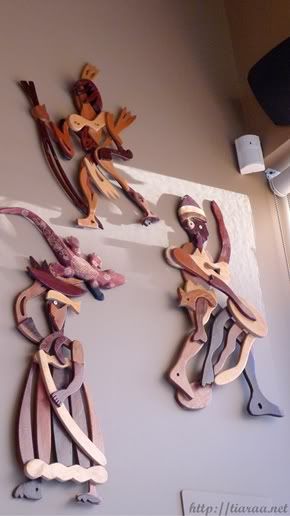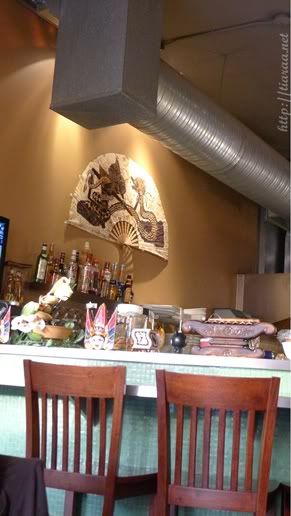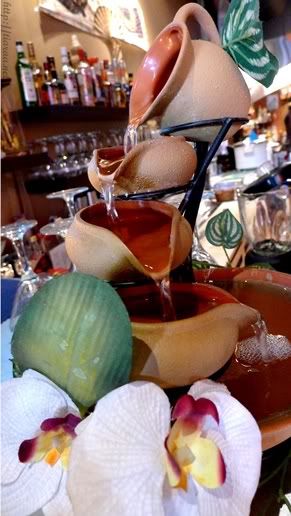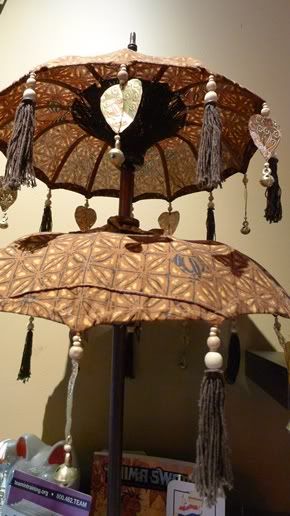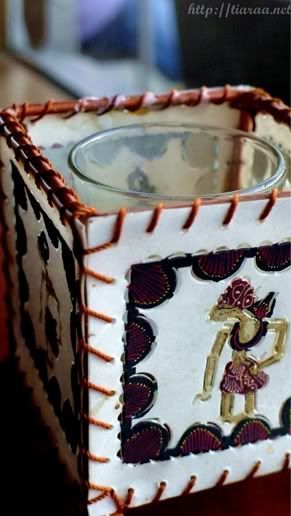 angel told me that fridays at balilicious are pretty hectic so i should make a reservation if i'm bringing many people. however, only gigi and i are heading there so we did not make any reservations.  gigi and i came by car so rare parking wasn't a problem as there is a small handful of parking lots there. angel, prisq, ah cha, the chef and owner were working at that period of time so of course, i had good service. the restaurants were beautifully decorated with intricate items that symbolizes the traditional indonesian culture. angel, prisq and ah cha were also dressed in traditional indonesian clothes and their hair were bunned or clipped with the pretty traditional flower clip.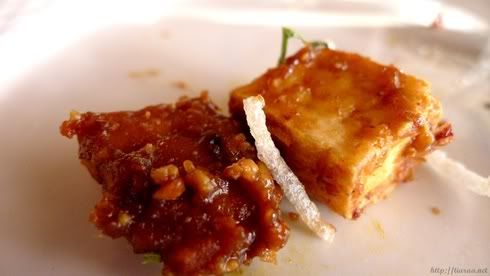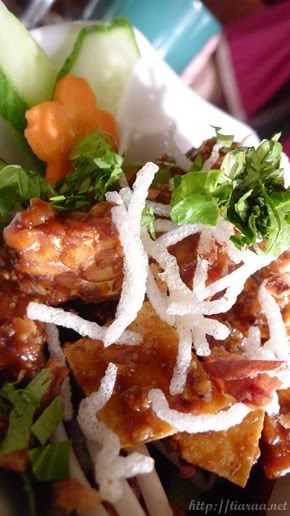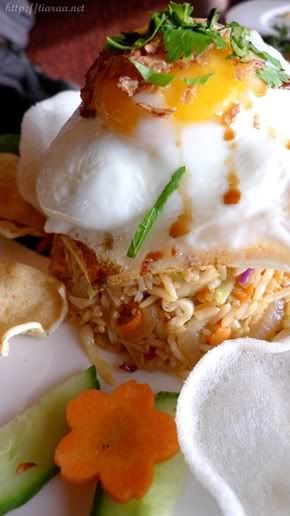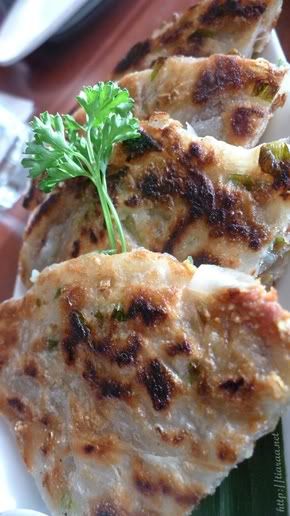 3rd to 5th pictures - we had the fried tofu mixed with tempeh for CAN$5.25. the portion is small but enough for the both of us. even though i am half indonesian, it was the first time i ever tried the tempeh. it had a chewy and nutty flavor and according to angel, it is made from fermented soybeans. personally, i prefer the tempeh over the fried tofu as it is more unique. also, the peanut sambal sauce helps to bring out more flavor in both the tempeh and fried tofu. gigi loves the peanut sauce as well.
ratings of tempeh: 4/5★
ratings of fried tofu: 3/5★
2nd, 5th and 6th pictures – we also ordered the nasi goreng (indonesian word for fried rice), which cost CAN$10.95. the fried rice was a little too moist with shrimp paste and not as spicy as stated. it is probably because the restaurant wanted to cater to the caucasians as well. the ingredients of the fried rice were vegetable garnish and fried onions. the egg was nicely put on the rice and the egg yolk was ready to be poke with a fork anytime. i love my sunny sideup just right, not too fried. the dish was also surrounded by indonesian chips called keropok (5th picture). gigi and i both enjoyed the keropok and the other two dishes were more than the fried rice itself. gigi found the rice sweet and she prefer savory food over sweet food.
ratings of nasi goreng: 2.8/5★
1st and 8th pictures – gigi was interested in the beef pancake martabak so we got it for CAN$6.85. the beef pancake is a flaky green onion pancake covering the saute beef, onions, chilles and eggs. gigi found it a little spicy as she ate it but this was her favorite dish of the day. she found the dish really good as the flavor is not too strong or not too light. it is just right. as for me, it was better than the nasi goreng but the tempah dish is for the win !
ratings of beef pancake martabak: 3.5/5★
even though i was extremely full and i took the nasi goreng to go, i still ordered pisang goreng (fried banana) with a scoop of mango icecream. as the saying goes, " girls always have second stomachs for desserts ". it was also topping with icing sugar and they sliced a strawberry and placed it at the side. the fried banana was orgasmic and i ate all 4 of them with the ice cream even though i was so bloated. the fried banana was well cooked and the ice cream did not melt as easily as other restaurants i have been to.
ratings of pisang goreng: 5/5★
[EDITED]
UPDATED ON: 25TH MAY 2011
mich, brian and henry wanted to go to balilicious to eat so mich asked me to come along and of course i agreed as my first visit there was awesome ! imelda was the person serving us but she is also mich, brian and henry's friend so we had a 10% discount and a complimentary ginger coffee. although imelda is pretty new, she is very friendly and attentive to our orders and comments of the food.
ENTREES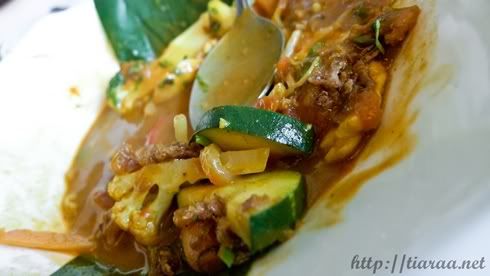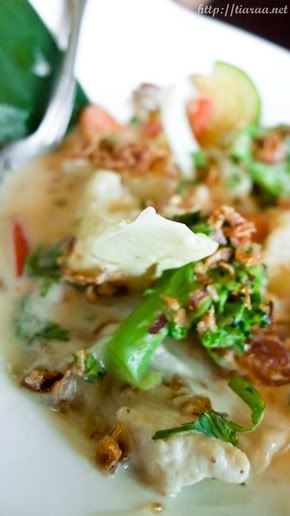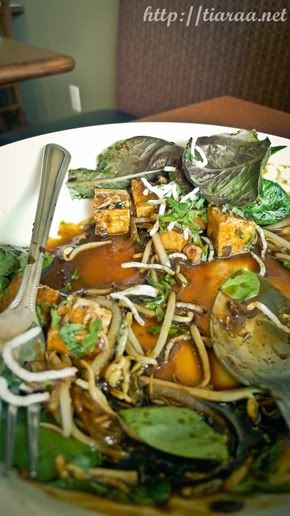 i was late for lunch so the pictures above do not represent the proper portion of the food. mich, brian and henry have already started taking their share.
p/s: the two curries have strong aromas that are to my liking and it  taste appetizing when complimented with rice.
1st picture – we shared the signature red curry chicken for CAN$12.95. the chicken and mixed vegetables such as bean sprouts, cauliflower and zucchini are cooked in balilicious' very own homemade tomato chili garlic base sauce. the sauce tastes really good but not spicy at all. i guess the food is really catered to the caucasians.
ratings of red curry chicken: 3/5★
2nd picture – the coconut chicken worth CAN$12.95 is way better than the red curry chicken as it has more flavor that is to my liking. it is not spicy as well. it has miniature keropok in the dish, which enhances the tastes of the dish even more. the coconut sauce is concentrated and sufficient enough for the dish.
ratings of coconut chicken: 3.5/5★
3rd picture – we also shared the fried tofu tahu kecap manis, which costs us CAN$10.95. fried tofu tahu kecap manis means that the fried tofu is served with sweet soy sauce. the dish is just average as sweet soy sauce is nothing new to me. i prefer the previous fried tofu and tempah i had, which is served in peanut and sambal sauce.
ratings of fried tofu tahu kecap manis: 2.8/5★
4th picture – the ketoprak (CAN$8.95) is a salad that consist of vermicelli, beansprouts, tofu, potato and keropok . all these ingredients are served cold and separately from the peanut and indonesian sweet soy sauce. i did not really like the fact that the dish is cold so this meal did not appeal to me. it is not horrible to say the least as the food is decent but i'm just not a fan of salads.
ratings of ketoprak: 2.5/5★
BEVERAGES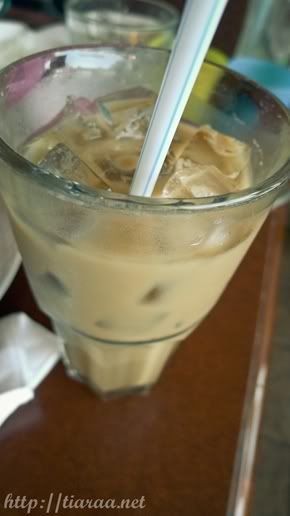 1st and 2nd pictures – 4 of us shared the cendol (CAN$5.75). for many of you who do not know what cendol is. it is " a dark green pulpy dish of rice flour worms with coconut milk and syrup of areca sugar. " (wikipedia, 2011). mich, henry and brian found the cendol non-authentic and claim that it tastes just like a regular beverages. i, on the other hand, haven't been back to asia for years so i more or less have forgotten the taste of cendol. i found the cendol tasty to my liking but quite diluted. the worm like jelly made it better but i wish they added other ingredients such as glutinous rice as well.
ratings of cendol: 2.5/5★
3rd picture – the ginger coffee is originally CAN$2.95 but we had it for free as imelda is mich, brian and henry's friend. i had the cold ginger coffee while mich and brian had the hot ones. i will not order it again as it has a pungent and bittersweet taste. although this is so unique, i was forcing myself to finish the beverage so as not to waste it.
ratings of ginger coffee: 1.5/5★
DESSERTS
of course, there is always room for desserts !! we had the martabak manis, which is CAN$8.25. it usually uses pancakes to store the chocolate rice, butter, sesame seeds and such. however, balilicious uses firm bread instead. balilicious also uses chocolate sauce and condensed milk as the fillings and whipped cream, chocolate sauce and icing sugar as the toppings. although, it is not as authentic as the martabak sold in indonesia, it is really gratifying. the chocolate literally melts in your mouth. this is to my favorite dish of the day, cheers !
ratings of martabak manis: 4/5★
NEW FOOD ACCESSORIES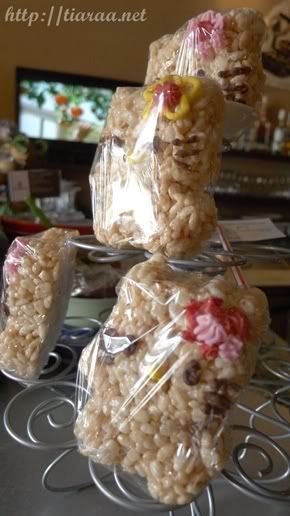 balilicious came up with a new idea to attract people. they made hello kitty out of rice krispy. one hello kitty rice krispy is CAN$2 each. i was so tempted to buy it but i resisted it as i'm not a huge fan of hello kitty.
THE BILL
we had the bill, which came up to a total of CAN$69.15. as you can see, we had a 10% discount and complimentary glasses of ginger coffee thanks to imelda. we paid a total of CAN$80 inclusive of tips, which is CAN$20 per person.
[/EDITED]
ACCEPTS CASH/CREDIT CARD/DEBIT CARD
ambiance: 10/10
service: 9.35/10
food (taste & appearance): 6.35/10
value: 7/10
total: 8.42/10★
in conclusion, balilicious deserves a HUGE thumbs up !!

swisscheese*