February is my favourite month of the year as it is not only the month of love that celebrates Valentines Day but also either the month of Lunar New Year or the month close to Lunar New Year, not forgetting that it is also the month of my sister, brother and my birthday. So, it was my sister's birthday on the 1st of February and she chose to have her birthday lunch with us and our mum at The Beast.
The Beast
17 Jalan Klapa
6295 0017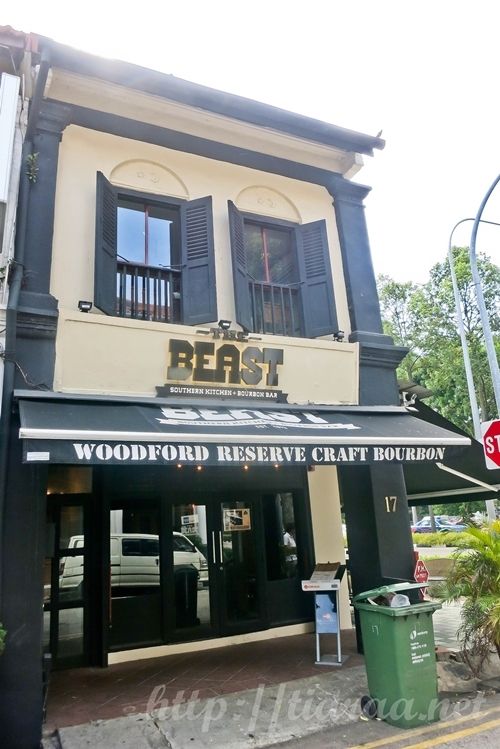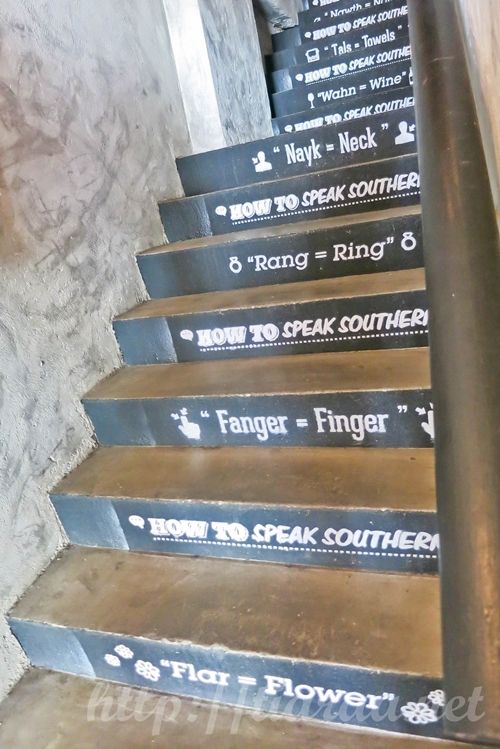 As I was having a staycation at Park Royal Pickering the previous day, I left the hotel in a rush as the bed is so comfortable. I ended up taking a taxi from Park Royal to The Beast for my sister's birthday lunch. When I entered the restaurant, the servers welcomed me with open arms. I told them that I had a reservation under my sister's name and they brought me up to the second floor. The servers were all dressed in checkered tops and denim shorts, how cool and casual – totally suits the theme of the Southern American style and I like it that way! Even the quotes on the wallpaper and stairs leading to the second floor matches the theme too! Since my sister was a little late for lunch, I gave the server the cake I bought from @inthebrickyard and told them to serve it after we had our main course.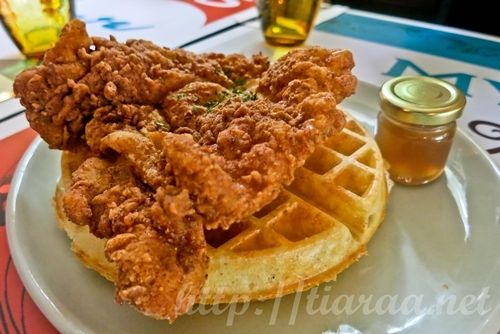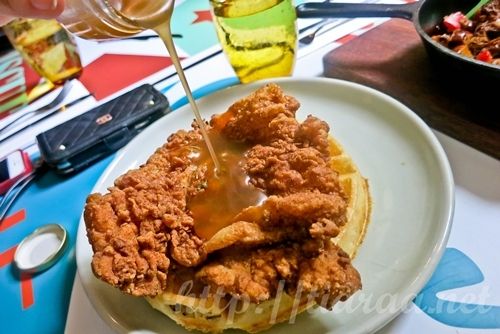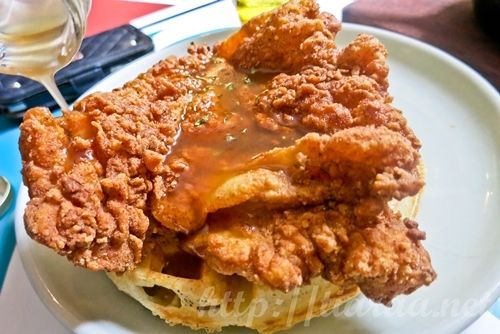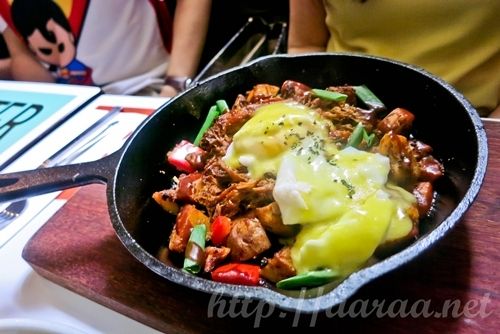 We had the following food named Chicken & Waffles (1st-3rd pictures), Pulled Pork Hash (4th & 5th pictures), Biscuits & Gravy (6th picture) & Summer Corn Cakes (last picture). All the dishes cost SGD$18  except for the Chicken & Waffles and  that is because it is the signature dish of this restaurant. Chicken & Waffles was my main course and I really enjoyed how the savoury fried chicken complements the crispy airy waffles sweetened with bourbon maple butter sauce. However, I found that the fried chicken has a one dimensional taste so the food gets boring after awhile since the portion is HUGE! I could only consume about 1/2 of the dish and boy, was I bloated. I am surprised that Singapore serves dishes that contains pulled pork as this was my first time seeing it. I have missed the pulled pork dishes served in many cafes in Vancouver and thus, this dish brings back memories. I did not order this though. My mum and brother's girlfriend ordered it and it was served with 10 hour pulled pork, poached egg and home fries topped with BBQ sauce. Although it is not comparable with the pulled pork served in Vancouver, it is still quite acceptable. Sam placed an order for Biscuits & Gravy, which consists of buttermilk biscuit, sausage gravy, poached eggs and hash brows while my brother got the Summer Corn Cakes, which is practically the smoked salmon, peach salsa, poached eggs and creme fraiche.
OPENING HOURS:
MON – THURS: 17:00 – 00:00
FRI & SAT: 17:00 – 01:00
SUN: 10:00 – 17:00
NEAREST MRT STATION: BUGIS
PAYMENT METHODS: CASH/NETS/CREDIT

Ambiance: 7/10
Service: 8.5/10
Food (taste & appearance): 7/10
Value: 6/10
Total: 7.13/10★
It was a good experience trying the Southern American food in Singapore. Although the price is a little steep like most cafes and bars, I hope there are more cool places like that!