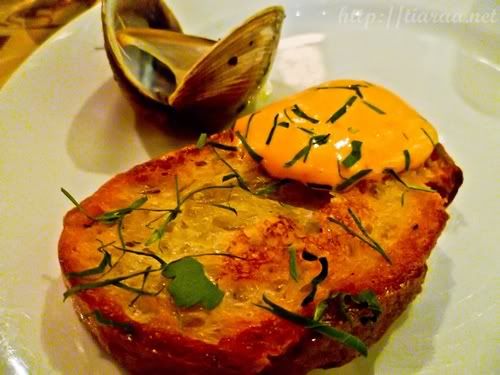 After our last meet up at Bon Japan, Charlene and I did not manage to meet until early March. We decided to dine together with her husband, Eugene at Pizzeria Mozza.
Pizzeria Mozza
10 Bayfront Avenue
Singapore 018956
+65.6688.8522

View Larger Map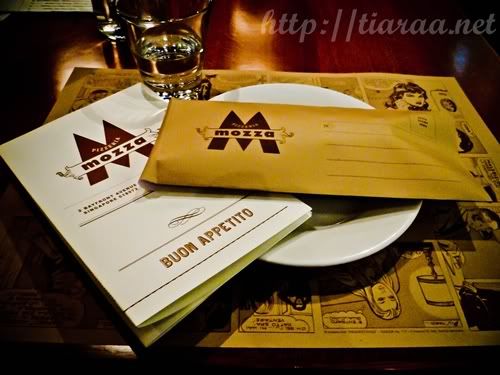 Charlene made a reservation for the three of us at 7.30pm so I met them there after work as I was working at the LG Showroom downstairs. The place is huge and longitudinal. As I did not bring my Lumix LX 5 but brought another camera instead, all my pictures are relatively unclear for this entry. The restaurant also had dim lightings. Thus, the pictures do not do the food justice. As many of you know, Chef Mario Batali and Chef Nancy Silverton are the brains behind Pizzeria Mozza. Charlene dined there once before and fell in love with their pizza so she wanted to try it again, together with me. The ambiance of Pizzeria Mozza is really good for fine dining but the background music was too loud that it was quite hard for us to converse with one another. I love the comic paper they used as the table mat though.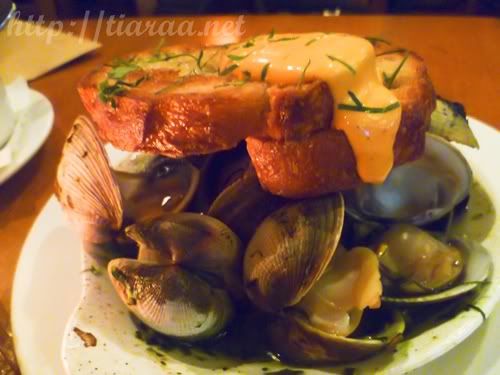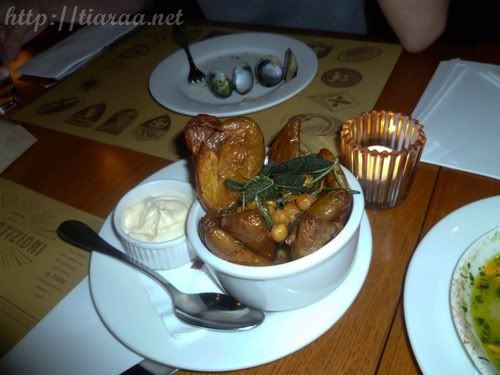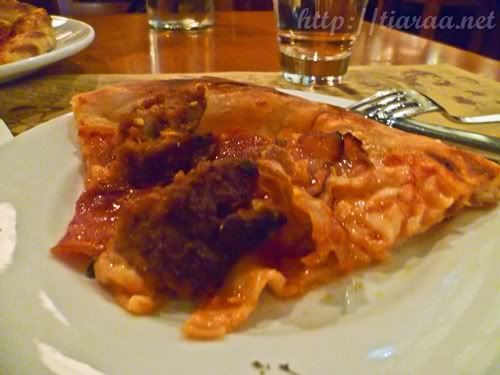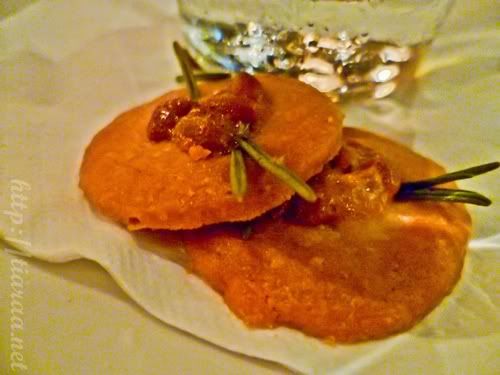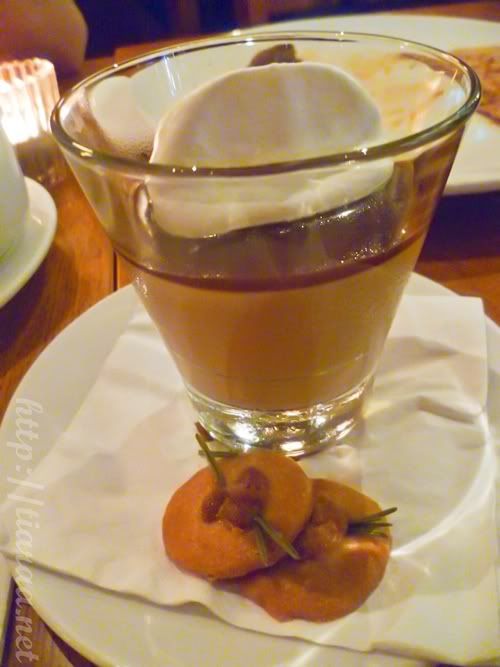 We shared everything that we ordered and we had a total of 2 types of antipasti, 1 whole pizza and 2 kinds of desserts.
If you didn't already know, antipasti is the dish served before the first main course. The two types of antipasti we had are Mussels al forno (First picture) and Fried Potatoes (Second picture). The mussel dish costs SGD$18 and it has a complimentary garlic bread with it, which tasted so delicious! It is also served with a salsa Calabrese dip and when you dip the garlic bread or mussels to the dip, the food literally melts in your mouth. The Salsa Calabrese dip adds spice and cheesiness to the mussels and garlic bread. As for the mussels, it is fresh and had a good tinge of garlic in it. The Fried Potatoes also did not fail to disappoint! The fried potatoes is really soft and gratifying to my taste buds. Sage and rosemary are also added to the potatoes for the scrumptious taste. The dish costs SGD$15 and it is definitely value for money! We all agreed that the two antipasti we had were the highlights of the night!
Rating for Mussels al forno: 4.5/5★
Rating for Fried Potatoes: 4/5★
I am disappointed to to say that the Meat Lover Pizza (3rd & 4th pictures), which costs SGD$37 is just average. The ingredients are bacon, salami, fennel sausage, pancetta, tomato and mozzarella. It saddens me that for a pizza of such hefty price, the pizza is really dry and I cannot really taste the sauce and cheese. I am only giving points for the crust as it was crispy and dense. This is seriously overpriced and overrated.
Rating for Meat Lover Pizza: 2/5★
It was time for desserts so we tried the Gelati/Sorbeti set and an Italian dessert called Budino. We had to choose 3 flavours for the ice-cream dessert  (SGD$17) and we decided on Vanilla, Chocolate and Olive Oil. Eugene wanted vanilla sorbeti to be on the safe side. I think Charlene chose the chocolate sorbetti and I love taking risks so I tried the olive oil sorbeti. Both the vanilla and chocolate ice-cream are of top-notch high quality ice-cream but the olive oil gelati is too fattening. I can feel sweetness and fattiness of the olive oil sorbeti which makes me want to puke. I love trying new food items but I had to use the waffle to balance the tastes for the olive oil sorbetti. Budino (SGD$16) is a type of Italian pudding made of butterscotch and slight burnt to give off a tinge of bitter touch to the sweet buttery sauce. Maldon seat salt is sprinkled on the dessert so that the pudding can have a dynamic taste of bittersweet and salty tastes. As Charlene, Eugene and I are not used to such a dessert, we could not finish it and it is wasted. As I am such a sweet-tooth lover, I cannot appreciate such desserts. I like the Rosemary Pine Nut Cookies though!
Rating for Chocolate Sorbetti: 3.5/5★
Rating for Vanilla Gelati: 3/5★
Rating for Olive Oil Gelati: 2/5★
Rating for Budino: 2.5/5★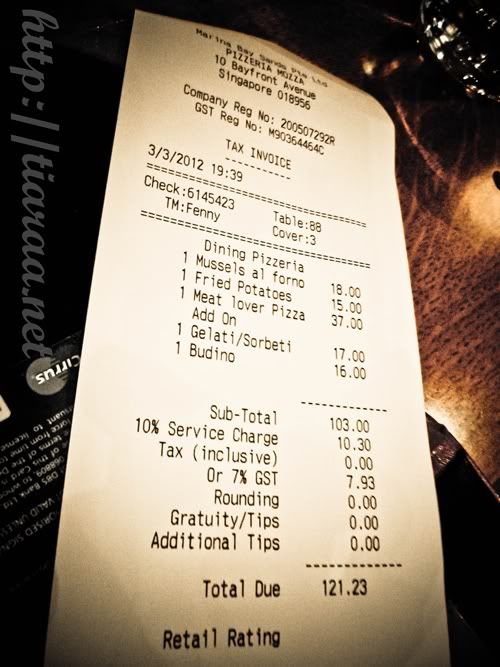 The total bill came up to SGD$121.23 so it costs us roughly SGD$40+ per person. We felt it was not worth the price and that we should have gone elsewhere instead.
ACCEPTS CASH/CREDIT CARD/DEBIT CARD
Daily: 12pm-11pm
Nearest MRT Station: Bayfront Circle Line
Ambiance: 7/10
Service: 6/10
Food (taste & appearance): 6.14/10
Value: 4.5/10
Total: 5.91/10★
In conclusion, I did not have a good impression of Pizzeria Mozza even though it is opened by celebrity chefs but I will try it once more if I have the time.
swisscheese*