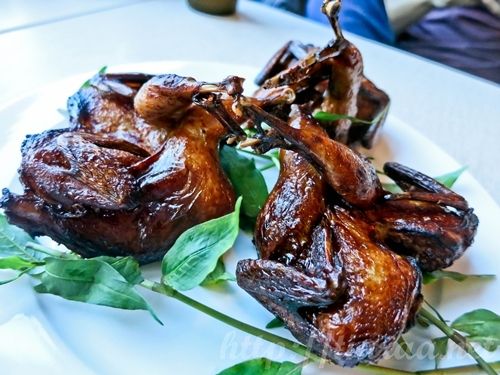 When I was studying in Vancouver, I was introduced to the world of pho as there are many Vietnamese restaurants at any corner of the city. During cold winter days, this would be a good treat to warm the soul, especially when eaten with a friend. All these while, I have always thought that Vietnamese cuisine only consisted of pho, lemongrass chicken and fresh spring rolls. My trip to Little Vietnam opened my eyes last March and we were brought there again by my Vietnamese colleague in July. Just last week, Steph accompanied me to Little Vietnam as I was missing Vietnam so much that I had to eat Vietnamese food. & so, my journey of Little Vietnam begins.
Little Vietnam
511 Guillemard Rd,
Singapore 399849
6547 8587

FIRST VISIT: 28th MARCH 2014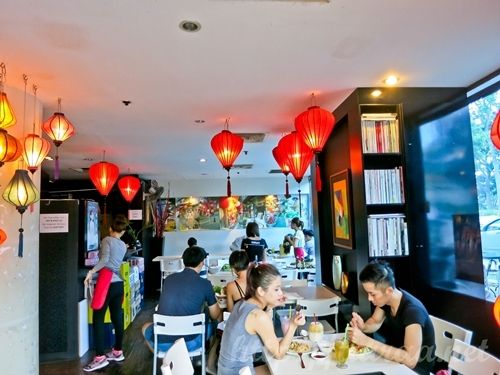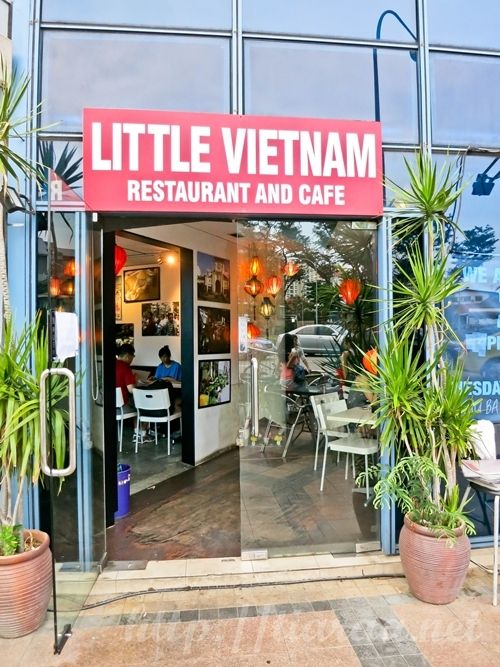 After joining P&G for a week and a half last March, my team had an impromptu outing to Little Vietnam. Our Vietnamese colleague, Tiffany made a reservation for us so we were seated the minute we entered the restaurant. There were not many people at the time we came as well (about 4ish?). Initially, we dined indoor but when it started to get dark and stuffy, we decided to sit outside since it is much cooling at night. My colleagues were such fun mates that they totally brought the party to Little Vietnam and finish up about 20 bottles of Hoegaarden. Since my colleague could speak Vietnamese, the servers responded very promptly and were patiently helping us to take pictures. A lot of them could speak Mandarin very well – definitely a great survival kit in Singapore!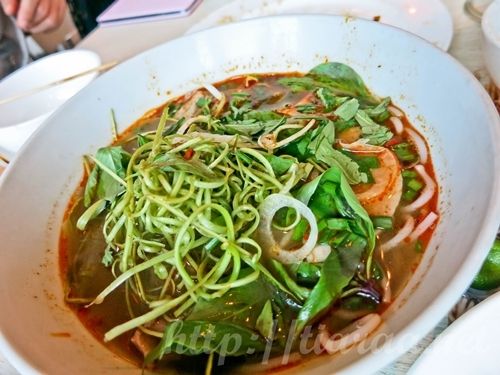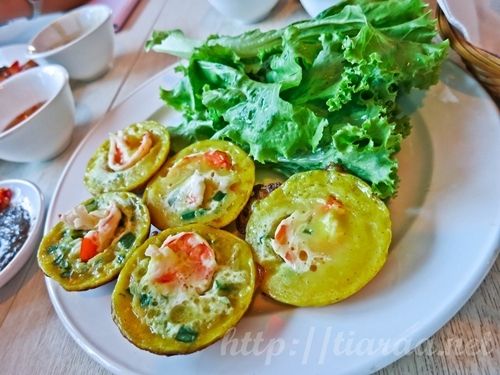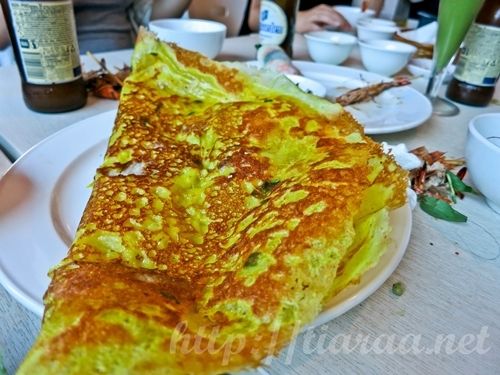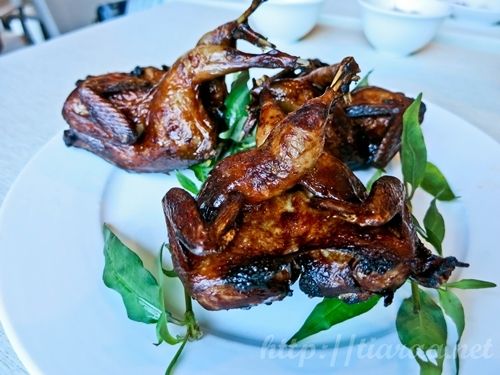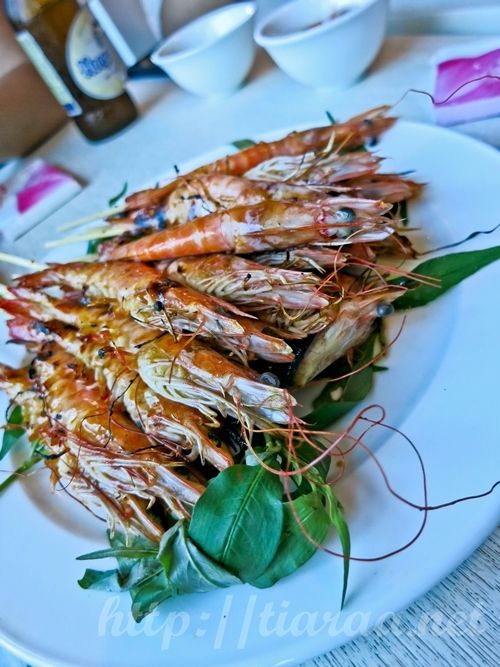 We just let Tiffany take the lead and introduce us to her world of appetizing food and in chronological order, we had Bún Thái Thịt Bò (1st picture), Bánh Khọt (2nd picture), Bánh Xèo (3rd & 4th pictures), Cút Chiên Bơ (5th picture), Ốc Len Xào Dừa (6th picture), Sò Huyết Xào Tỏi (7th picture),  Tôm Nướng Muối ớt (8th & 9th pictures). Bún Thái Thịt Bò is basically Vietnamese Tom Yam seafood & beef with rice vermicelli. It costs SGD$6.50 for a bowl of it. I did not consume much of it as I was so engrossed with the other food. Bánh Khọt is just like Vietnamese  savoury cupcakes filled with prawns, vegetables and coconut milk topping and served with fish sauce at the side. The price of 5 pieces of it is SGD$6.50. Bánh Xèo comprises of Vietnamese pancake filled with prawns, sliced pork, vegetables and bean sprouts and served with fish sauce at the side. It is SGD$8.00 per serving so we got two servings of it since there were about 10 of us. The pancake is huge, mind you! We love it! Cút Chiên Bơ  refers to fried Quail and it costs SGD$13 for 3 pieces – how expensive but it was one of the "MUST TRY" dish when you are at Little Vietnam! Sò Huyết Xào Tỏi is blood cockles, while Tôm Nướng Muối ớt is grilled prawn with spicy and salty sauce. I went to seafood heaven and back while consuming these and it is definitely worth SGD$5.50 & SGD$15 respectively.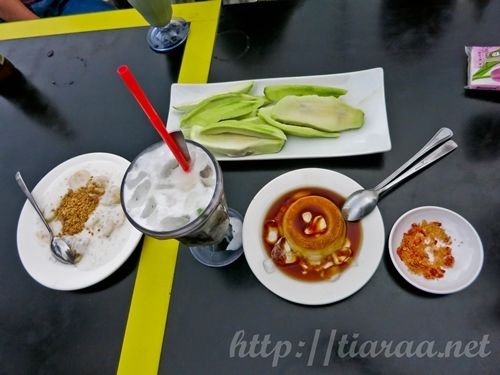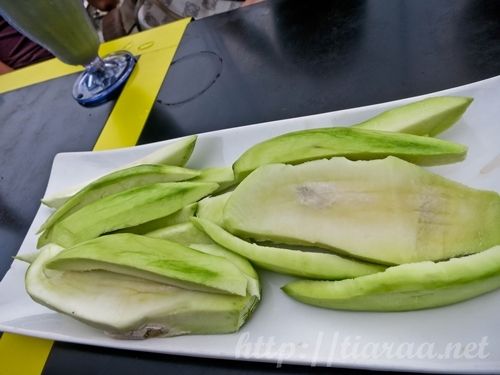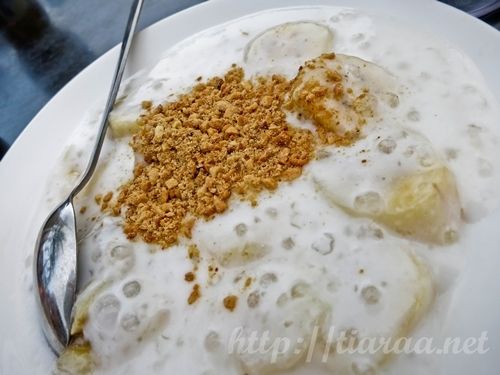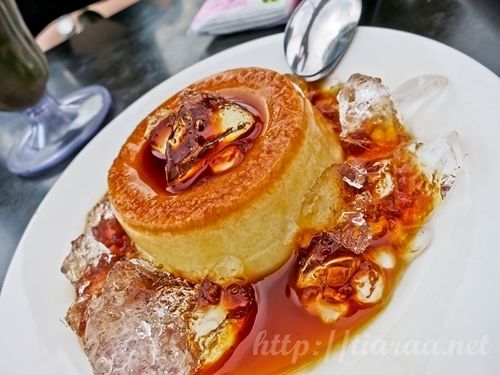 We also had orgasmic desserts such as Thai Sweet Mango (2nd picture), Chuối Xào Dừa (3rd & 4th pictures), Rau Câu Dừa (6th picture) and Chè Sương Sáo Bánh Lọt (7th picture), which cost SGD$4.50, SGD$2.50, SGD$2.30 & SGD$2.80 respectively.The Chuối Xào Dừa represents banana sago, Rau Câu Dừa is homemade coconut pudding and Chè Sương Sáo Bánh Lọt consists of grass jelly and green jelly mixed with coconut milk.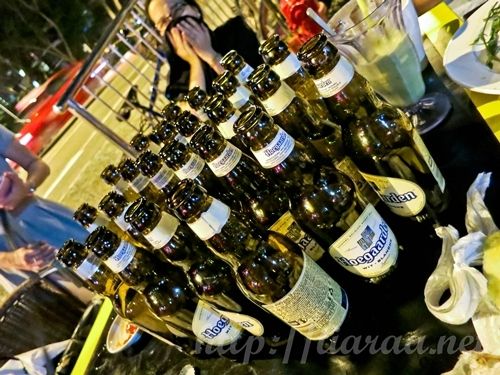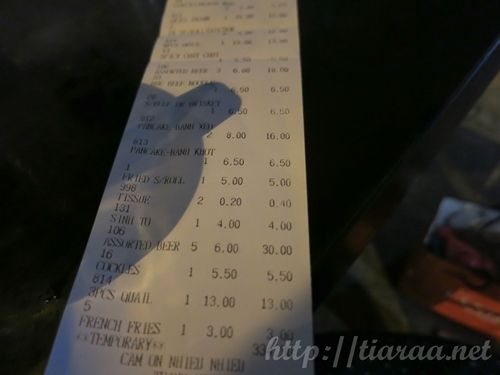 We were charged SGD$90 for the number of beer ordered so that together with the countless amount of food we ate led to a total price of SGD$334.90 altogether, which was split among us. We went off feeling very contented though!
SECOND VISIT: 18TH JULY 2014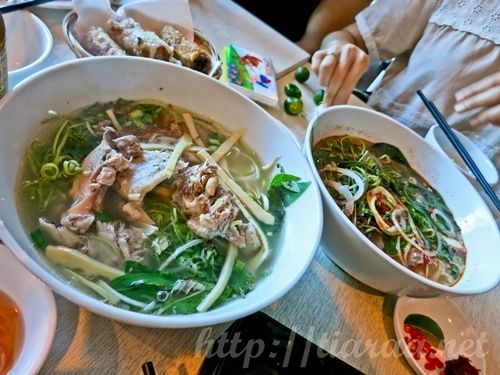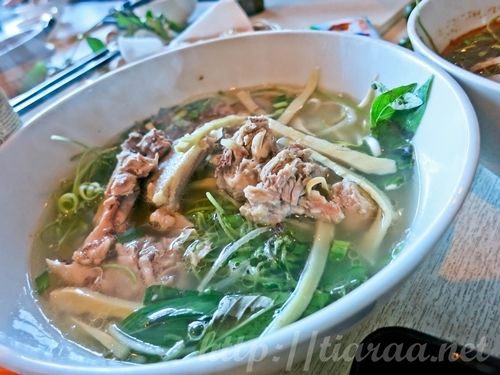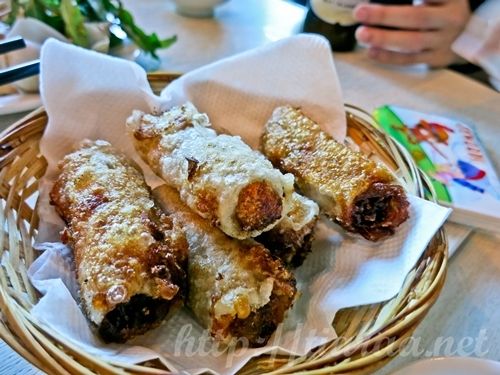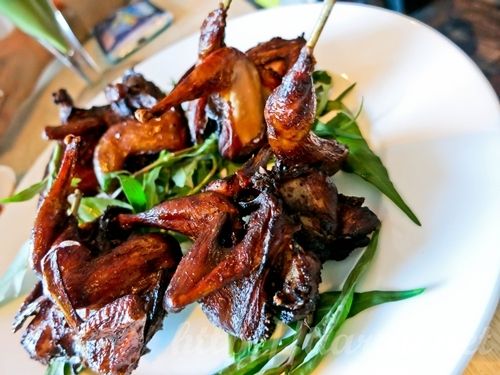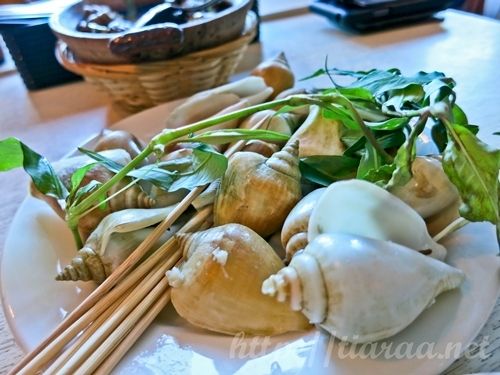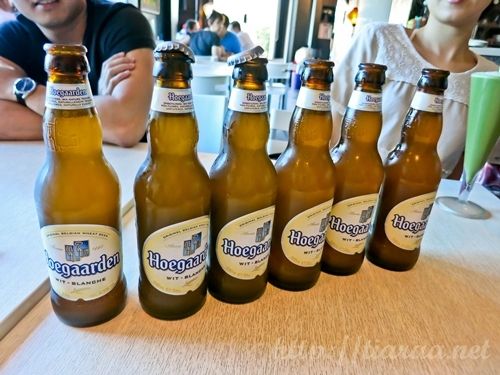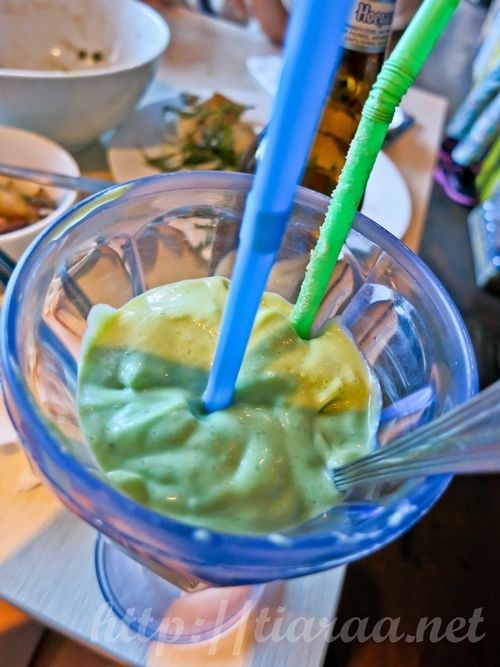 On our team's second visit to Little Vietnam, we had Gỏi Cuốn (3rd picture), Chả Giò (4th picture), Bột Chiên (5th picture), Cút Chiên Bơ (6th picture), ốc Nhảy Nướng (7th & 8th pictures) and Sinh Tố Bơ (10th picture). Gỏi Cuốn and Chả Giò should be fairly common to everyone as it is one of the staple appetizers when dining at a Vietnamese restaurant. Gỏi Cuốn is fresh rice paper roll with rice noodles, vegetables and prawns, while Chả Giò is deep fried rice paper roll with marinated chicken and vegetables. The items cost SGD$3 for 2 pieces and SGD$5 for 5 pieces respectively. We had most of these food ordered during our first visit but I was amazed with this relatively new dish that Tiffany introduced to us and that is none other than Bột Chiên, which is the Vietnamese version of carrot cake and it costs SGD$5 for it. I found it to be lighter and less oily than the Singaporean carrot cake. As with all my previous entries, how can I ever forget my favourite Sinh Tố Bơ? It was the first time I knew about Vietnamese avocado juice and I totally forgot about it until Dat reintroduced it to me during my HCMC trip in late February this year. Too bad it's so expensive in Singapore as it costs SGD$4.
THIRD VISIT: 6TH MARCH 2015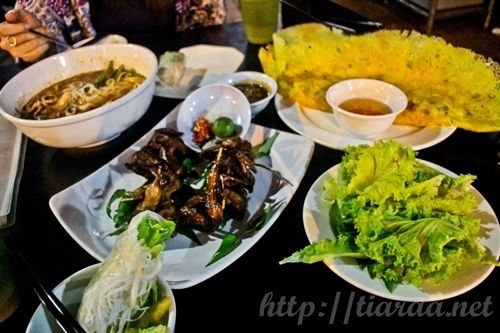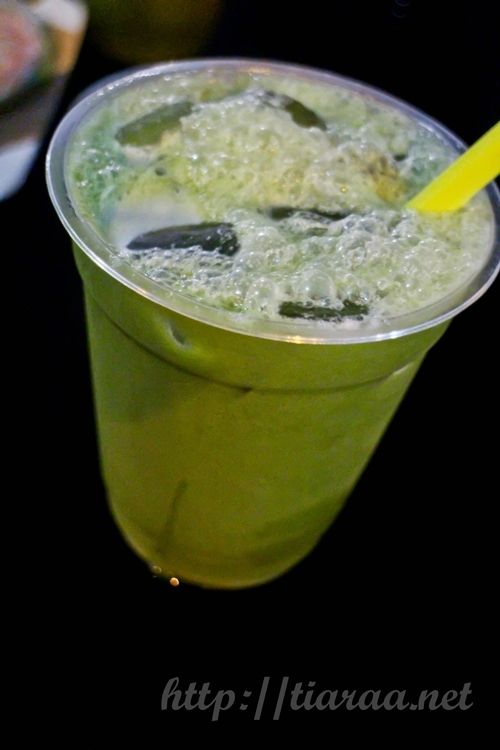 After my trip to Vietnam two weeks back, I began missing Vietnam so much that I decided to have Vietnamese cuisine when I reunited with Steph. She was so sweet to come all the way from Tuas to Paya Lebar to let me satisfy my cravings and make this reunion happen. The food we got were same as my previous visits to this restaurant but of course, we only ordered a few dishes as there were only two of us. Steph really enjoyed all the dishes except for Bánh Xèo. I was particularly fond of my glass of Rau Má as I have not drank it for a week! For all who may not know, the English name of Rau Má is centillso and what it comprises of includes shell leaves with yellow bean and sugar syrup. You can opt out of the sugar syrup if you would like to. I did so as I was on a no sugar diet but I have broken it since Monday when my close colleagues surprised me with my favourite matcha cake from Glace. For such a small glass of beverage, it costs SGD$2.80. Totally insane how prices are skyrocketing in Singapore!
OPENS DAILY: 17:00 – 03:00
NEAREST MRT: Paya Lebar MRT Station
PAYMENT METHODS: CASH ONLY!

Ambiance: 6.5/10
Service: 7/10
Food (taste & appearance): 8/10
Value: 8.5/10
Total: 7.5/10★
A lot of Vietnamese people tend to compare Little Vietnam to Long Phung as these two restaurants are one of the best Vietnamese restaurants in Singapore. Tiffany gives her vote to Little Vietnam, while Wendy is all out for Long Phung. Judging from my reviews of both restaurants, it is easy to catch the hint that I prefer Little Vietnam. I will still try other food in Long Phung though.