Last November, Vivian wanted me to try the newly opened restaurant, Lena's at Tampines One with her. I have been noticing that restaurant before it opened because it advertises pictures of all the mouth-watering desserts such as chocolate fondue and cakes. So we decided to go there on the 4th of November. My second visit there was with my mum and siblings for Christmas.
Lenas
10 Tampines Central 1,
#03-K1/K2 Tampines One,
Singapore
+65 6783 6338

View Larger Map
There was a huge line up both times I went to Lenas. Lenas is an unenclosed restaurant with average number of seating. The settings was very nicely done up. The restaurant attracts people to dine there because it is beautifully decorated. The restaurant can fit about 20 tables. We were served by a server with a fine working attitude.
FIRST VISIT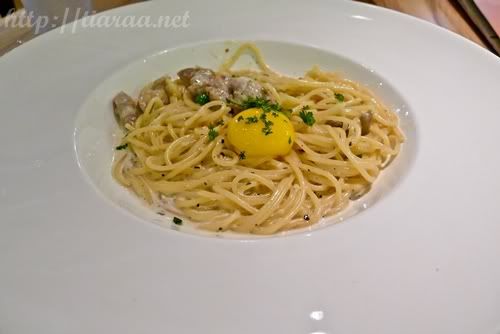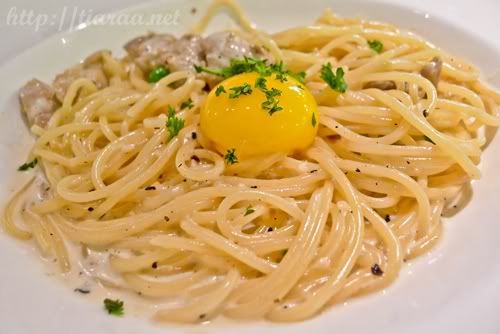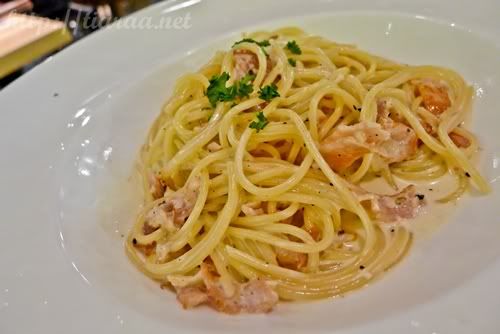 Vivian had the Carbonara Creamoso for SGD$13.90 (1st & 2nd pictures), while I ordered the Alfredo Creamoso (3rd picture) for the same price. The Carbonara Creamoso is topped with grana padano, sauteed bacon and freshly milled pepper. Vivian added an egg yolk for an additional SGD$1. The Alfredo Creamoso comprised of cheese infused cream sauce with diced chicken, ham and garden peas. The pasta is too cheesy and I could not finish the huge amount of carbohydrate. Both of us were VERY disappointed in their pastas as we found it mediocre yet it is so expensive. I decided never to order pastas in these types of restaurants anymore – always never up to expectation.
Ratings: 2/5★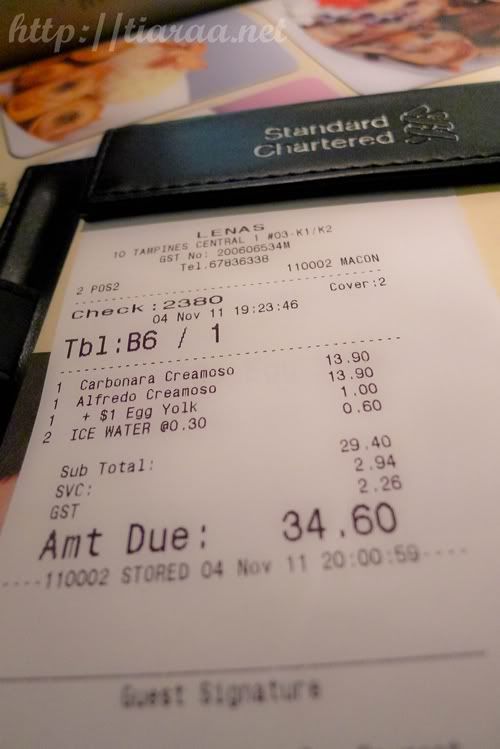 The total bill came up to SGD$34.60 & boy was I shocked that they charged us SGD$0.30 per glass of ice water.
SECOND VISIT
It was during the xmas festive period when I went there the second time. The service was relatively slow and the person kept giving us the wrong items. It was such a messy affair but this time, I enjoyed the food a lot more.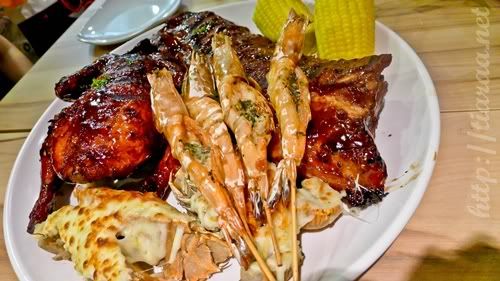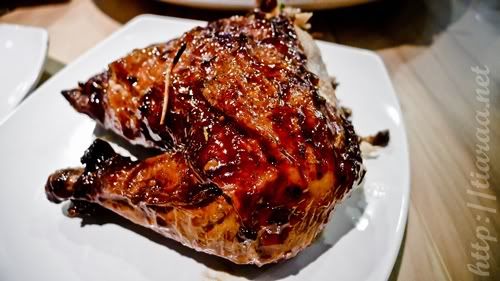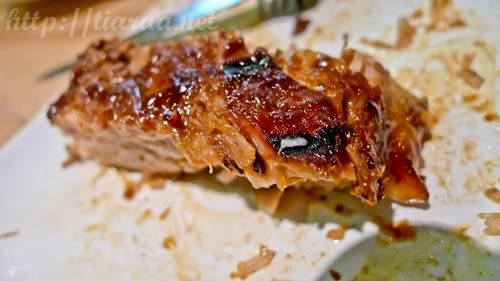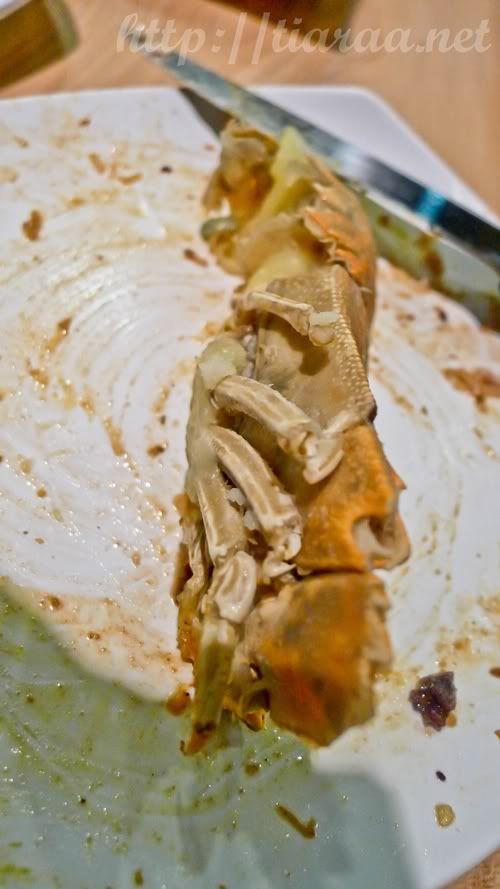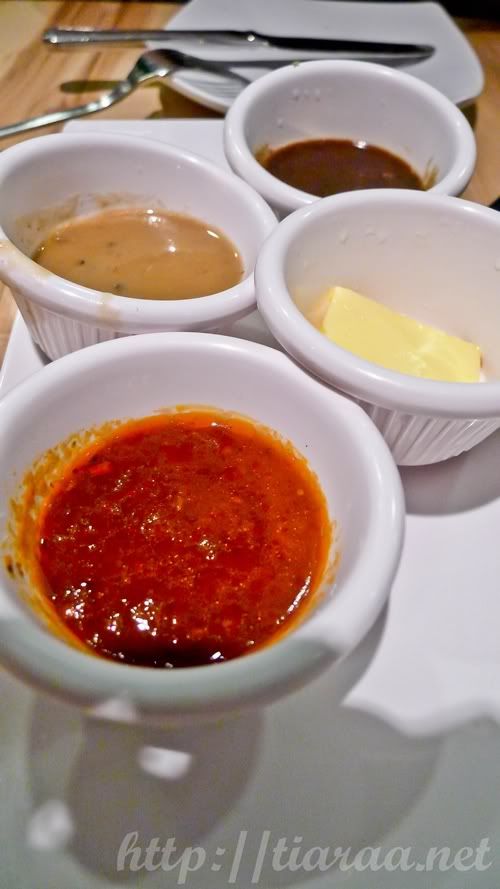 Four of us ordered a Xmas Platter, which had the following items – Premium Pork Rib, Lenas Roasted Chicken, Deluxe King Prawn and Crayfish. The price of the platter for 4 pax is SGD$80.80++. I really enjoyed the pork rib, which is very sweet yet peppery – kept me craving for more! I did not touch much of the roasted chicken because I was quite slow in eating the rest of the items. The crayfish and king prawn is definitely a "MUST-TRY" item as both are very fresh and had lots of savoury flavourings.
Ratings: 3.5/5★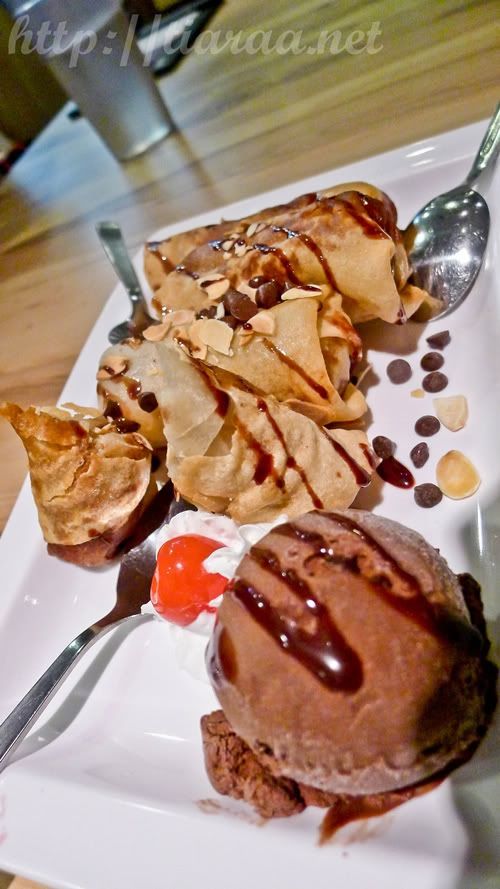 We also shared the Banana Fritter and Chocolate Ice-Cream (SGD$8.50) as my mum, sister and I love desserts. I feel that Lenas specialize more in desserts than their savoury food. The bananas are coated with honey and cinnamon, wrapped in crispy rolls and topped with almond flakes. There is a scoop of chocolate ice-cream at the side of the plate and the dessert is further garnished with chocolate chips and chocolate sauce. I got to say desserts are the HIGHLIGHT of LENAS!
Ratings: 4.5/5★
Cash/Debit/Credit
Opens:
Sun–Thu: 11.30am – 10pm
Fri–Sat: 11.30am – 11pm
Nearest MRT: Tampines
Ambiance: 7.5/10
Service: 6/10
Food (taste & appearance): 6.67/10
Value: 6.5/10
Total: 6.67/10★
In conclusion,  this is a HUGE toast for LENAS`dessert!
swisscheese*