It was a Saturday afternoon and we were around central area. I knew that my business associate wanted to try our local delights so I brought him and his sister to Lau Pa Sat since it is pretty central.
Lau Pa Sat
18 Raffles Quay,
Singapore 048582
6220 2138

View Larger Map
Lau Pa Sat used to be my father's favourite place to consume tao suan a decade ago. Thus, I have fond memories of  my frequent trips there with my father. I was surprised this time when I came back to Lau Pa Sat though. It is newly renovated. Everything is so neat and clean there and there are plenty of fans and more lights now. I am very taken aback by this. The place has definitely change for the better but the food ? I am not too sure myself.
Pig Organ Soup & Kway Chap
Stall 14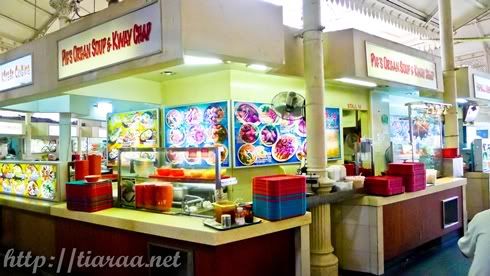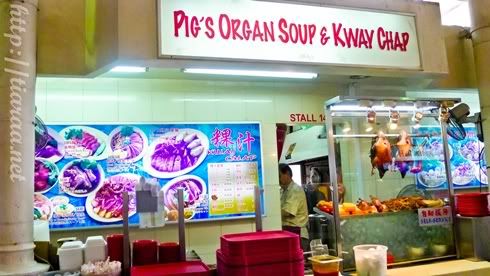 I read in websites that this stall serves awesome kwap chap so I went to get it even though I have not tried kway chap before. The uncle who was cooking the kwap chap kept trying to joke around with me saying stuff like "These days youngsters blah blah". He and his co-workers are friendly and entertaining.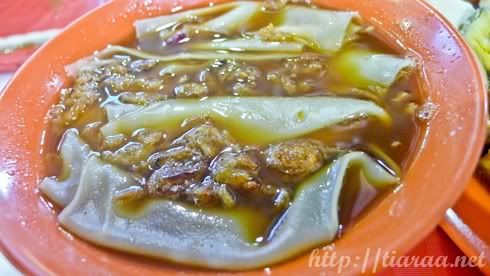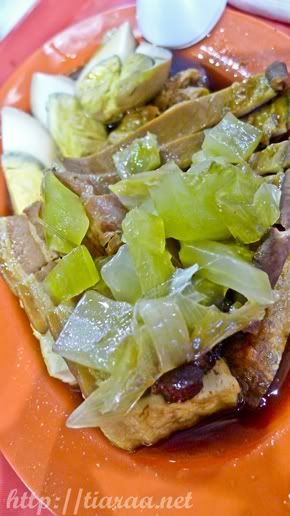 The Kway Chap (粿汁) here costs about SGD$3-$4. It consists of rice sheets, which are very broad in size, served with bean curd, braised duck meat, braised boiled eggs sliced in pieces, pig offal and preserved salted vegetables. These ingredients are served in soup that is made up of dark soy sauce. Since young, I have NEVER tried Kway Chap because of how it looks like. I always wondered why it is Vivian's favourite meal.  However, when I had my first bite on the kway chap noodles and ingredients, I fell in love with kway chap instantly and was so thankful that I tried it in the end. My business associate and his sister enjoyed it very much too.
Ratings: 4.5/5★
CASH ONLY !
OUTDOOR/NON AIR-CONDITIONAL DINING
Ambiance: 7.5/10
Service: 7/10
Food (taste & appearance): 9/10
Value: 8.5/10
Total: 8/10★
In conclusion, I highly recommend everyone to try kway chap !
Thunder Tea Rice (客家擂茶)
Stall 12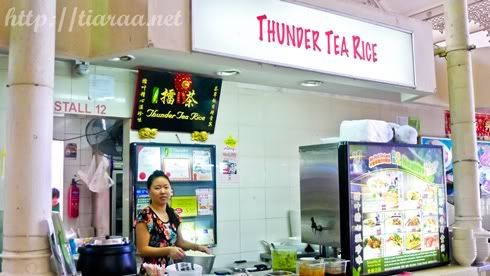 I also read that Thunder Tea Rice's food is good so I went to get their Hakka Tea Rice. Indeed, their counter displayed many of their awards. However, the lady at the counter is very rude and did not even want to explain what is their speciality.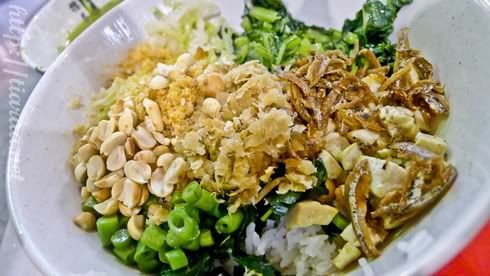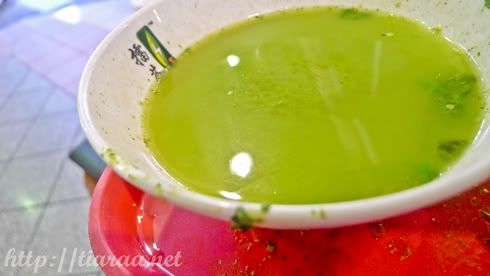 I ordered their Hakka Tea Rice (SGD$3.50) for us to share. To my surprise, the food looks really healthy and I thought it will probably tastes disgusting, especially with the green paste soup. The main entree consists of rice with toasted peanuts, ikan bilis, sesame seeds, choysum and long beans. The soup paste consists of mint leaves, basil leaves and such. I really found it nasty yet healthy. Well, there is a price to pay for good health, right? My business associate loves it though.
Ratings: 2.5/5★
CASH ONLY !
OUTDOOR/NON AIR-CONDITIONAL DINING
Open daily from 8am to 10pm 
Ambiance: 7.5/10
Service: 3/10
Food (taste & appearance): 5/10
Value: 6/10
Total: 5.38/10★
In conclusion, I will recommend this only for people who are health conscious.
swisscheese*