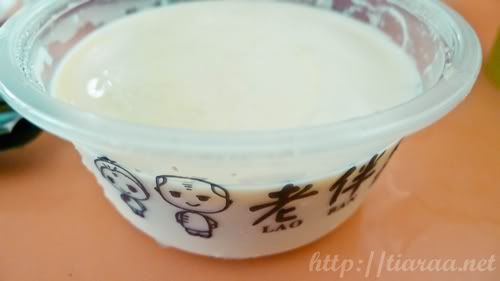 I have always preferred soya milk to dairy milk since young and soya beancurd is one of the best Asian desserts to have on a warm and humid day in Singapore! Joanne told me that Lao Ban is currently one of the BEST beancurd in town lately so I decided to give it a try. I did not manage to consume it until early March this year.
Lao Ban Soya Beancurd (老伴豆花)
51 Old Airport Road,
#01-127 Old Airport Road Food Centre,
Singapore
+65 8181 2201

View Larger Map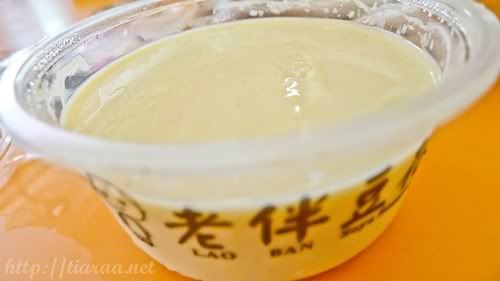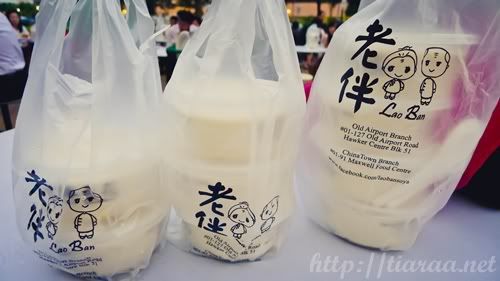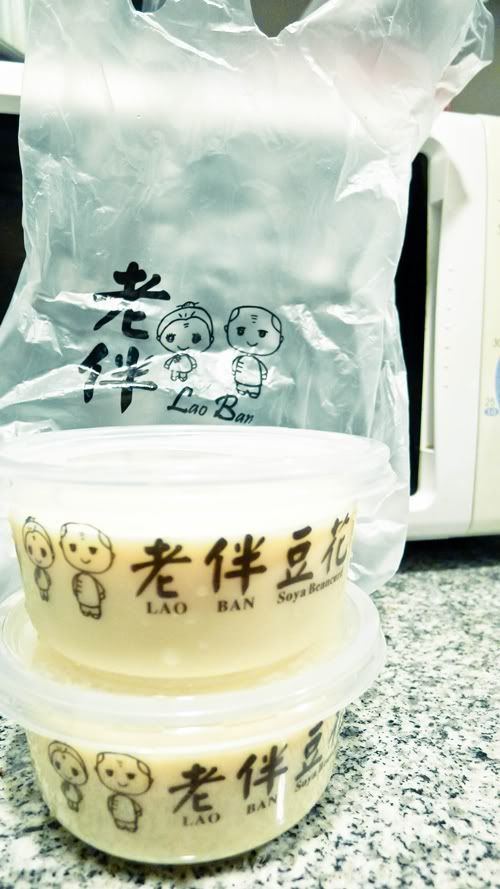 After a long jog with Peihua at the reservoir that day, we decided to have a feast at Old Airport Road. We first had savoury food such as Prawn Mee, Otah, Osyter Omelette and such. After which, we needed to save our stomach for desserts and of course it was meant for none other than the oh-so-famous soya beancurd, Lao Ban Soya Beancurd.
Peihua and I were speechless after taking our first bites because the soya beancurd tastes different from any other beancurd! It is basically a soya custard pudding that is sweet and light. The texture is more firm than the beancurd sold elsewhere and it has an almond fragrant and a tinge of almond flavour as well. There are definitely preservatives in the beancurd, which explains why a lot of health-conscious elderly prefer the original soya bean that does not have a soya custard pudding texture. Lao Ban Soya Beancurd is the current food fads in Singapore, which is why there is long queues whenever you are at Old Airport Road and a customer usually buy 15 packets of soya beancurds to go. However, it is stated that the recipe for Lao Ban Soya Beancurd is leaked and thus, more stalls have been set up to sell the particular beancurd that is so popular. One such competitor at Old Airport Road itself is 51 Soya Beancurd
51 Soya Beancurd (51豆花)
51 Old Airport Road,
#01-72 Old Airport Road Food Centre,
Singapore
+65 9388 1098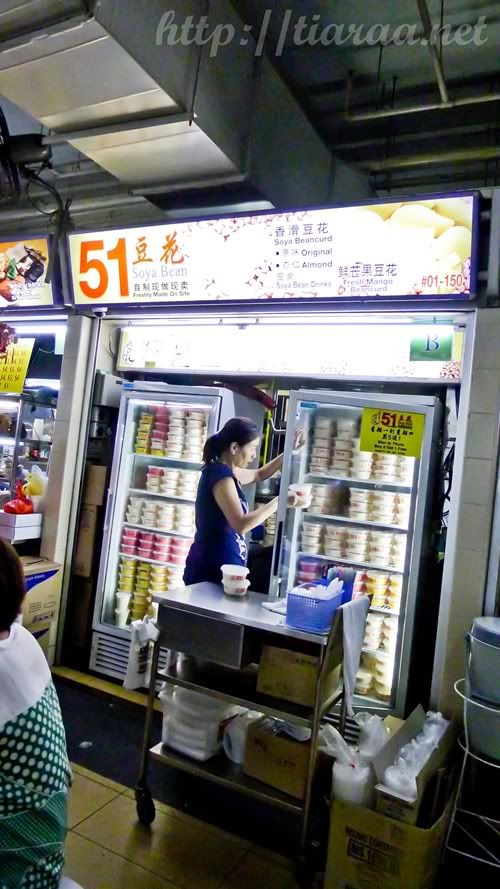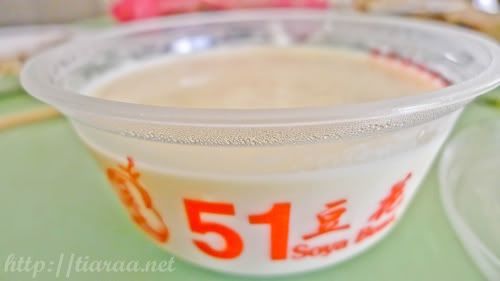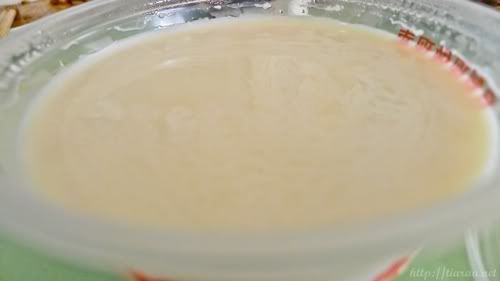 Few Sundays back, I went to Old Airport Road Hawker to have lunch with Gou Cim, Gou Cek and Uncle Victor. I decided to have beancurd after my meal but at 2pm, Lao Ban Beancurd is already SOLD OUT! So, I decided to try 51 Soya Beancurd since reviews stated that the beancurd tasted exactly the same and it definitely did. The beancurd is no doubt the same in terms of tastes, texture and fragrant! In both outlets, the beancurd is SGD$1.50 per pax.
I have done my research on Lao Ban Beancurd recipe and have seen one successful recipe at a forum thread at HERE:
"Items required
Pot
Whisk
Measuring Cup
Measuring Spoon or Kitchen Scale
Plastic containers or bowls
Fridge
Ingredients
1. 'Polleney' and 'Unisoy' Soya Bean Milk Powder
3. 'Nestle' Coffeemate creamer
3. Sugar
4. 'Phoon Huat' Instant Jelly Powder
Where to buy??
1, 2, and 3 can be obtained from NTUC fairprice.
Instant Jelly Powder can be obtained from Phoon Huat, a baking specialty company in Singapore. They have convenient branches located all around Singapore.
Recipe for 2 as below. Makes 2 bowls of 175ml each.
To Make Soya Milk
30g of 'Polleney' Soya Bean Milk Powder
15g of 'Unisoy' Soya Bean Milk Powder
350ml of water
Stir everything together, doesnt matter if you get some bubbles.
OR
350ml of Drinho/Vitasoy/Yeo's/Seasons Soya Milk
Making The Dessert
350ml of soya milk
15g of 'Nestle' 'Coffeemate' coffee creamer
10-15g of sugar to taste(not required if using carton-ed Soya Bean Milk)
7g of Phoon Huat's instant jelly powder
1. Heat the soya milk till its hot. DO NOT BOIL.
2. Stir in coffee creamer till its fully dissolved.
3. Stir in sugar till fully dissolved.
4. Stir in instant jelly powder till its fully dissolved.
4. 350ml of soya bean milk makes 2 bowls. Pour into 2 bowls and leave to cool. Optional: Sieve out bubbles using an oil sieve.
5. Leave in fridge. Enjoy.
"
CASH ONLY!
HAWKER DINING EXPERIENCE
NEAREST MRT STATION: DAKOTA CIRCLE LINE
OPENS:
Tue–Sat: 11.30am – 8pm
Sun: 1pm – 8pm
CLOSED ON MONDAYS
Ambiance: 6/10
Service: Nil
Food (taste & appearance): 8.5/10
Value: 9/10
Total: 7.83/10★
In conclusion, Lao Ban Soya Beancurd is the current craze in Singapore and everyone should give it a try regardless of their reviews!
swisscheese*