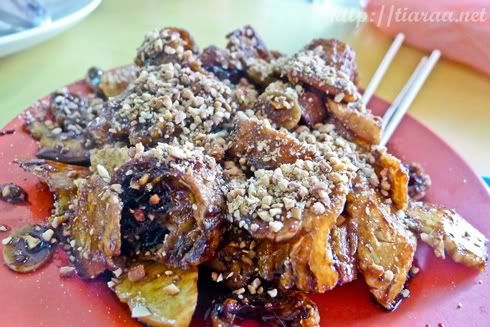 A lot of people know that despite the reputation of the district Geylang, that area has plenty of food stalls serving delicious food. Since my business associate was in town back in Sepetember, we went there with his sister as well. We decided to settle at Ho Kian Thong to eat.
Ho Kian Thong
314 Geylang Road
(S)389353
+656749 2761

View Larger Map
This first stall caught my attention. I have always loved consuming noodles when I am dining out. The store had a range of noodle dishes, from fishball noodles to pork rib noodles to laksa to prawn noodles and so on.
1st picture – Since I have yet to eat laksa (SGD$3) for a good 3 years, I decided to indulge in it. Found the seafood in it fresh and the curry soup was really gratifying.  Totally love soaking my fried tofu into the curry soap. The consistency of the soup was fine and the amount of coconut milk used was just right. However, it definitely cannot beat 328 Katong Laksa.
ratings: 3/5★
2nd picture – My business associate had the dry Prawn Mee for SGD$3. The soup at the side tasted so delicious. It is not as oily as Beach Road Prawn Mee but I guess that is what makes the soup taste even better. However, what I love about this is that you do not have to peel the prawn shell.
ratings: 3/5★
This stall, on the other hand, serves lots of fried items such as chicken wing, dumplings and such. The stall is pretty hygienic, considering it's B grade. For people who do not know, our food places in Singapore are ranked in terms of cleanliness. So an A grade represents a very hygienic food stall and a D grade states otherwise.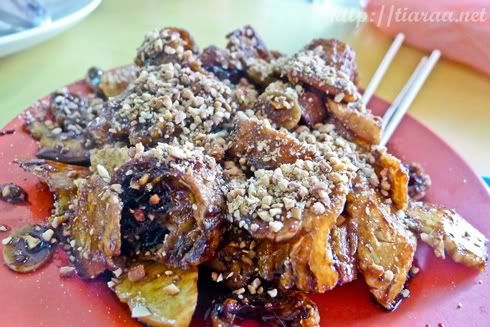 I wanted to order a SGD$5 rojak dish for us to share for desserts but thank God, I only requested for the SGD$3 dish. The rojak there is really bad! The sauce did not taste fresh and the Chinese style fritters (youtiao) was too soft. If you didn't know already, rojak consists of pineapple, puffy deep fried tofu (taupok), cucumber, bean sprouts and youtiao. It is topped with lime juice, chili and chopped peanuts. I have tried better rojak dishes and I got to tell you that this is really below average.
ratings: 2/5★
CASH ONLY!
Bus: 21, 67.

Ambiance: 6.5/10
Service: 5.5/10
Food (taste & appearance): 5.33/10
Value: 6/10
Total: 5.83/10★
In conclusion, I would come back to try other dishes but I think there are better food stalls around the vicinity.
swisscheese*