Something that upsets me the most about Singapore is that it is developing too fast that I can hardly recgonize it. I stayed in Vancouver since December 2005 and there was a period of time that I did not come back for 3 years (2008-2011). I came back being so foreign and becoming a tourist in my own country. I did not know what shopping malls such as Ion and Somerset 313 were. Also, I was travelling quite a lot last year but stayed in Singapore here and there but when I went to LA for 6 months last year, I came back with the completion of yet another mall – Bedok Mall! I just hope that some traditional things such as hawker centres and old school coffee shops stay! Thankfully, we still one of the oldest coffee shop around Katong that has been around since the early 60s and that is none other than…
Chin Mee Chin Confectionery
204 E Coast Rd,
Singapore 428903
6345 0419

FIRST VISIT: 14TH JUNE 2014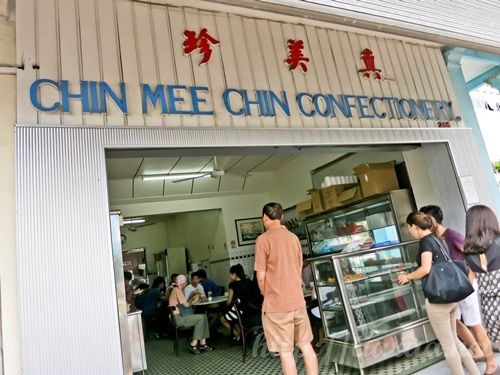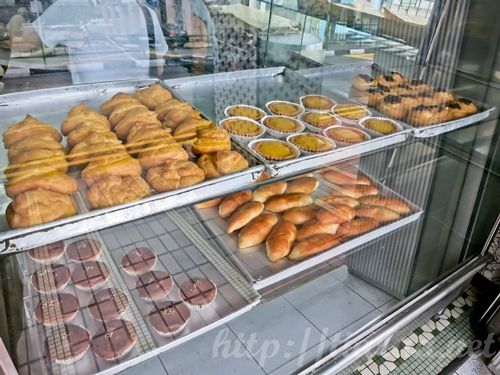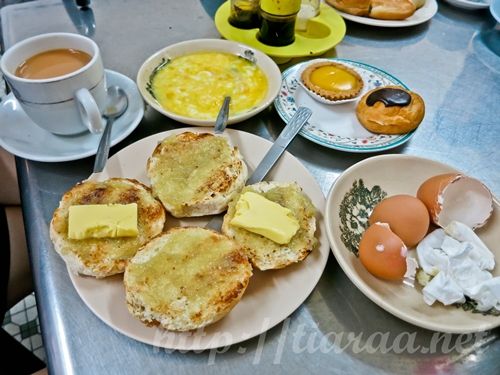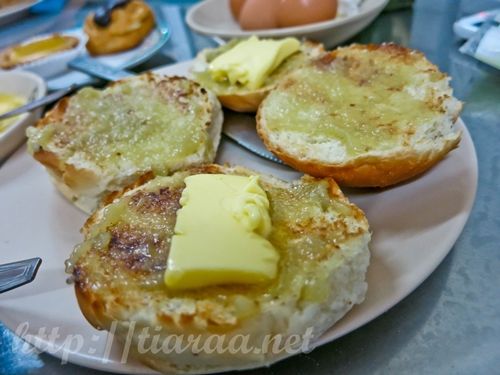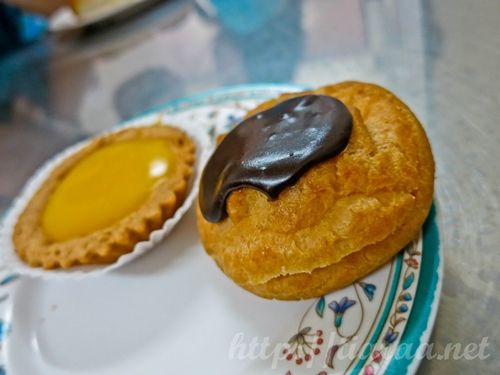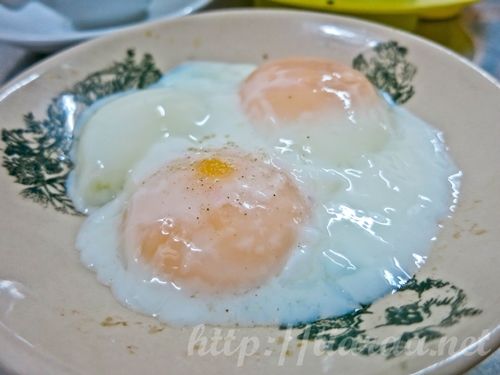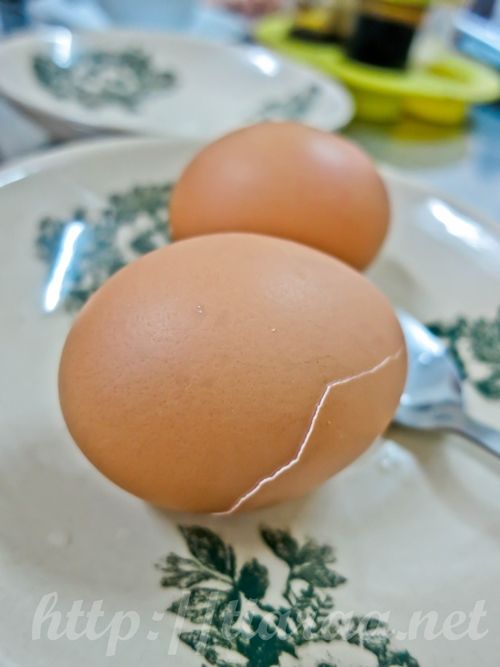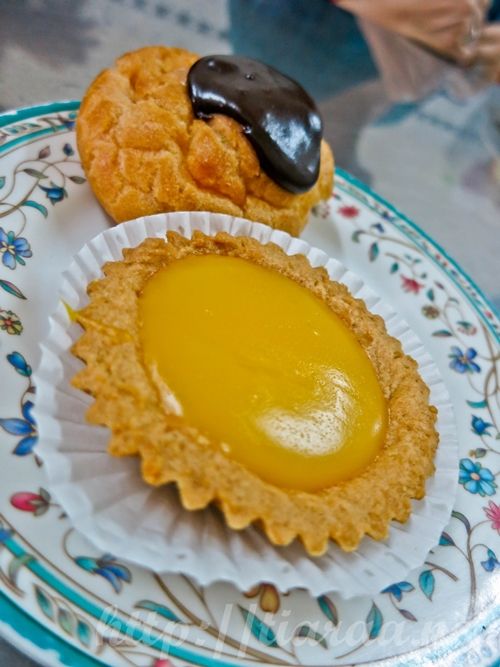 Honestly speaking, I have seen Chin Mee Chin Confectionery since I was very young as I lived at Telok Kurau for 15 years. However, I have never once stepped in the place. Sometime in mid June this year, Crystal and I went for jogging at Punggol Waterway before the sun rises and at around 8:30 in the morning, Crystal suggested that we should have breakfast. I was stunned that even half an hour after the opening hour on a Saturday, all the tables are already filled in the coffee shop! The servers who were working there (and the age of an elderly) told us that we could share a table with other customers. From where we were seated at, it was very hot as we could feel the heat from the charcoal fire used to heat up the coffee and toast the buns. The grannies took awhile to take our order as they were so busy with the number of orders and customers they had. While waiting, we could take any homemade pastries we wanted to try and consume it first. This is self-service based on the honesty policy. The servers only take your order for the kaya buns, beverages  and such. After serving you your drinks and buns, they will ask what pastries you took and charge you accordingly.
So as depicted by the pictures above, we ordered 2 kaya buns, 1 egg tart, 1 cream puff, 2 soft-boiled eggs and 2 cups of "teh" (Singaporean milk tea). The typical Singaporean breakfast consists of kaya toasts, soft-boiled eggs and either "teh" or "kopi" (Singaporean coffee with milk). Digressing: I remember that I often buy kaya spread in T&T Supermarket at Vancouver and would often make kaya toast on my own if I ever miss this Singaporean breakfast item. The kaya buns were sliced in halves and topped with a generous spread of their homemade green kaya and a block of SCS butter. Instead of spreading the butter with a knife, just join the two halves of the bun together and the butter will melt on its own. It is very different from other kaya toasts I have ever had but I found the kaya spread a little too sweet for my liking. It is still acceptable as I could remove the spread easily. The egg tart is also uniquely delicious due to it's crust and the consistency of the filling. I was not too fond on the cream puff topped with chocolate though. Crystal told me that I should have taken the original cream puff instead. Well, maybe for the next visit then! I love my eggs runny and that is why I love food such as eggs benedict, poached eggs and especially, soft-boiled eggs! How Singaporeans usually consume the soft-boiled eggs is to add pepper and dark soy sauce onto the eggs and mix it. During that visit, Crystal also taught me to dip my kaya bun onto the egg mixture. I was shocked as I never knew of such tradition. It was my first time doing that but I love the taste of the post egg dipping kaya bun. I used to order "teh peng" / Singaporean Iced Milk Tea whenever I head to hawker centres. Since I am growing older, I try my best not to order beverages unless it is juice or the occasional alcohol. The "teh" served at Chin Mee Chin is thick and not very sweet – Something I would come back for.
SECOND VISIT: 9TH AUGUST 2014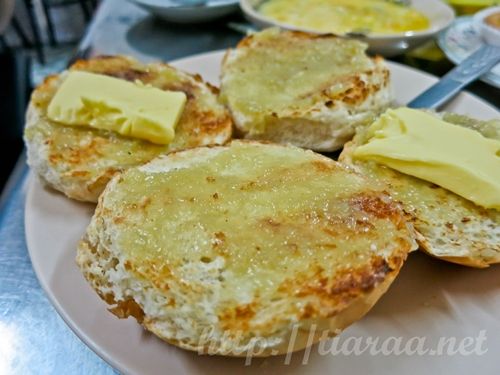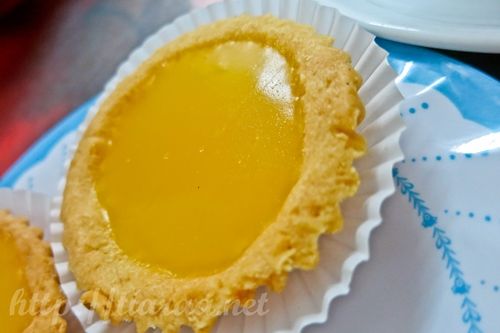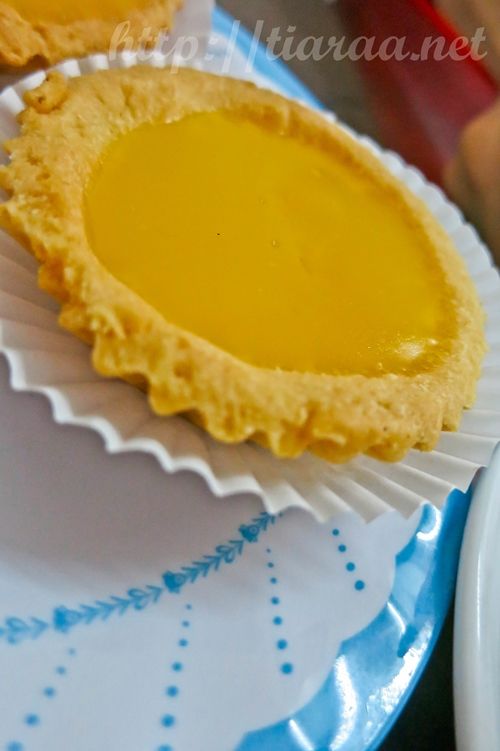 After my first visit to Chin Mee Chin, I kept craving for their egg tarts and kaya buns every weekend but failed to go there due to other commitments. Laurie from Vancouver is currently in Singapore to do her exchange at NUS. So since she is also quite a foodie, I brought her to Chin Mee Chin to have kaya buns the traditional way! This time, we had breakfast at around 9:30am on National Day (Saturday). I was there first so I was lining up and was 3rd in line. Soon after, there were so many customers queuing up behind me. I asked her to choose the pastries but she told me to decide for her. Since I only like the egg tart the other time, I went ahead to get two egg tarts. I will definitely try the custard puff this weekend with another Vancouverite, who is in Singapore until the 22nd. During this visit, the servers were running around and it was so hard to grab their attention. Thank goodness, they also take note who have yet to order and take the initiative to assist us with our order. However, they are not willing to snap shots for you or are very unhappy with you taking pictures of your food during busy hours. They kept coming to our table reminding us that there are still many people waiting for a table. In the olden days, it seems like nobody takes pictures of food so perhaps these grannies do not understand why we do so.  Back to what we got - 2 egg tarts, 3 kaya buns, 2 cups of "teh" and 2 soft-boiled eggs, which cost roughly SGD$4.40 Everything was fine but the soft-boiled eggs were not as runny this time. It was more like 3/4 boiled eggs? Laurie also loves her eggs runny so she was a little disappointed with this. She enjoyed the rest of the breakfast dishes though.
PAYMENT METHODS: CASH ONLY!
OPENING HOURS: 8AM-4:30PM
Area: Katong
Nearest Station: In between Bedok & Dakouta
Ambiance: 8.5/10
Service: 6/10
Food (Taste & Appearance): 8/10
Value: 7.5/10
Total: 7.5/10★
Prior to living in Vancouver, I would have never stepped in here. However, after being abroad for many years, I have learnt to treasure the traditional food, places and things. I would love to find more traditional and original coffee shops like that in Singapore – Places that have not changed/been renovated since the 60s. I prefer scarce nostalgic coffee shops to the hippie cafes that are all over Singapore anytime!