Two weeks ago, I was still at Siem Reap consuming Khmer food, drinking all types of signature beer of Cambodia, temple hopping, going on a boat to the floating village, napping at the hostel and not forgetting my favourite, horseback riding. Before I went to Cambodia, I was already researching on the venues for horseback riding. I saw a couple of the places that provides horseback riding but it seems like the horses at Happy Ranch are most well taken care of. During the initial stage of our trip, Crystal and I were contemplating if we should go all out and ride on horses on our second last day or just temple hop at the Ang Kor complex the entire day. On the day itself, we decided to make a reservation for horseback riding during sunset. When I was making the booking on the phone, the person on the line stated that in order to see the beautiful sunset in the countryside, it should be 2 hours instead of 1 hour as there will be more buildings if it was an hour ride. Since this was the case, I had a 2 hours slot from 4-6pm, while Crystal had an hour slot from 4-5pm. The person on the line was also asking for our weight and experience as they have to arrange the horses based on this.
The Happy Ranch Horse Farm Group 4, Svay Dangkum, Siem Riep Angkor, Kingdom of Cambodia +855 12 920 002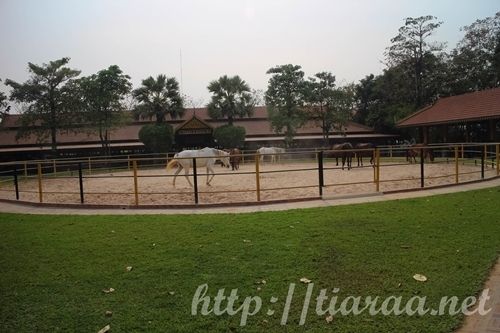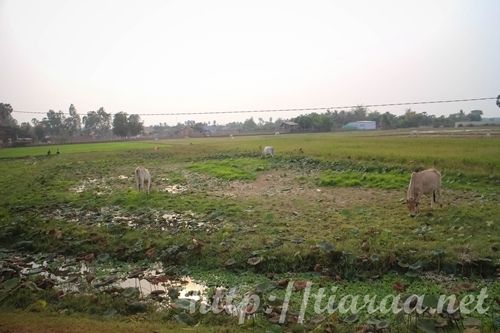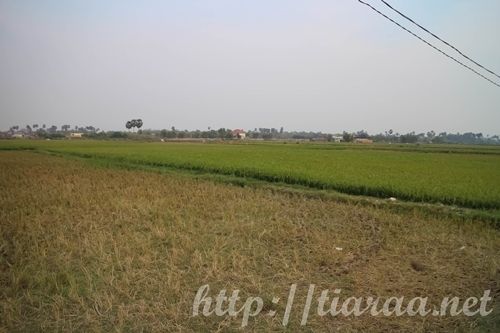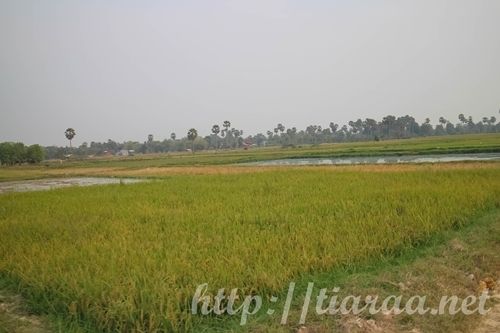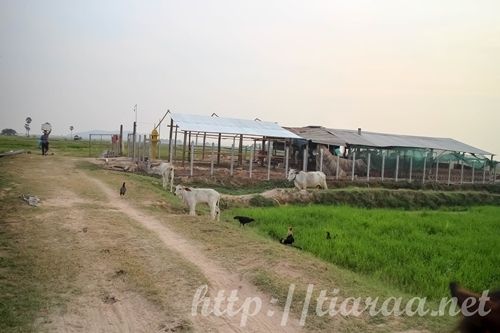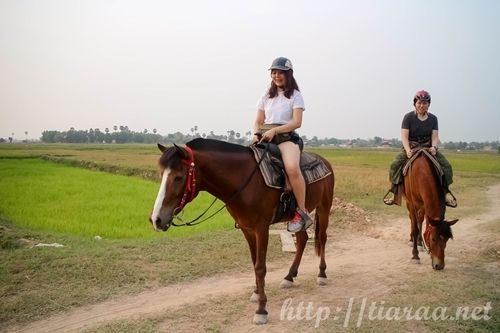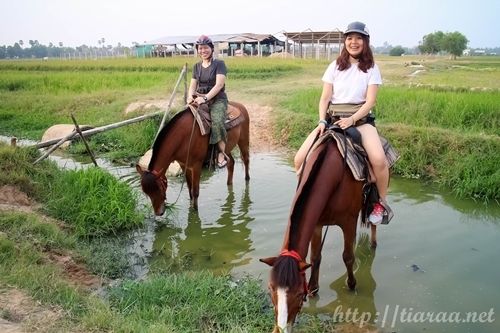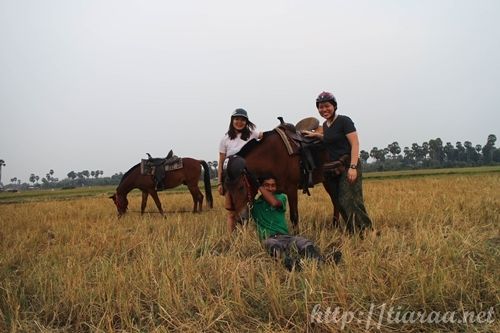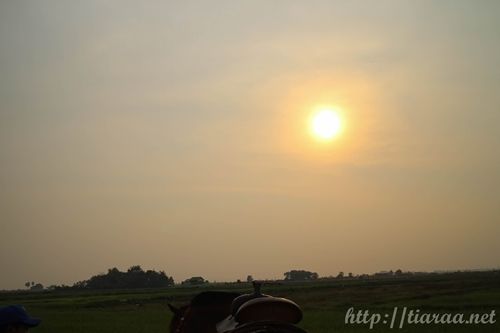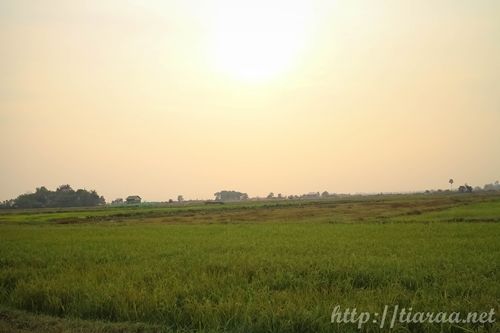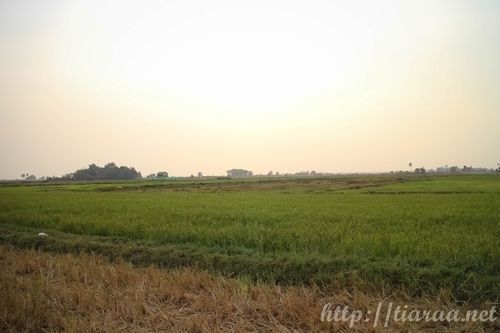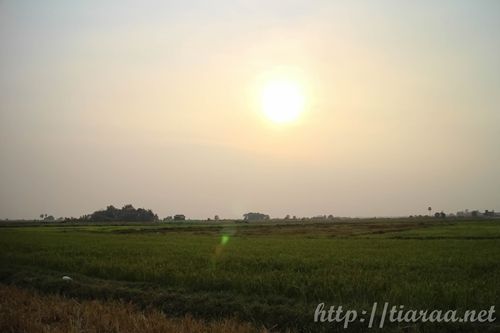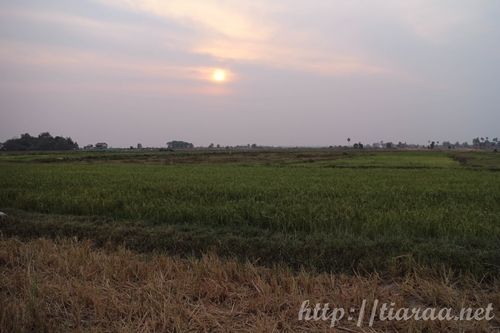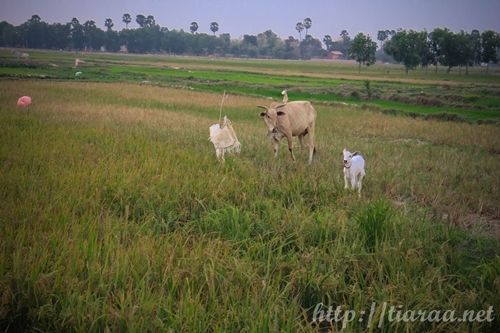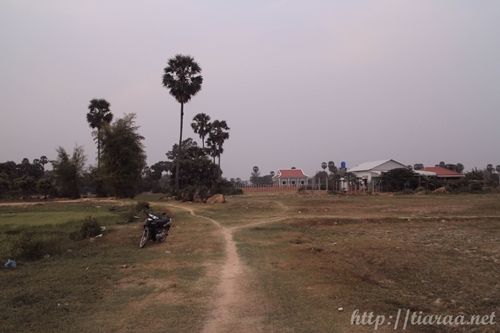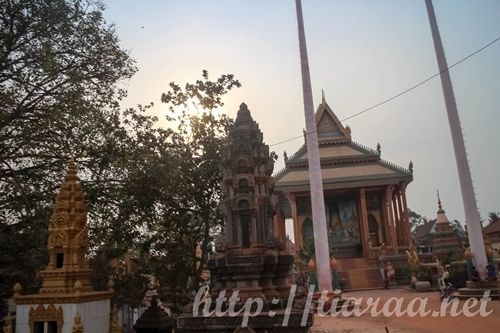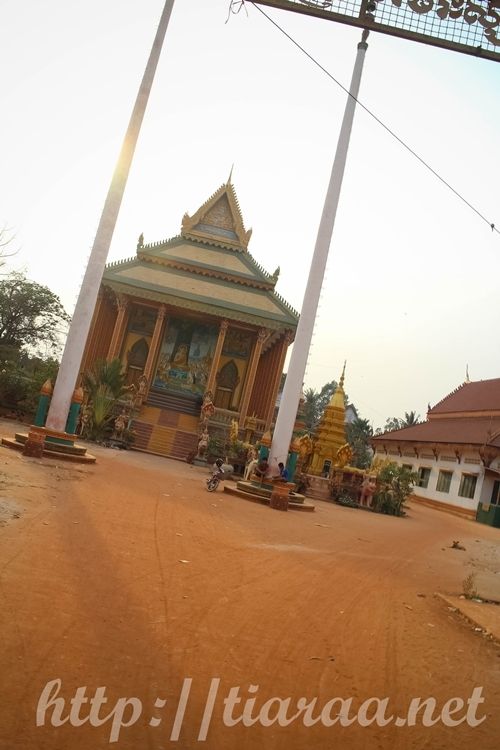 After temple hopping at the Ang Kor Complex from the wee hours of the morning until mid afternoon, Crystal and I decided to call it a day and go back to the hostel to put down our items, go to the nearby Cambodian Thai coffee shop to have lunch, buy a couple of items from the Old Market and rest at the hostel. We made an arrangement with our tuk tuk driver to pick us up at 3:30pm and bring us to Happy Ranch Farm and so he did. The distance between our hostel and the ranch is about 2.4km and it takes roughly 10-15 minutes to reach via tuk tuk. I was so enthusiastic when we arrived at the horse ranch as there is something about horses, which makes it so magical and mysterious! This 10 hectares huge ranch (1st-3rd pictures) owned by a Cambodian man, who lived in the States for 30 years, is home to 52 Arabian crossbred horses. 13 of which are from Vietnam and the rest are from Cambodia itself. We were brought to the stable once we  step foot on the ranch. The workers and guides thought that we were Koreans and we just agreed laughing it off. The lady at the office greeted us before passing us a form to fill due to the protocol. There were many things to fill in such as our weight, experience, emergency contact, our preferences for European standard English or Western style saddles and whether we would like our horses to walk, trot or canter. I was impressed by the safety measures taken as  I never had to fill in such forms either in Puncak, Osoyoos or Manila. The lady also provided us with a pouch to put in all our valuables and stick it to our waist. Our bags will then be kept in the lockers. Even helmets were also given so that there will be minimal risks while horseback riding. I was amazed as I have never had such experience riding a horse and wearing a helmet at the same time!
Very soon, we were allocated to our horses. The guides were so nice to introduce my horse to me and ask me to pat on my horse before riding it. This is to show respect to the horses. They also warned me not to walk at the back of the horses as they will definitely kick you. My guide is called Thun Thorng (12th picture) and my horse's name is Asterik (11th picture). On the other hand, Crystal's guide is Joo-ee (10th picture) and her horse is named as Star (12th picture). How adorable! It was nice to see how the local Khmer people live outside the city. We cross paths with buffaloes and cows (4th, 7th & 18th pictures) and got to see both dry (5th picture) and green paddy fields (6th picture). As the end of February and early March are hot and dry seasons, the paddy fields should be dry but due to technology advances such as irrigation, the paddy fields can grow well too.
Thun was is so knowledgeable and answers my never-ending questions regarding the horses, ranch, the Cambodian lifestyle and the standard import and export of goods between Cambodia and Vietnam and Cambodia and Thailand. When I asked why the people in charge needs to know our weight, he mentions that the horse is unable to take any weight above 90 kg. He even gave us a brief introduction about the owner of the ranch and I am so glad to see a responsible man like Mr. Sary Pann hiring accountable workers to keep the ranch maintained at international standards. I was impressed of Thun's love for horses and how he is clocking many hours at the ranch while taking vet school at the same time. He even does horse racing at his leisure time. This shows how ambitious he is and how he goes beyond his means to strive better.
He brought us to the rice paddy fields to rest while watching the sunset (13th-17th pictures & 19th picture). During this period of time, we got to know him better as  he was telling us about his future plans and history. It is good to see someone who not only wants to make it big in life but also someone who wants to contribute back to the community. In a developing country like Cambodia, I am also very happy to see a person like Thun being so enthusiastic to read and learn more about the world outside his comfort zone.
When we had to head back to the ranch, we came across the village's pagoda as depicted in the last picture. The pagoda is a place for charity, religious learning and meetings. Usually the pagoda will also house stupas (second last picture), which contains the ashes of pious citizens. It is good learning this from my guide and I could not be more thankful! We were surprised to return back to the ranch close to 7pm and our poor tuk tuk driver waited for us for close to an hour as we told him that we will be riding for only two hours. Who knew we could talk to much to our guide that we almost forgot about the time while catching the sunset?
To be honest, I thought that the cost of horseback riding at this ranch was quite expensive initially so I hesitated to go with the plan but at the end of it, I think that it is absolutely worth it. The cost of horseback riding in TAAL volcano at Manila was an additional 1,000 pesos (USD$22.24) for a 15 minutes ride up the volcano and another 15 minutes ride down the volcano with wild horses, without helmet and without an honest guide. We had an amazing well-trained guide, had relatively well-behaved horses for two hours, were protected by our helmets, had a feel of how trotting is like and even had our journey extended for USD$46.
Price of the transportation back and forth via tuk tuk: USD$5 (We ended up giving USD$10 because he waited for us for an hour to pick us back to the hostel) Price of 2 hours horse ride: USD$46 (We gave an additional USD$10 to our respective guides each as they were so good and helpful!) At Manila, Jia Ling and I felt obliged to tip our guides as they were surrounding us while we were looking at our photos. However, Crystal and I wanted to tip Thun with our sincere hearts as he provided such an enlightening and smooth journey for us by managing his horses and engaging in interesting conversations with us.