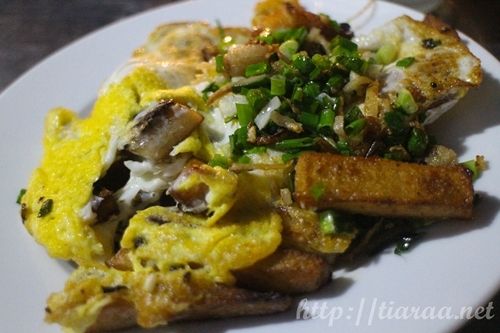 After getting back from Dalat City to Ho Chi Minh City but the local FUTA bus line with Ha and Le on the third day of my Vietnamese trip back in March this year, I was so tired yet hungry. Thus, Ha asked what I wanted to have and I told her that I would like to try Bot Chien since it is one of the must eat dishes at Saigon. So after collecting my luggage from their home, they took me on their motorbike to have dinner.
Bột Chiên Không Tên
190 Hải Thượng Lãn Ông,
Quận 5, TP. HCM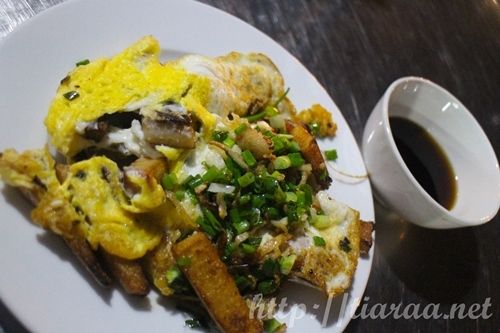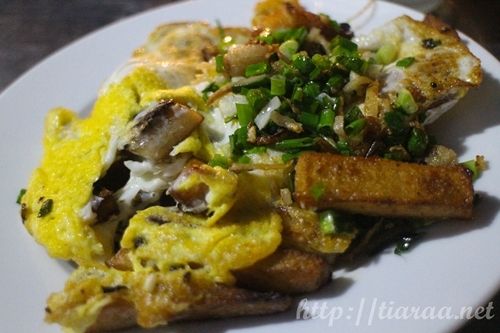 In the intersection of Đường Châu Văn Liêm and Đường Hải Thượng Lãn Ông at District 5 lies an unenclosed street stall that is famous for their bot chien. Bot Chien is similar to chai tao kway / carrot cake served in Singapore. The only difference between the two dishes is the inclusion of daikon radish in chai tao kway. Bot chien is basically rice cakes, made from tapioca starch and rice flour, sliced into rectangular  cubes, fried with lard until it is golden and crispy just like our chai tao kway fries and sizzled with 1-2 eggs. Since I was feeling quite bloated, I shared a plate of it with Ha. Since the food tasted so orgasmic, I was tempted to get a second plate but ended up not to as I know that Ha will bring me elsewhere for desserts. Ha treated me to this dish but the cost should be around 27,000 to 30,000 Vietnamese Dong, which is equivalent to CAD$1.58 / SGD$1.64 / USD$1.21 to CAD$1.75 / SGD$1.82 / USD$1.35. This cost relatively the same as our chai tao kway in Singapore.
OPENS DAILY 4PM-10PM
PAYMENT METHODS: CASH ONLY!

Ambiance: 6/10
Service: 7/10
Food (taste & appearance): 8.5/10
Value: Nil (Ha treated me to this)
Total: 7.17/10★
Although I could not take much photos of how the bot chien was cooked since even the local people such as Ha warned me against doing so, the place is the usual outdoor unenclosed street food with short tables and mini stools for customers to sit. Thus, payment has to be done in cash. The food is usually cooked upon the placement of order so I could taste the delicious flavours of this dish perfectly and I love it! Just writing about it makes me crave for it more but I know I will definitely be back for it once I am back in Saigon.