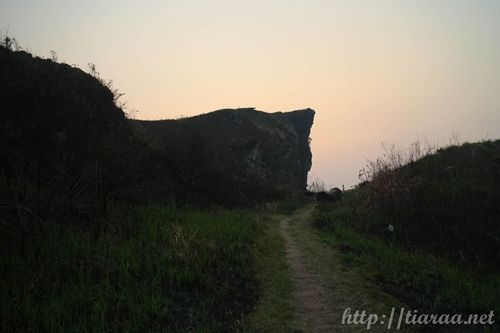 It was the third day of my Chiangrai/Chiangmai trip two Thursdays back and we got out of bed at 4am to leave the bungalow for Phu Chi Fa at 5am. Even though it is very dry and hot at Thoeng, I love the mountains for it's cooling weather during the wee hours of the morning.

Phu Chi Fa ภูชี้ฟ้า Thoeng, Chiangrai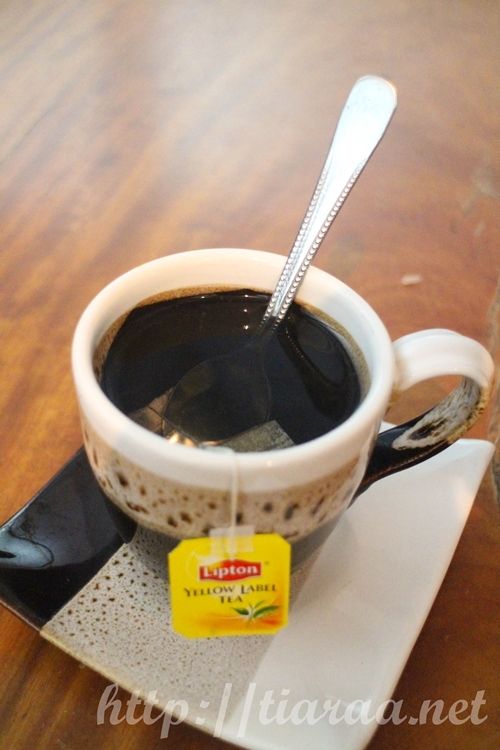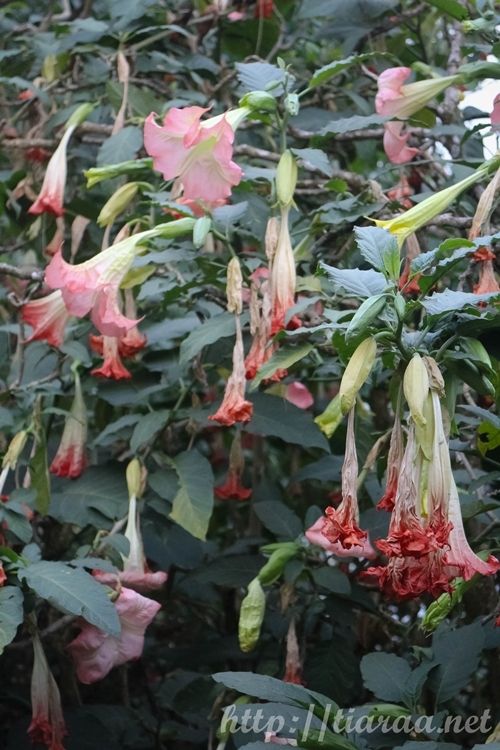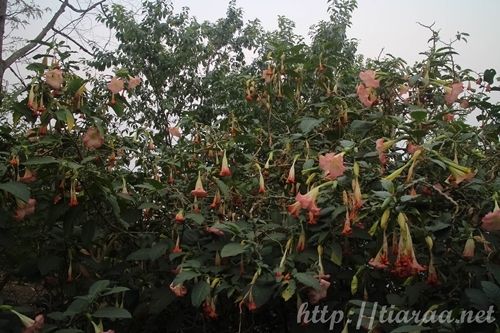 Our host (Nuna) of the bungalow made a cup of tea for me prior to our departure and gave us a bunch of bananas to bring for our trip. Along the way, I kept conversing with her so as to understand the way of life for the local people of Thoeng. It was an hour journey from her bungalow to Phu Chi Fa so when we reached, it was already close to 7am and the sky was already quite bright. The roads to the mountain is rather narrow, mind you! I have to compliment Nuna for her excellent driving skills though. There are a couple of unenclosed stores near the carpark area and we went to use  the washroom before hiking up the mountains. I have to warn you that the washroom is very dark and you need a torch when you are in the cubicle. I saw a spider right at the left hand side of my cubicle. However, you will be able to appreciate the beauty of nature better after relieving yourself. If you head towards the dead end of the cubicles of washrooms, you will be able to see the lovely flowers as shown in the pictures above. Both Vivienne and Nuna took a bunch of it on our way back to the bungalow.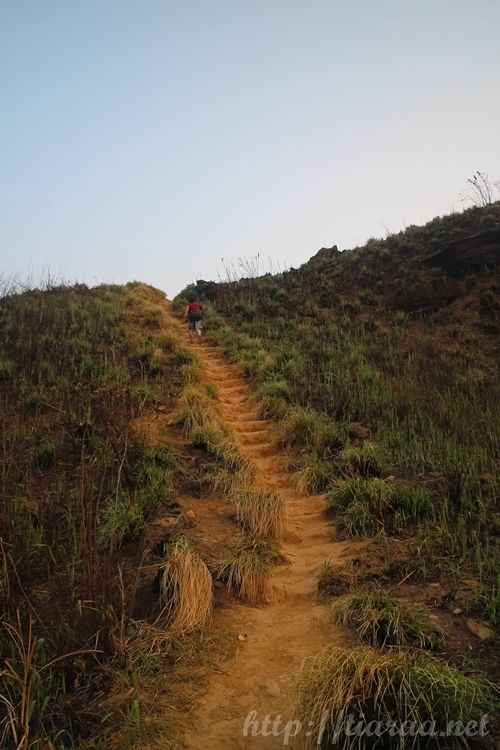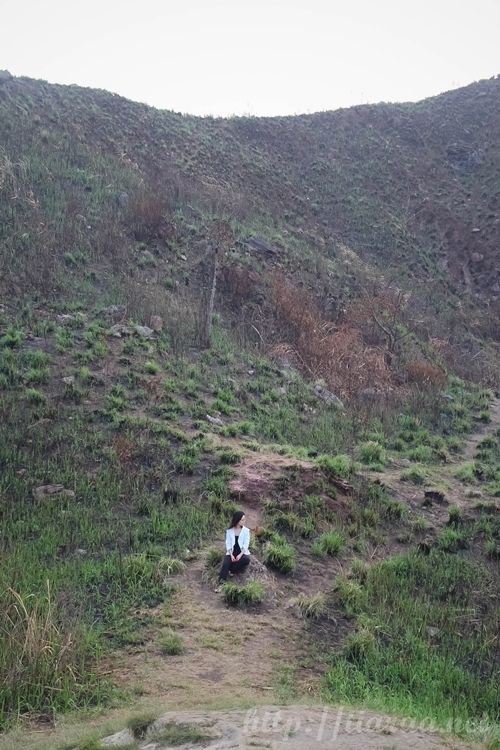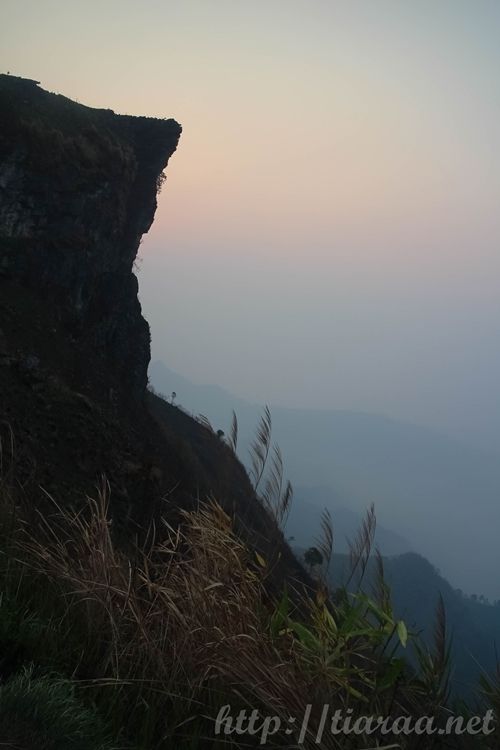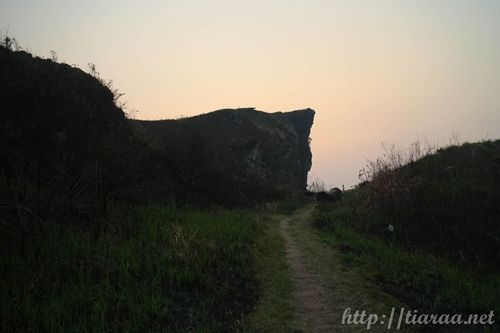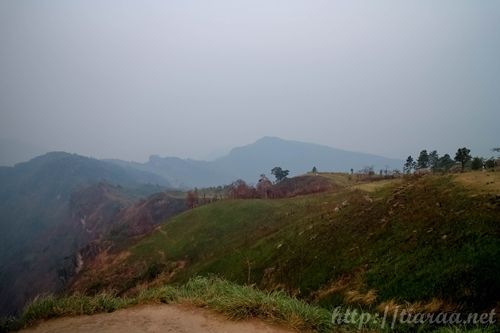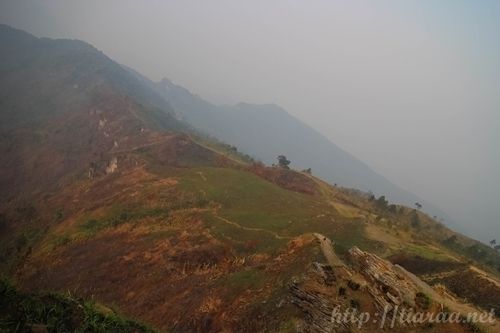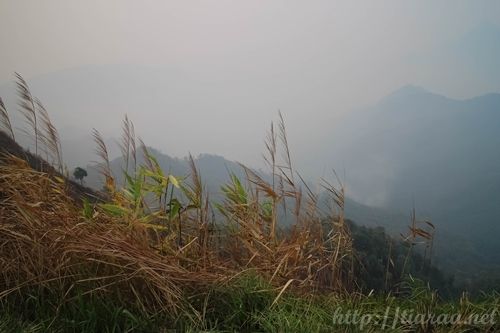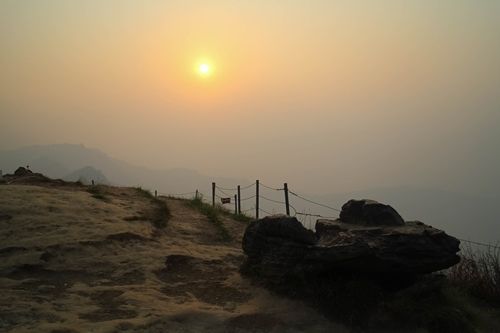 When you head back to the carpark area, you will be greeted by small hilltribe children singing along the steep stairs to the mountain. To walk to the top of Phu Chi Fa (last picture), you would need to trek another 800 meters. This is quite an easy trek for practically anyone as the path from the trail head is very distinct. I love how the cold winds blow while we hike up so that we could catch our breath much easier while walking up the steep slopes. We were admiring the view 100 meters below the top of the mountain (2nd & 4th pictures). It was the last hurdle before Nuna ran up to the tallest part of the mountain as depicted in the first picture. Both Vivienne and I were taking walking up at our own pace though. It was so unfortunate that we did not manage to catch the sunrise. Instead, we only caught up with the sun! Both Vivienne and Nuna then started posing with the sun as they did a number of stunts and yoga poses. We could see and smell the forest fires of Chiangrai and Laos from the peak of the mountain and cannot help feeling sad for the trees and the environment. Hopefully, the local people can be educated on how to treat the trees right. Although I am afraid of heights, I will not turn back despite the steep stairs. It rained the previous day but it did not rain hard enough so I was thankful that the path up was not too slippery. Back at the carpark, I gave three children dressed in traditional costumes 20 baht each before ending the trip with a washroom visit. It is such a pity that at a tender age of 7-9 years old, they are malnourished and out in the cold early in the morning to perform for tourists without a proper stage.

PAYMENT METHODS: CASH ONLY! Phu Chi Fa trip coupled with another afternoon trip the day before = 2,000 baht (CAD$73.15 / SGD$77.48/ USD$57.08)

Although there were a small handful of foreign tourists, I was happy that this attraction is not a mega touristy attraction as it is not heavily infested of many foreign tourists and people that come here are usually local. If I ever head back to Chiangrai, I will definitely head back to Phu Chi Fa to catch the sunrise and sunset since I did not manage to do so this time.

*swisscheese